Since my attempt to list the best death metal and doom metal from 2019 went pretty well, I'm going full-scale with a list of the best metal from 2020. Here you'll find upcoming releases, including pre-released songs, as well as the albums I've enjoyed the most during 2020.
My metal from 2020 list will probably lean a bit heavier on extreme metal, but I'll try to include as many styles as possible. If you have any metal albums from 2020 that are missing that you think I should hear, feel free to comment or contact me through some other channel.
About the author

I'm Stefan Nordström, an aspiring musician and content creator. This is one of the ways I promote Soliloquium, my progressive death/doom metal band. If you're searching for new music in the style, it would be awesome if you listened to my stuff on:
Upcoming metal albums from 2020
Here are some upcoming 2020 metal albums, including release dates and song samples, if available. I might not be super fast to listen and rate all of them, so "upcoming" albums with passed release dates will remain at times.
---
Soliloquium – Things We Leave Behind (16 March, Sweden)
Let's start out with what I did this year. "Things We Leave Behind" is the third Soliloquium full-length album and it will be out on 16 March on Naturmacht Productions/Rain Without End Records. Keep an eye on the Soliloquium Bandcamp for music streams and downloads of the material.
---
Desolator – Sermon of Apathy (4 September, Sweden)
My death metal band Desolator just announced its second full-length "Sermon of Apathy". It will be out on September 4th on Black Lion Records.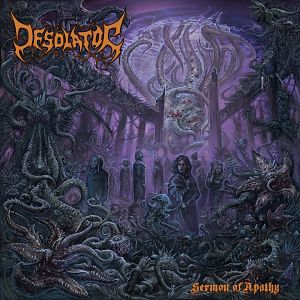 ---
Obsidian Tongue – Volume III (21 January, United States)
U.S. atmospheric black metal band Obsidian Tongue is one of the first black metal bands with a new album out in 2020. Connections to Woods of Ypres, Fall of Rauros and Panopticon might make it an interesting one.

Obsidian Tongue on Facebook ->
---
Grey Skies Fallen – Cold Dead Lands (23 January, United States)
Grey Skies Fallen is a veteran melodic death metal band from the U.S. "Cold Dead Lands" is album number five. Expect solid melodeath with a progressive side.
---
Dawn of Solace – Waves (27 January, Finland)
After disbanding all his bands and starting Wolfheart a few years ago, Toumas Saukkonen decided to restart one of his old bands, melodic death/doom metal project Dawn of Solace. Judging by "Lead Wings", the new album "Waves" is going to be a good one!
Judgement: this album kills and will be one of my favorites of the year, for sure. Check it out now!
---
Marrasmieli – Between Land and Sky (27 January, Finland)
Marrasmieli play an interesting form of epic pagan black metal. "Between Land and Sky" is the band's debut album.
Judgement: Not my usual style of music at all, but I really found myself enjoying this album. Very strong for a debut and certainly worth checking out!
---
Deathwhite – Grave Image (31 January, United States)
Deathwhite is a gothic doom metal band from Pittsburgh. I really liked the debut album "For a Black Tomorrow" and I would be surprised if 2020's "Grave Image" isn't a good one as well. Definitely something for fans of Katatonia and other types of clean vocal music in the doom metal and gothic metal spectrum.

Deathwhite on Facebook ->
---
God Dethroned – Illuminati (7 February, Netherlands)
Dutch veterans God Dethroned are back with full-length number 11, entitled "llluminati". This band has rarely failed, so I expect some quality death metal with melodeath and black metal tendencies.
Judgement: God Dethroned in 2020 is still God Dethroned. Solid death metal in the band's classic style.
---
Frayle – 1692 (14 February, United States)
Frayle and their ethereal wave-ish take on doom metal caught my eye, especially single "Gods of No Faith". It sounds fresh, yet traditional.
---
Plague – Portraits of Mind (14 February, Greece
Not many death metal bands are sounding fresh in 2020. Plague manages to do that, mixing elements of Death with darker U.S. death metal influences. Really digging this one. Definitely my favorite death metal album from 2020 so far (writing this in May).
---
On Thorns I Lay – Threnos (21 February, Greece)
On Thorns I Lay is a long-running Greek death/doom metal band with a gothic side to it. I enjoyed 2018's "Aegean Sorrow" and hopefully "Threnos" is another quality chapter in the band's discography.
Judgement: Really digging this one. Big sound, nice melodies and good growls. Everything you need from death/doom
---
Regarde les hommes tomber – Ascension (28 February, France)
This band (don't make me to try to type it) finds a sweet spot between atmospheric black metal and atmospheric sludge metal. There's a suffocating darkness and desperation to the sound that I really enjoy.
---
Clouds – Durere (2 March, International)
Clouds is an all-star doom metal project with several quality releases under their belt. 2020's "Durere" is album #4 and it's highly likely to be another good one!
---
My Dying Bride – The Ghost of Orion (6 March, United Kingdom)
Legendary doom metal band My Dying Bride is releasing a new album in 2020. It's titled "The Ghost of Orion" and it will be out in March. For a taste, see the song "Your Broken Shore" below.
Judgement: Another solid My Dying Bride album.
---
Scarab – Martyrs of the Storm (6 March, Egypt)
This Egyptian band has delivered some solid Egyptian-themed death metal and is bound to do so again. Pretty cool to hear a band from actual Egypt doing it! "Martyrs of the Storm" is out on 6 March on ViciSolum productions.
---
Temple of Void – The World That Was (27 March, United States)
Temple of Void is very hyped, and I believe it's for good reason! "The World That Was" is another quality album, a mix between crushing, doomy heaviness and psych/prog tendencies. It feels meticulous and spontaneous at the same time.
---
Dawn of Ouroboros – The Art of Morphology (30 March, United States)
---
Benighted – Obscene Repressed (10 April, France)
Benighted has been my favorite brutal death metal band for many years. It's definitely one of the most unique and extreme bands out there, and I expect 2020's "Obscene Repressed" to be no different.
---
Wolfheart – Wolves of Karelia (10 April, Finland)
Second Tuomas Sakkonen 2020-album on this list. The guy is a machine, churning out quality dark metal music in the doom and melodic spectrums. This new Wolfheart is likely to be another good one.
---
Katatonia – City Burials (24 April, Sweden)
Katatonia has finally announced its new album "City Burials". It's been a long wait, and the announcement really came out of nowhere. If you want to hear some of my thoughts, please read my review/reaction of the first single "Lacquer" and my other one of "Behind the Blood".
Judgement: This album didn't hit me immediately, but since Katatonia is my favorite band, it probably still top my AOTY list. Growing slowly with every spin!
---
Ulcerate – Stare into Death and Be Still (24 April, New Zealand)
I've grown to appreciate New Zealand death metal weirdos Ulcerate more and more over time. And in 2020 they keep up the quality. "Stare into Death and Be Still" is one of the best death metal albums I've heard this year.
---
Vader – Solitude in Madness (1 May, Poland)
Vader is a blastbeat machine that never stops. Their early 2000's period with albums like "Litany" and "Revelations" remains my favorite, but I'm still excited to see what Vader can bring in 2020 with "Solitude in Madness".
Judgement: I'm very impressed with this one. You know what you get when it's Vader, and it still excites me, despite that nothing has changed for decades.
---
Paradise Lost – Obsidian (15 May, United Kingdom)
Doom veterans Paradise Lost is one of the most reliable bands out there. The songwriting formula remains simple, but they still manage to kick ass. I really enjoyed single "Fall from Grace", so it's likely that "Obsidian" is another quality album.
Verdict: "Obsidian" is another really good Paradise Lost album. A nice mix between the gothic tendencies and extreme metal.
---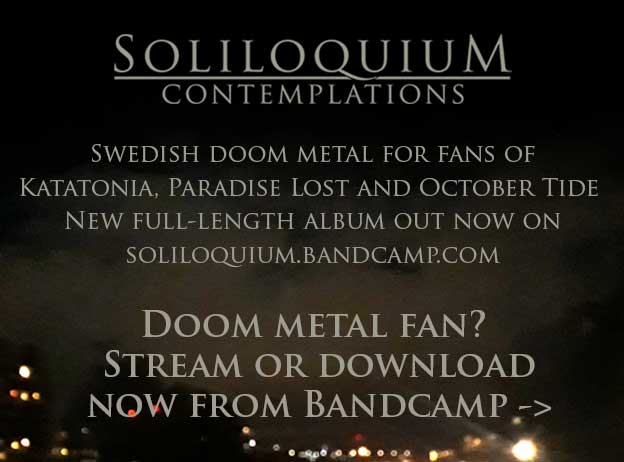 Read more:
Black metal from 2020 ->
Death metal from 2020 ->
Doom metal from 2020 ->
Melodic death metal from 2020 ->
Progressive metal from 2020 ->
Soliloquium, Swedish progressive death/doom metal ->