After my article about doom metal from 2019, I decided to keep it up with an article about doom metal from 2020. Here you can find the best doom metal from 2020, both upcoming releases and the best albums that have already come out.
If you're searching for doom metal overall, and not just from 2020, you're also in luck. Check out my full guide to the doom metal genre or head straight for death/doom metal, if you're looking for more extreme stuff.
About the author

I'm Stefan Nordström, an aspiring musician and content creator. This is one of the ways I promote Soliloquium, my progressive death/doom metal band. If you're searching for new music in the style, it would be awesome if you listened to my stuff on:
Upcoming doom metal albums from 2020
Here you can find doom metal from 2020. I'll start dividing it between released and upcoming stuff once something actually gets released. The list will obviously grow, once I find more interesting albums to include. Personal preferences will rule to some extent, probably making it lean more towards the extreme sides of doom metal, and less towards stoner and traditional doom metal.
Soliloquium – Things We Leave Behind (16 March, Sweden)
Let's start off doom metal from 2020 with a taste of what I've been cooking up during the last year. "Things We Leave Behind" is the third Soliloquium album and the follow-up to 2018's "Contemplations". If you like Katatonia and similar kinds of progressive metal or doom metal, chances are high you will enjoy this. Head over to the Soliloquium Bandcamp to download/stream the music, buy the merch and support the band.
---
Ashes of Life – Seasons Within (7 February, Portugal)
Another doom metal release from 2020 where I'm involved? But hey, if you like doom metal like Katatonia and Anathema, there's a good chance you'll like this. Ashes of Life is the brainchild of Portuguese songwriter Tiago Silva. I was lucky enough to do the extreme vocals on "Seasons Within". Check out the first single "Shores" below!
---
Catalepsia – Inheritance (17 January, Latvia)
Does gothic doom metal from Latvia sound interesting to you? Then you're right on track with Catalepsia. New album "Inheritence" arrives in January 2020.
Judgement: definitely liking this one! Only a few spins so far but it definitely hits the right vibe for me.
---
Konvent – Puritan Masochism (24 January, Denmark)
If you like death/doom metal with a heavy emphasis on the death part, Konvent's debut album should be right up your alley.
Judgement: Not 100 % my style, but the songwriting and musicianship is solid.
---
Dawn of Solace – Waves (27 January, Finland)
After disbanding all his bands and starting Wolfheart a few years ago, Toumas Saukkonen decided to restart one of his old bands, melodic death/doom metal project Dawn of Solace. Judging by "Lead Wings", the new album "Waves" is going to be a good one!
Judgement: "Waves" is a great album, and likely to wind up high on my album of the year list for 2020. Check it out now!
---
Dark Matter – Nebula the Black Hole (31 January, International)
Atmospheric death/doom metal band Dark Matter has a new album coming out on 31 January. The song "Except Love" (below) even features Anathema's Daniel Cavanagh, so how could it not be good?
---
Deathwhite – Grave Image (31 January, United States)
Deathwhite is a gothic doom metal band from Pittsburgh. I really liked the debut album "For a Black Tomorrow" and I would be surprised if 2020's "Grave Image" isn't a good one as well. Definitely something for fans of Katatonia and other types of clean vocal music in the doom metal and gothic metal spectrum.
---
Aeonian Sorrow – A Life Without (EP, 7 February, Finland/Greece)
Aeonian Sorrow is an international doom metal project that released debut album "Into the Eternity a Moment We Are" in 2018. It's "only" an EP, but I feel it's worth including on this list as well. Expect quality funeral doom with a gothic touch to it.
---
Frayle – 1692 (14 February, United States)
Frayle is a band doing some pretty wild genre mixing, "expanding the horizons of doom metal and dream pop" on the new album. I hope it's a successful attempt, because it definitely sounds potentially interesting!
Judgement: This is some really interesting stuff. Totally worth checking out!
---
Godthrymm – Reflections (14 February, United Kingdom)
Godthrymm is an epic doom metal band from the U.K. featuring ex-members of My Dying Bride and Vallenfyre. "Reflections" is the band's full-length debut, but we can be pretty sure that the experience of the band members will make it sound like anything but one.
Judgement: Solid doom metal in a classic style. I approve!
---
Saturnalia Temple – Gravity (20 February, Sweden)
I'm not good at including stoner doom metal in these lists, given my personal tastes. I'll do my best to change that. At least a bit. In that spirit – here's Sweden's Saturnalia Temple and their 2020 album "Gravity.
---
On Thorns I Lay – Threnos (21 February, Greece)
On Thorns I Lay is a long-running Greek death/doom metal band with a gothic side to it. I enjoyed 2018's "Aegean Sorrow" and hopefully "Threnos" is another quality chapter in the band's discography.
---
Treurwilg – An End to Rumination (22 February, Netherlands)
Dutch death/doom metal is not just Officium Triste. Treurwilg's second album an end to "Rumination" is out in February. I enjoyed 2016 debut "Departure", so this is likely to be good stuff.
---
Clouds – Durere (2 March, International)
Clouds is an all-star doom metal project with several quality releases under their belt. 2020's "Durere" is album #4 and it's highly likely to be another good one!
---
My Dying Bride – The Ghost of Orion (6 March, United Kingdom)
Legendary doom metal band My Dying Bride is releasing a new album in 2020. It's titled "The Ghost of Orion" and it will be out in March. For a taste, see the song "Your Broken Shore" below.
---
Silvered – Six Hours (6 March, Italy)
You can never have to much death/doom metal, and 2020 has been quite a good year for the sub-genre so far. Italy's Silvered and their sophomore album "Six Hours" is another solid offering.
---
Tethra – Empire of the Void (20 March, Italy)
Tethra is an Italian death/doom metal band signed to Black Lion Records. They've been around since 2008 and "Empire of the Void" is the third full-length album.
---
Candlemass – The Pendulum (EP, 27 March, Sweden)
Candlemass stay very strong, considering the insane amount of music they've released over the years. "The Pendulum" is the brand new EP and the title track sounds pretty ass-kicking.
---
Solothus – Realm of Ash and Blood (27 March, Finland)
No doom metal from 2020 article without a serious Finnish presence. Solothus has been around since 2007, and "Realm of Ash and Blood" will be their third album. Expect murky death/doom!
---
Temple of Void – The World that Was (27 March, United States)
Temple of Void treads the line between death/doom and death metal. I really liked 2017's "Lords of Death", so it's going to be interesting to see what the new album has to offer!
---
Funeral Leech – Death Meditation (17 April, United States)
This rawer side of death/doom usually doesn't appeal to me that much, but Funeral Leech is certainly an exception. "Death Meditation" is just utterly brutal and forceful in its plodding and super-heavy style.
---
Katatonia – City Burials (24 April, Sweden)
Doom metal 2020 highlight! Katatonia has finally announced its new album "City Burials". It's been a long wait, and the announcement really came out of nowhere. If you want to hear some of my thoughts, please read my review/reaction of the first single "Lacquer" or my second post about "Behind the Blood".
---
Exgenesis – Solve et Coagula (15 May, International)
Exgenesis is a collaboration between Enshine guitarist Jari Lindholm and Colombian vocalist Alejandro Lotero. On the debut album, drummer Christian Netzell also joined in on the party. Considering how the band's EP from band sounded, this is bound to be a good one!
---
Paradise Lost – Obsidian (15 May, United Kingdom)
New Paradise Lost usually always means quality doom metal. Judging by single "Fall from Grace", 2020 Paradise Lost is no different. "Obsidian" is likely to be another good one!
---
Tyrant – Hereafter (15 May, United States)
I realize I'm pretty bad at including styles like traditional doom metal in this list. And also, Robert Lowe is one hell of a vocalist. This collaboration with old school band Tyrant is pretty cool, and I think most traditional doom fans would agree. It sounds more 1985 than 2020, that's for sure.
---
Descend into Despair – Opium (31 May, Romania)
Looking for long songs, even by funeral doom standards? Then Descend into Despair's new one might be something for you. I'm yet to check it out, but the reactions tell of a quality album. I'll listen and share my thoughts soon-ish!
---
Voidian – Through Eyes of the Flame (12 June, Belgium)
Somewhere between Neurosis and stoner doom metal, Voidian crafted a pretty interesting debut album. Definitely worth checking out if you like the music style(s).
---
Convocation – Ashes Coalesce (3 July, Finland)
No song long or dark enough? Well, then this is for you! Somewhere along the borderlands of death/doom and funeral doom metal, Convocation crafted this new four song album.
---
Tomorrow's Rain – Hollow (11 September, Israel)
This album features an impressive list of guest musicians, so it's bound to be a special listen. How about Aaron Stainthorpe, Jeff Loomis and Greg Macintosh, to a name a few?
---
Draconian – Under a Godless Veil (30 October, Sweden)
Swedish gothic death/doom metal giants Draconian are back with another album after a five-year silence. Judging by "Lustrous Heart", 2020 is going to be a good year for Draconian.
---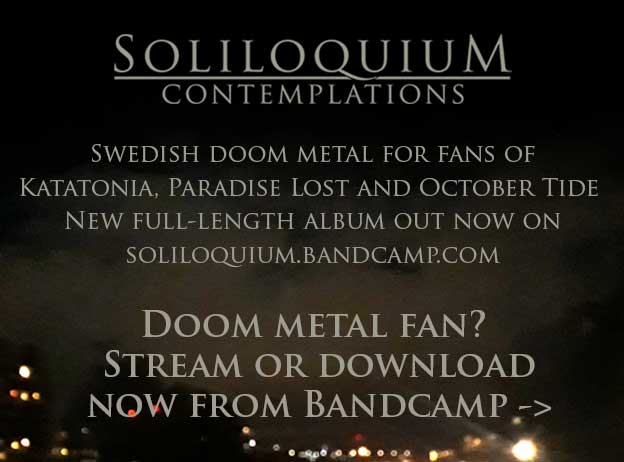 Read more:
Full doom metal genre guide ->
Best death metal from 2020 ->
Best melodic death metal from 2020 ->
10 essential death/doom metal albums ->
Soliloquium, Swedish progressive death/doom metal ->