Melodic death metal (melodeath) is a style of death metal that became popular in the early 90's. Just like it sounds, the sub-genre is a melodic take on death metal music.
This guide to melodeath is a part of my massive guide on death metal and its sub-genres. Here you can learn more about the music style, including the genre evolution and my own thoughts on it. I'll also share some of my favorite melodic death metal bands.
If you're only looking for bands, and not background, you're best off heading over to my blog post with the 50 best melodic death metal bands. This guide is a part of my guide to death metal music and its sub-genres.
---
Written by: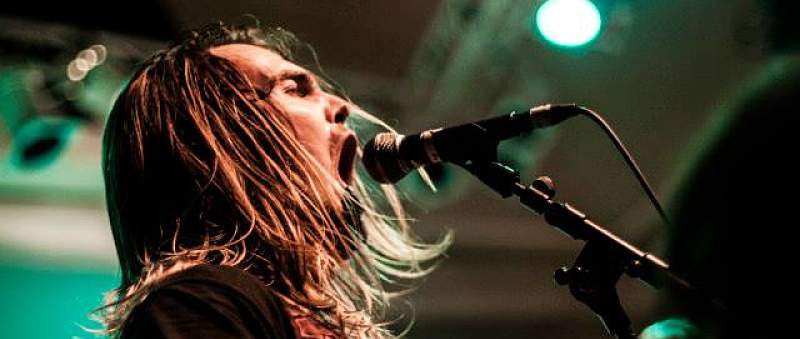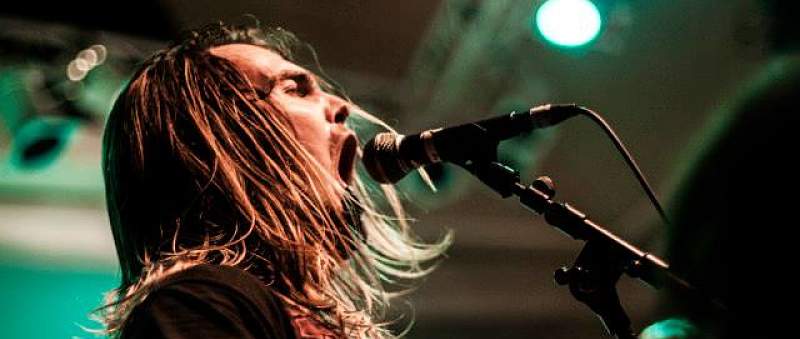 Vocalist, guitarist, music writer
Stockholm, Sweden
Member of Desolator, Soliloquium and several other projects
Listen to Desolator
My old school death metal band, for fans of Morbid Angel, Immolation, Vader and more:
Listen to Soliloquium
My progressive death/doom metal band, for fans of Katatonia, Swallow the Sun, Daylight Dies and more:
---
Early melodic death metal
The evolution of the Gothenburg sound was very important. Bands like At the Gates, Dark Tranquillity and In Flames pioneered the style early on, mixing death metal with classic heavy metal and Scandinavian folk music.
Finland is also a very important country for melodic death metal. Many of the faster melodic bands like Children of Bodom, Kalmah and Norther became very popular. Finland also has many melodic death metal bands with a dose of death/doom metal and/or gothic metal, like Insomnium, Rapture and Before the Dawn.
Post-millenium evolution
The 2000's saw the genre develop in several directions. Most notably, many bands became more commercial and tapped into nu-metal and metalcore. Soilwork is the most obvious example.
More recent times also saw genre lines blur. Melodic death metal is often combined with genres like progressive metal, doom metal, thrash metal or black metal. It was hard to say exactly where one genre ends and one begins.
My relationship with melodic death metal
Melodic death metal had a huge part in my musical evolution. "Whoracle" by In Flames and "Hatebreeder" by Children of Bodom took me from Metallica and Iron Maiden to the world of extreme metal. It was a whole new world, and the perfect gateway to death metal.
However, my teenage self was not too happy when In Flames, Soilwork and several other bands turned experimental, and I turned my back on the genre around 2003.
Later, I realized that it made me miss out on a lot of cool bands. I returned to the classics, like Dark Tranquillity and Edge of Sanity. During my re-awakening, I also found fantastic underrated melodeath bands like Skyfire and Vehemence.
Popular melodic death metal bands
Arch Enemy
Arch Enemy is a band that gatewayed many traditional metal fans into death metal and other forms of extreme metal. Personally, I still enjoy 1999's "Burning Bridges", an album filled with tasty, melodic guitar-work. After that one, the band spiraled down fast.
However you see it, there's no denying that Arch Enemy is a band that got a lot of people into extreme metal.
At the Gates
"Slaughter of the Soul" is the riff bible for many melodic death metal fans and players. It's an album that's influenced everyone from newer Swedish bands to American metalcore and deathcore.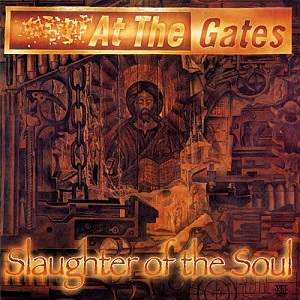 Personally, I'm not that hot on it, but I respect the massive influence it has had on extreme metal. Also, if you enjoy "Slaughter of The Soul", don't miss out on its predecessor "Terminal Spirit Disease".
Carcass
Carcass started out as the fathers of goregrind. The mid-90's saw them switch music style. The result was "Heartwork", one of the most classic melodic death metal albums. Even today, I still think it's a damn good album. Hits like "Buried Dreams" and "Heartwork" really do everything right when it comes to using melody in death metal music.
Children of Bodom
1999's "Hatebreeder" was one of the first albums with harsh vocals that I enjoyed. CoB may be a pretty silly band, and certainly one that doesn't age well, but as a gateway to extreme metal its one of the most effective. The high traditional metal influences in the music makes it easy for fans of heavy metal and power metal to get used to extreme metal styles.
Dark Tranquillity
It feels like Dark Tranquillity has been around forever. And in terms of extreme metal, I suppose that's actually true. Many melodic death metal bands went down the route of commercialization or just plain mediocrity. However, Dark Tranquillity soldiered on in their traditional style.
1999's gothic-styled "Projector" is probably my personal favorite, while 2002's "Damage Done" is the peak of their traditional melodeath music. But you can't really go wrong with any of their albums. Dark Tranquillity has aged very gracefully. The approach hasn't changed that much, but the songwriting remains high-quality.
Edge of Sanity
Dan Swanö is a killer player and composer. And it really shows in much of Edge of Sanity's material. Early EoS is pure Swedish death metal, but the band became more melodic in the mid-90's. The band's melodic death metal material is hilariously catchy, like most Swanö music.
Hypocrisy
Hypocrisy started as U.S.-influenced death metal band. But the mid-90's saw them becoming their own brand of alien-themed melodeath. Very few metalheads have missed "Roswell 47". And its fame is well-deserved. And "Roswell 47" is only one of several massive melodic death metal hits from the band.
In Flames
In Flames might be the most common gateway band to extreme metal of all-time. Back in the day, 1997's "Whoracle" helped me gain understanding of what death metal was about.
Aside from simply being really catchy, I think the traditional heavy metal leanings of the band's 90's material helped a lot of people find their way from Iron Maiden and Judas Priest to more extreme music.
Insomnium
Insomnium brought Finnish doom melancholy into melodic death metal. The result was a highly influential, and enjoyable take on the style. For me, it took a while to get the band, but once I did, it was hard to deny its power. Many people prefer the older material. For me, 2014's "Shadows of the Sun" is the peak release.
I hear my melodic death/doom metal band Soliloquium being compared to the band quite often, so obviously, they've made their mark. If you want even more doom in your melodeath, don't miss out on melodic death/doom metal experts Rapture. And if you like Insomnium, there are a bunch of good similar bands, like Be'lakor, Mors Principium Est and Hinayana.
Scar Symmetry
Scar Symmetry tread the line between melodeath and progressive metal. Over the years the band has become hugely popular. I've never been a big fan, but my interest grew when super-growler Roberth Karlsson joined the band.
And the Edge of Sanity connection doesn't really end there, as I think modern EoS and Dan Swanö's solo project heavily influenced the most ambitious Scar Symmetry material.
The Haunted
The aggro-offspring of At the Gates quickly became one of the most popular melodic death metal bands. Most people dig "The Haunted Made Me Do It" the most, but I prefer the material with Peter Dolving on vocals.
Regardless, The Haunted is a very good gateway band into extreme music. Songs like "Trespass" and "In Vein" were a very good way to for me to go from pristine melodic death metal to the more aggressive side of the genre.
---
Is mid-era Death melodic death metal?
It's hard to lump in Death into melodic death metal in any way, but I think 1995's "Symbolic" is way too influential on the genre to overlook. My argument is easy: songs like "Crystal Mountain" and "1.000 Eyes" are just what progressive and melodic death metal is supposed to be about, both in terms of execution and songwriting.
---
My personal melodic death metal favorites
I definitely enjoy some of the above bands, and even the one's I don't enjoy, I've listened to in the past. But now it's time to check out some of my personal favorites. Most of these bands are highly underrated.
The Crown
The Crown plays a special brand of extreme metal somewhere between melodeath, death/thrash and pure rock n' roll. It's far from pure or traditional melodic death metal, but I just can't avoid mentioning them in this article.
The band's melodeath style peaked on "Crowned Unholy", but my overall favorite is the classic record "Deathrace King". But it doesn't matter. Wherever you choose to start with The Crown, you can't really go wrong.
Skyfire
Skyfire is my favorite classic-styled melodeath band. Essentially, it's Dark Tranquillity on massive overdrive with a progressive influence. The band's intensity and passion is unparalleled for me in the genre, making 2004's "Spectral" my favorite melodeath disc of all time.
Whatever you do, don't miss out on Skyfire!
Callenish Circle
Dutch band Callenish Circle is a band that outdoes At the Gates at their own game. Back in the day, I was spinning 2003's "My Passion // Your Pain" your pain all the time. And it still holds up pretty good to this day.
What makes it a bit cooler than actual At the Gates are the emotional Death-influenced melodies, which provide a perfect counterpart to the bouncy, catchy rhythm ideas on the album.
Vehemence
Few bands combine brutality and melody so well as Vehemence. Sadly, the band never quite got the attention it deserved. 2002's "God Was Created" is my favorite, but the brief comeback in 2015 also spawned another great record in "Forward without Motion".
Wolfheart
Tuomas Saukkonen, a well-known Finnish metal musician, disbanded his many projects and went all-in on Wolfheart. And it seems it was a pretty smart choice! What can be said about Wolfheart? Well, it's one of the most Finnish-sounding melodic death metal bands ever, with epic, Nordic melodies and a nice mix of aggression and melancholy.
Other death metal sub-genre guides
Looking for more extreme music recommendations? Well, melodeath isn't the only death metal sub-genre I've written about. Follow the links below to check out some other in-depth guides about death metal styles.
And if you like my writing, you might like my music. Head over to Bandcamp to see if that's the case, Desolator for old school death metal and Soliloquium for some progressive death/doom.
Brutal death metal ->
Old school death metal ->
Progressive death metal ->
Technical death metal ->