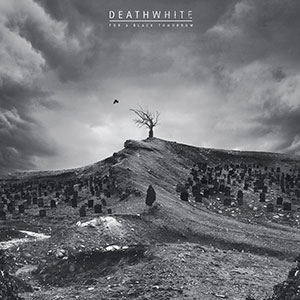 After Katatonia's recent hiatus, there is certainly a hole to fill in the depressive metal with clean vocals style. Deathwhite seems to aiming to do this. They're an American gothic/doom metal band formed in 2012. Deathwhite previously released two EP's: "Ethereal" and "Solitary Martyr".
The band mixes gothic rock with some heavier, more metal passages. In the end Deathwhite winds up sounding somewhere between The Wounded, Last Leaf Down and In the Silence. All three of those bands are bands I recommend for Katatonia fans, so Deathwhite sure is a fine substitute.
Emotion over exuberance
Deathwhite mostly keep it simple and focus on the songwriting. 4/4 rhythms and simple atmospheric guitars dominate the soundscape. This is spiced up with occasional heavier parts, like the intro to "Dreaming the Inverse". These metal-infused gothic rock dynamics remind me of Katatonia's Tonight's Decision album, which is certainly a good thing.
A high level of emotion is present in the delivery. The singer has a gothic style alternative rock delivery which fits well. His tone is a bit similar to Soen's vocalist. There is not much in terms of vocal acrobatics, but the singer delivers the dreary themes with plenty of pain.
Mercilessly bleak and depressing
The lack of exuberance might leave some listeners dry. There's another side to that coin, though. I find that this approach is something that can fit this type of depressive music. Does it? Well, yes and no.
The lyrics and song themes are all about hopelessness and depression. "For a Black Tomorrow" doesn't have a glimmer of light anywhere. The onslaught of gray depression does get slightly dulling, as the songs aren't as distinct as on a similarly dark album like The Wounded's "Atlantic".
It's probably mostly due to a lack of hooks. Vocal melodies and guitars could use more edge in this area. I'm not looking for anything top 40 here, but I find it quite hard to distinguish between the different songs on the album.
"For a Black Tomorrow" tracklist:
1. The Grace of the Dark
2. Contrition
3. Poisoned
4. Just Remember
5. Eden
6. Dreaming the Inverse
7. Death and the Master
8. Prison of Thought
9. For a Black Tomorrow
Final verdict
As Deathwhite still is a young band, I think it's something they could successfully work on and improve. Great music in this style is rare. We certainly need all the contributors we can get, especially if the dead end kings choose to retire. "For a Black Tomorrow" is a quality album that should please fans of the darker side of rock and metal music.
Deathwhite links:
Download "For a Black Tomorrow" from Bandcamp ->
Official Facebook page ->
Read more:
The massive list of bands that are similar to Katatonia ->
Soliloquium, Swedish doom metal (Bandcamp) ->