It's a new year and the potential for quality doom metal allowed me to create this list of
death/doom metal
from 2018. Just like my
death/doom metal from 2017 list
, it will be something in between an itinerary and a best of. I hope you can find some new favorites here. Make sure to comment if I'm missing out on any cool death/doom releases from 2018, I want to hear them!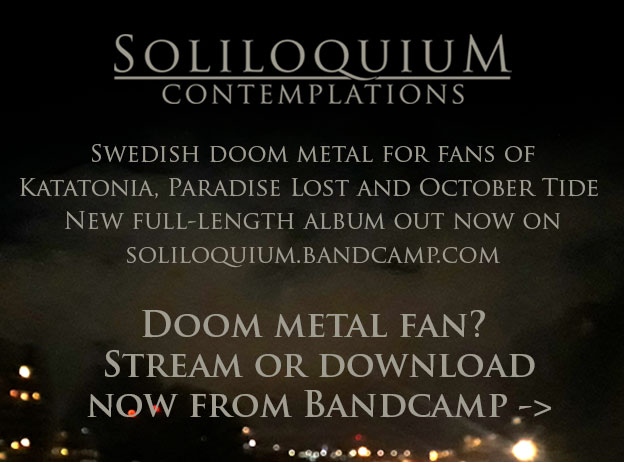 ---
Altars of Grief – Iris (Canada, 21 March)
This release is a big surprise to me. Nice mix between death/doom metal and black metal tendencies, conveying plenty of emotion. One of the strongest 2018 albums in the genre. Good job!
---
Collapse of Light – Each Failing Step (International, 29 April)
International death/doom project, displaying some familar, yet quality sorrow.
---
Decembre Noir – Autumn Kings (Germany, 9 November)
Another quality death/doom metal album from Decembre Noir. Read my review to learn more about "Autumn Kings".
---
Doomed – 6 Odes to Anti-Life (Germany, 22 June)
I wasn't that impressed by Doomed's previous album "Anna". This time, they didn't just get a very cool album title in "6 Odes to Anti-Life". The music is great, quite innovative sounding compared to other bands in the death/doom metal genre. Read more about the album in my review.
---
Eternal Candle – The Carved Karma (Iran, 27 April)
Progressive take on death/doom that reminds me a bit of a less frantic In Mourning. It's a quality disc.
---
Evoken – Hypnagogia (United States, 9 November)
Evoken and their funeral doom-influenced style isn't completely my cup of tea, but "Hypnagogia" has gotten a lot of praise.
---
Eye of Solitude – Slaves to Solitude (United Kingdom, 1 May)
You know what to expect with Eye of Solitude; slow, miserable funeral death/doom with cavernous growls. This album brings nothing new, but it's a solid addition to their discography. Worth checking out if you're a fan.
---
Hamferð – Támsins likam (Faroe Islands, January 12)
Hamferð is one of the most original bands in the death/doom genre and the new album keeps up the momentum. Vocalist Jon Aldara mix brutal death metal growls with operatic vocals from epic doom metal to perfection. The rest of the music is equally enticing. Read my "Evst" review if you want to know more about the Hamferð sound.
---
Hinayana – Order Divine (United States, March 19)
Very nice offering for the Insomnium fans, solid mix of death/doom metal and melodic death metal. Probably the most Finnish sounding U.S. doom band ever!
---
Hooded Menace – Ossuarium Silhouettes Unhallowed (Finland, January 26)
The ultra-murky Finns are back with another album in 2018, and it's sure to be another heavy one. I'm yet to check this one out. The pre-album singles indicate that all is well in Hooded Menace camp. A longer report is coming when I've listened to it enough!
---
Loneshore – From Presence to Silence (Brazil, September 28)
This Brazilian band came out of nowhere with a really nice mix of death/doom metal and old school Opeth. Very impressive debut album. Read more about Loneshore in my album review.
---
Monolithe – Nebula Septem (France, January 26)
The 15 minute song lengths on 2016's "Zeta Reticuli" scared me off a bit, but I still found the funeral doom-influenced Monolithe quite enjoyable. The new 2018 album is of similar quality.
---
Ocean of Grief – Nightfall's Lament (Greece, January 26)
---
On Thorns I Lay – Aegean Sorrow (Greece, March 12)
Gothic metal-influenced Greek band On Thorns I Lay is complete new to me, despite having a long previous discography. If the rest of the album is as good as this song, it will be a nice one. Update: the album is a good one, that will certainly please fans of Clouds and other projects going for an epic doom style.
---
Rome in Monochrome – Away from Light (Italy, March 16)
Far from pure death/doom, but I just like Rome in Monochrome too much to not include them. "Away from Light" is some of the saddest, bleakest music out there in 2018. It's not a very heavy album, but it features growls on some songs. Should satisfy fans of Katatonia and Anathema for sure. Read more about Rome in Monochrome in my "Away from Light" review.
---
Self-Hatred – Hlubiny (Czech Republic, May 25)
The second Self-Hatred full-length is similar to the first one in quality and style. It's another solid atmospheric death/doom metal offering.
---
Shrine of the Serpent – Entropic Disillusion (United States, April 23)
If you like it insanely murky, this is for you! It's not exactly my style, not enough melodies and variation, but anyone into slow, chainsaw style death/doom will love this. "Desecrated Tomb" was the standout song during my spins.
---
Sorrowful Land – I Remember (Ukraine, October 26)
Lives up to the band name. A truly sad, melodic record for fans of My Dying Bride and Saturnus. I've only listened to it once so far, but I found it enjoyable.
---
The Ashen Tree – The Ashen Tree (India/Sweden, November 3)
This international death/doom metal collaboration released its first EP in November. Expect a progressive take on the style influenced by Opeth, Daylight Dies, Swallow the Sun and other familiar bands.
The Ashen Tree on Bandcamp ->
The Ashen Tree on Facebook ->
---
The Crawling (United Kingdom, November 16)
This band from United Kingdom plays a raw, yet highly fluent take on doom metal that I really enjoy. Bound to turn into one of the biggest bands in the death/doom genre if they keep releasing music this good.
---
Un – Sentiment (United States, September 28)
10+ minute songs aren't really my thing, but in Un's case I'm ready to look past it. I haven't listened to this enough for a final verdict yet, but what I've heard is a great hybrid between funeral doom, death/doom and sludge.
---
Woebegone Obscured – The Forestroamer (Denmark, July 27)
Another funeral doom-ish release. These Danes that I've never heard of before delivered a solid album. Once again, a bit too funeral doom for me, but it's certainly quality. Received a glowing review from doom-metal.com.
Read more: