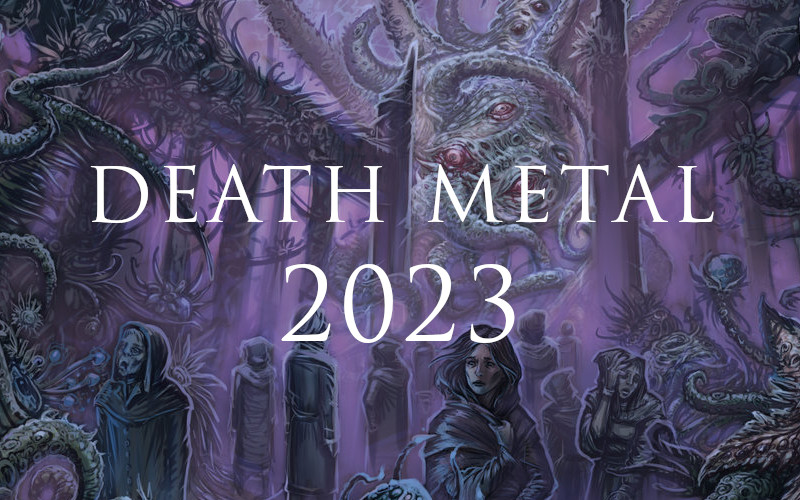 Do you want to keep up with all the new death metal albums from 2023? Here's the place to do it. I'm a metal musician and content creator, but first and foremost a music nerd! This is my death metal 2023 recap including released and upcoming albums. Is anything missing? Do you have any hot extreme metal recommendations? Feel free to hit me up on Instagram or wherever you can find me!
Since my death metal from 2022 list turned into a failure in the end due to my lack of updates, I'll try to go with monthly updates this year. Sorry for that, but all I can do is to improve in 2023! And if you like Swedish death metal, please give my band Desolator a shot.
About me – deathdoom.com, music and more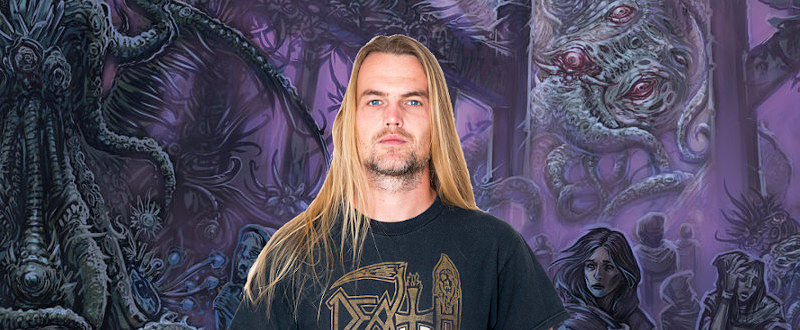 Stefan Nordström
Musician, songwriter, content creator, digital freelancer
Stockholm, Sweden
Bands: Desolator, Soliloquium, Ending Quest, Ashes of Life, Trees of Daymare, The Ashen Tree
Top death metal from 2023
Will fill this one during the year, as I listen to more and more death metal:
Cattle Decapitation – Terrasite
Memoriam – Rise to Power
Obituary – Dying of Everything
Nothingness – Supraliminal
Devangelic – Xul
Upcoming death metal from 2023
Obituary – Dying of Everything (13 January)
Starting off 2023 death metal with a classic band? Why not? Most people, including me, focus on the earliest few albums, but it's still so cool that Obituary are still around.
My thoughts: solid album! Nothing new, but definitely a fun listen, as always when it comes to Obituary.
Nothingness – Supraliminal (20 January)
Everlasting Spew releases a lot of quality death metal, so I have no reason to believe the second full-length from Nothingness will deviate from that.
Pantheon – Empire of Ruin (1 February)
Blackened thrash metal from the U.S. for fans of Deicide and Slayer. Definitely something for the old school death metal fans to check out!
Memoriam – Rise to Power (3 February)
The British riff-machine is back with another album in 2023. I really enjoyed the last one, so definitely looking forward to "Rise to Power" will bring!
My thoughts: another raging, riff-filled album with the aggression I love so much.
Sanguisugabogg – Homicidal Ecstasy (3 February)
Second album from the hyped U.S. slam death metal band. Not a huge fan, but I'll probably check it out to see if the hype is warranted or not.
Ulthar – Anthronomicon/Helionomicon (17 February)
Highly rated double album from this unconventional Lovecraft-themed death/black metal band
Tribe of Pazuzu – Blasphemous Prophecies (6 March)
Debut from this all-star death metal group featuring members from Incantation, Cryptopsy and more. I liked some of the EP material, so will definitely give this a spin.
Astriferous – Pulsations From the Black Orb (10 March)
Well-received debut from this Costa Rica death metal that I will surely give a listen.
Bastard Grave – Vortex of Disgust (10 March)
Do you like your death metal in a classic Swedish style? Then this one might be for you!
Death Reich – Disharmony (17 March)
Need even more Swedish death metal in your life? Then Death Reich's debut is certainly something for you.
Maze of Sothoth – Extirpated Light (24 March)
Everlasting Spew spews out a lot of quality death metal, and one of the band's is Maze of Sothoth, technical death metal from Italy. Their 2017 debut was appreciated by many, so it will be interesting to see what they can bring to the table in 2023.
Devangelic – Xul (7 April)
4th full-length album from this appreciated Italian brutal death metal band.
Judgement: heavy Nile influence, and I'm definitely digging it.
Ironmaster – Weapons of Spiritual Carnage (28 April)
This Swedish all-star death metal line-up released their debut in 2022, and they're already back with a second one in 2023. Will definitely check this one out!
Cattle Decapitation – Terrasite (12 May)
Cattle Decapitation has some high-quality releases behind them, so I believe 2023's "Terrasite" will be another good dose of brutality. Check it out: "We Eat our Young"
Judgement: definitely just as good as the last two Cattle albums. Massive and apocalyptic!
Frozen Soul – Glacial Domination (19 May)
Second album from this very hyped Texas band. I'm yet to be convinced about their absolute greatness, but I'll give this a spin for sure.
Vomitory – All Heads are Gonna Roll (26 May)
These Swedish veterans are back with their first album in 12 years. Usually always quality, so I will give it some spins.
Listen: "All Heads are Gonna Roll"
Grand Cadaver – Deities of Deathlike Sleep (25 August)
Grand Cadaver's debut was a fun piece of old school death metal, featuring Dark Tranquillity's Mikael Stanne on vocals. Definitely interesting to see what the band can deliver in 2023.
Incantation – Unholy Deification (25 August)
Incantation keep churning out albums, and they're usually all good. Will definitely see what this release offers.
Upcoming melodic death metal from 2023
This time around, I'm including melodic death metal in the death metal 2023 article for simplicity.
Insomnium – Anno 1696 (24 February)
Finnish giants Insomnium are back with another full-length album in 2023. I really liked the last album and EP, so I'm looking forward to this one!
Weight of Emptiness – Withered Paradogma (7 March)
Chile has been producing a lot of good metal music, lately and Weight of Emptiness is another example. 2023's "Withered Paradogma" will be the doom-leaning melodic death metal band's third album.
Other 2023 metal lists:
Progressive metal from 2023 ->
Best metal albums from 2023 ->
Support me and my music: