Instagram has become and integral part of promoting yourself as a band or musician. Since I'm more of a writer than a visual person I waited too long to start. Eventually, I realized the worth of Instagram and got sucked in. Here's why I started, and why you should too if you play music! It's a good, if indirect, place to promote your music on social media. Don't forget to comment if you have questions or if I'm horribly wrong about something.
In this article I'll discuss this, as well as much more:
Differences between promoting music on Instagram compared to other social media platforms
Setting up the right type of Instagram profile
Finding potential fans
When you should use a business or personal account to promote music
Instagram post types
Instagram videos
Hashtags and using hashtags strategically
The differences between Instagram, Facebook and YouTube
Promoting music on Instagram is something else entirely. It's not as much about the music itself as on Facebook or YouTube. Videos can only be up to 1 minute in most cases. This limit means that you have to find creative new angles that fits the visual nature of the platform. I'll talk a bit about that later, but let's start by talking about how to setup a fitting Instagram profile.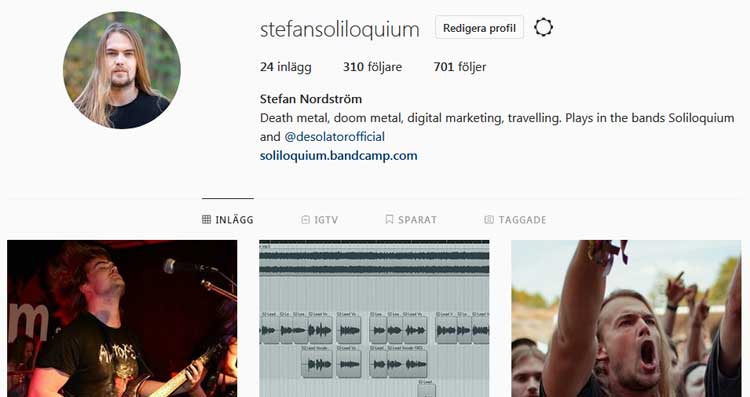 Instagram profile setup for promotion
Instagram is tricky when it comes to getting clicks to your other digital platforms. There's only one link allowed: the main website in your profile (set to soliloquium.bandcamp.com in mine). You can't put clickable links in posts. Putting links in regular text won't get you many clicks, so except the main website links there won't be much action traffic-wise. You have to choose that link wisely.
For me, it's a pretty tough choice between Facebook, deathdoom.com and Bandcamp. In the end I chose Bandcamp, since that's where my music sales happen. It's a bit strange for a personal profile to have a Bandcamp link, but as Soliloquium is almost a one-man project I think it works.
Add people and bands
No need to go bananas, but a good start to music promotion on Instagram is to start following people. Start with similar bands and the musicians playing in them. Maybe you can find some uber fans with open accounts too.
The openness of Instagram is a big advantage. Since you follow people, rather than befriend them, there are good opportunities to approach potential new fans without being too pushy. Check out the genre-hashtags and other things that are connected to your music. We'll talk more about hashtags later in the article.
Business or personal account?
This really depends on how big you're thinking and how much you have to say. Big bands grow a following without posting all too much, so they can easily get value on having a business account and personal accounts for the band members on Instagram.
For me, Soliloquium is one man band that's very rooted in my opinions and what I do. I decided to do a stefansoliloquium account; a personal account where I post my personal pics as well as the occasional sales push for my musical endeavours.
For a small but active band with a full line-up, a business account is probably the way to go. It really depends on the circumstances. Generally it's about how big your band is as a brand and how much content you have to put up. Being active on Instagram gives a lot of extra push, so if you rehearse a lot or go out on tour that really helps to produce pictures to post.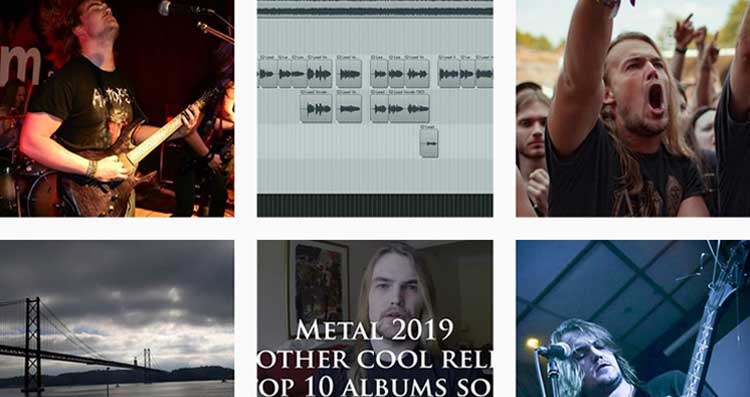 Instagram post types for promoting music
There are some post types that work well for music promotion, try these:
Band pictures
Rehearsal pictures
Jamming pictures
Live pictures
Equipment pictures
Merch pictures
Favorite music
Other personal interests
Instagram videos
Don't forget about video. If you're making a video that you're posting on YouTube or Facebook, why not make a short version for Instagram where you tell your viewers where to see the full version? I've done this a couple of times and it has worked quite well. A video advertising my latest guitar playthrough actually had more views on Instagram than the full guitar playthrough on YouTube.
Just make sure not to make your account into a marketing factory. Have some "genuine" pictures in between the posts that urges the viewers to act by buying your record or checking out your Facebook. Be fun and spontaneous as well.
No need to be "insta" all the time!
About this genuinity and being active: if you dig, you'll find plenty of stuff to use, even as a bedroom musician. Also, don't think you need to be "insta" to use Instagram. People like old pictures too, and usually you don't need to call it out being old. Old live pictures do well for me, band pictures as well.
If you want to start posting every day, dig out an archive of like 50 cool pictures and put them on your phone. Just make sure they're varied enough to keep entertaining your fans. Make a schedule of which type to post which day to make it easier. Also, if you're multiple people managing one band account: split the duties!
Hashtags – use them and use them right
Hashtag strategy is a big part of music promotion on Instagram. Start by surfing around to find popular hashtags in your niche. Genres, similar bands, geography, moods. It all applies. Use around five tags per post and vary them to get your images in feeds for different hashtags.
If you're very strategic about your Instagram hashtags, which you should be, gather all relevant ones in a document. Make sure your different posts are relevant to different hashtags so you can be seen in all of them once in a while. This is a way for you and your music to be seen on Instagram without being intrusive at all. Just make sure your image matches the hashtags well enough. Following hashtags connected to your band, music genre or similar bands is also a way to find new fans.
Final words
I hope I taught you a thing or two about starting out with music promotion on Instagram. To be honest, I wouldn't be on Instagram at all if it wasn't for promoting my music. Sure, the format can be direct and fun, but it's also a much more vain platform than the others; pictures of hot people in doom metal shirts (and sometimes not much more) dominate the feed, not talented underground bands.
Learn more about online music promotion:
Promoting music on Bandcamp ->
Promoting music on Facebook ->
Promoting music on YouTube ->
How to promote your metal band online ->