I've read many guides about music promotion and marketing online, and most of them apply to promoting metal music as well. But metal is a genre that has extremely engaged fans, and specific digital habits. Some of the habits provide great opportunities and some of them are frustrating.
This article includes all my learnings about promoting metal music online. It's a mix of general digital marketing tips and specific metal concepts. I will try to focus on areas that are specific to metal.
If you want to see my general tips for online music promotion, I have guides for Bandcamp, YouTube, Facebook, SEO and SoundCloud as well.
Are you trying to promote your metal band? Do you have questions or tips on this topic? Please comment!
Facebook groups for metal subgenres – a promotion goldmine
My most urgent tip is Facebook groups. Many people miss out on this opportunity to reach engaged listeners with the right type of taste. Metal fans love to create groups for bands, moods, countries, subgenres and more. You can post your music and content in these without getting slack, as long as it fits the group scope and avoids being spammy.
A good tip is to participate in the discussions and make some new connections as well. You can find fans and musicians who act as online thought leaders in the metal genres. Not to mention that you can make some good friends along the ay.
My band Soliloquium as well my friend's band Within the Fall have become staples in the doom metal genre groups on Facebook through this strategy. It's no road to mainstream success, but these are probably some of the most passionate fans of the genre. Thousands of hardcore fans are there for the taking.
YouTube and metal music
YouTube promotion is a great way to draw attention to your band, or to yourself as an independent musician. Many of these video strategies can be done for the same song, which allows you to post it multiple times in different versions. It really is a good way to get maximum return on your hard work in the studio. Below are some common music formats to use on YouTube.
Metal cover versions
Covering a metal song, or making your own metal take on a famous song can bring an unexpected amount of YouTube attention. I've done it both as an independent solo artist and with my bands with varied success. My biggest YouTube success is Soliloquium's death/doom metal version of The Cranberries classic 90's hit "Zombie" that has over 70,000 views.
Lyric videos
Making song videos with a logo, an album cover or a band pictures is a bare minimum that works OK on YouTube. A lyric video where you can follow the song lyrics in real time makes people look longer, making YouTube's algorithm value it higher than a plain version. If it's a lyric video with a good looking picture or moving video behind the lyrics, even better.
Live and rehearsal videos
The metal scene loves live performances, and even if your audio and video is a bit shady it's fun to post it on your page. This also applies to rehearsal videos. Many metal fans like organic-sounding material, and if you're worried about it being a wrongful representation, just provide a link to the studio material in the video or metadata. Below is a video from my death metal band Desolator; a performance that certainly went wild and works well for promoting us a live band.
Playthrough videos
If you already posted a cool lyric video and a live video if your hit song, why don't you make a guitar playthrough of it? It's pretty easy to make nice looking splitscreen videos showing several instruments simultaneously. If you're extra ambitious, you can include tabulature or instructions how to play the song. All these things are certainly appreciated. I know I've appreciated it as a YouTube viewer myself.
Post songs as well as full albums
Long videos often rank well on YouTube, so it's an unforgivable promotion mistake to only post videos of individual songs. You should definitely post your songs in every format possible, but don't forget to upload a video with your full album or EP as well. It will likely get more views.
Channel partnerships
Last, but not least: there are many popular subgenre pages out there on YouTube. Ask them if they want to post one of your songs on the channel, they usually will. This is free, win-win, online promotion at its best. The channel gets more material, and you get your music in front of genre fans who probably aren't familiar with your music yet. Some of the channels even make nice videos for you, as seen below.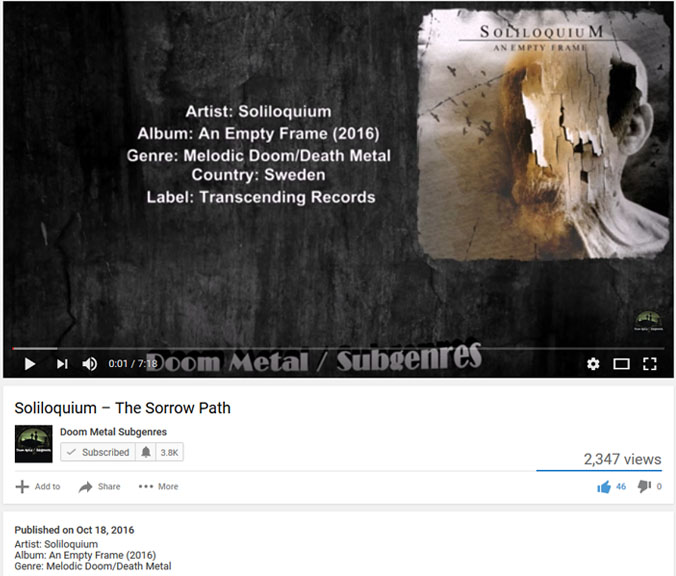 Metal Archives
Metal Archives is THE central resource for metal music. Huge amounts of metal fans search for new music on the site, and you bet the information from there will show up when people Google you or your band. Make sure your releases, lineup and band pictures are up to date so people get enticed to check out your band. Don't forget to enter all your important resources (Bandcamp, Facebook, Soundcloud, homepage etc.) under "Related links".
Get reviewed
See if you can get someone to review your music on there, there is even a request a review thread in the forum. The percent average from the reviews is an important first impression. Look at the Soliloquium profile below where my review requests resulted in reviews for every release, even three positive ones for "Contemplations".
Gives a great first impression. I'd check out a band with those stats myself. It's not be underestimated when it's the first contact with your band for many potential fans.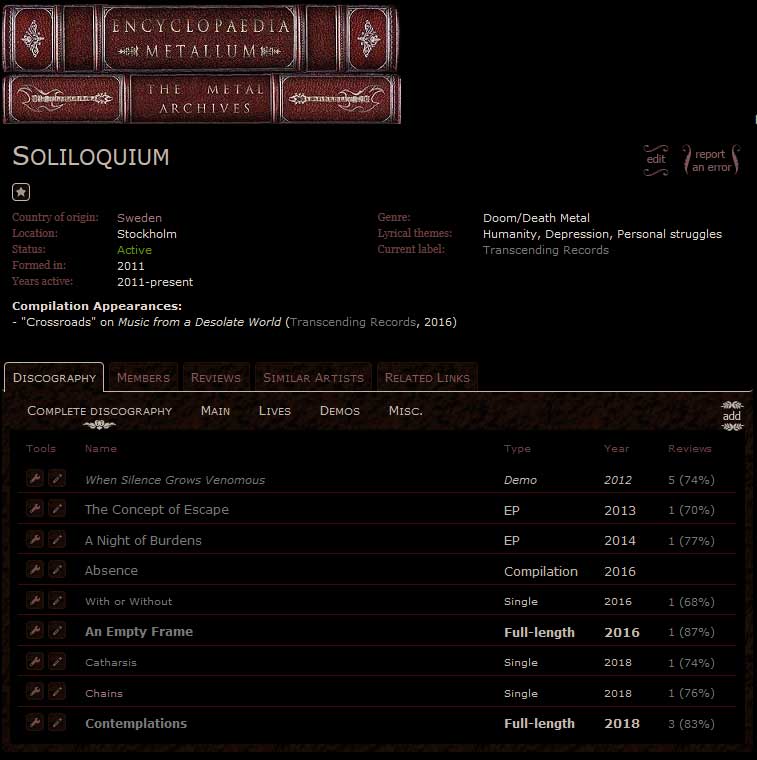 Turn into a similar artist when possible
Vote up your similar artists to potentially show up under similar artists on other band profiles. Soliloquium now shows up fairly high on popular death/doom artists like October Tide, Daylight Dies and Novembers Doom. It's not make or break, but it will give you extra traffic on Metal Archives.
Get active on the forum
Get active on the Metal Archives forum, and have links to your music in your signature. Even if you're just doing the occasional post in the now playing thread, it makes a difference. Don't forget to post your releases, videos, blog posts and other music content in the promotional forum. Use one recurring thread and make it big.
Rateyourmusic
Rateyourmusic is a tight-knit, rather nerdy platform. Hence, there are a lot of metal listeners who use it. Similarly to Metal Archives, make sure your band profile is tidy and up to date. Get your friends to rate your releases (in an honest fashion, no one believes a 4,97/5 average on an underground metal demo), and try to get people to write reviews as well.
I've gotten "Contemplations" reviewed four times by request, which is a high number for such an underground release. Just like with Metal Archives, it gives the impression that it's something worth checking out. In my impression, reviewers on Rateyourmusic really don't mind being contacted.
Rateyourmusic also has a forum with quite a few metal discussions. There are also musician threads where you can post your latest music and content.
Last.fm is filled with metal fans
Last.fm is crawling with metal fans who enjoy discussing their favorite bands. If you avoid being spammy, there is no problem marketing your band on other band pages or directly to other users. A personal account means a personal touch, but it also means that the aren't any opportunities to market your band on a wider scale.
My promotion mouth always waters when I see a similar style band's shoutbox full of potential listeners, like in the image below. And as you can see, my quite shameless promotion even received positive comments and likes.
Reviews and blogs in metal
Getting reviewed is a central part of promoting a new release. The metal landscape is a wide mix of everything from huge, commercial websites to backstreet blogs and it's not easy to know the etiquette that applies. Some require physical CD's and marketing kits, some are fine with a WeTransfer link with mp3's. A personal touch goes far in the metal community, and in a subgenre a reviewer could be a valueable contact in the future.
My label delivered got me some really good PR and reviews for the latest record. The "Contemplations" review at Angrymetalguy.com is probably the biggest traffic driver I've gotten so far. I was also included in the albums of the month feature for June 2018. This got me an insane amount (by my stanards) of YouTube hits and Bandcamp visitors.
Final words
I hope this article gave you some new online marketing tools. Please share and/or comment if you like the article. Don't miss the other music marketing content on the site.
Read more:
Digital marketing for musicians ->
How to promote music on Bandcamp ->
How to promote music on Facebook ->
SEO for musicians ->
Soliloquium's Bandcamp page ->