Marketing your band on Facebook should be easy, huh? No. Promoting underground music on Facebook in a major scale is tricky. At least if you want to create a real buzz beyond a few friendly comments without having the budget of a small company. Here are some tips on how to promote music on Facebook. Don't miss my similar guides for Bandcamp, YouTube and SoundCloud.
Designing a Facebook page for your band
Before posting anything you should start with a branded design for your band page. Make it look nice, and include your best art and band pictures. It's the first most people will see when they come in contact with your music. See it as your brand. Everything important should be immediately presented on the Facebook profile page. Make sure there is information about your latest release and where to get it.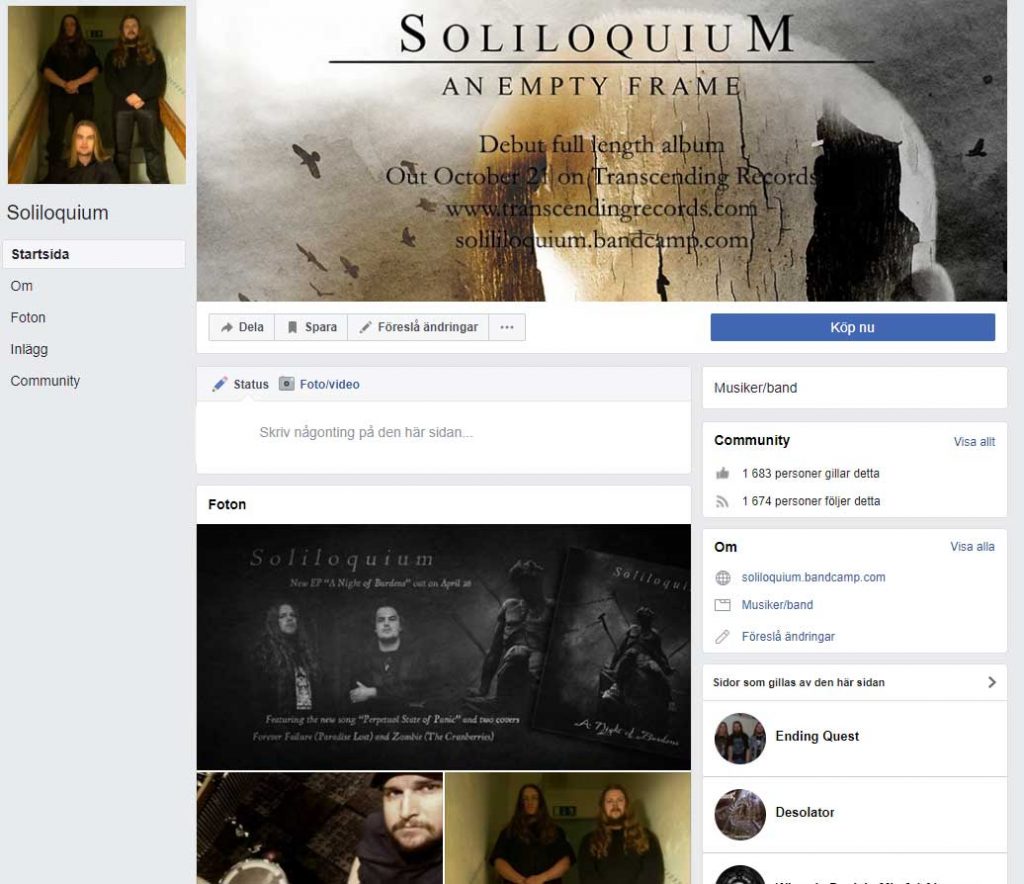 Cover photo and profile photo
My best practice is to have an advertisement for the latest release as a cover photo and a band picture for the profile. If you're playing live, announcing it in the cover photo is the way to go. Don't succumb to the sins of this version of the Soliloquium page above: have an up to date band picture and an up to date cover photo.
Remember that changing cover photo or profile photo also alerts some of the people who follow the page. It's a good strategy to draw some extra engagement. Don't overdo it though, people will unlike your page.
Organic and sponsored Facebook posts
Facebook have taken away much of the possible reach for organic (non-sponsored) posts. Only a few percent of the people who like your page will see your content, even if you make great posts. Unfortunately, this applies as much to underground musicians as multi-million businesses.
Sponsored posts rarely give value for money for an underground band. It's more about how much money that won't return you want to put into your music. Keep in mind that a Facebook ad that links to a Bandcamp page where you can sell your music means several clicks to get through the whole sales cycle. Don't expect to sell many albums in the end, despite paying for 1000 initial Facebook impressions for your ad.
Making money or getting exposure
Return on investment aside, targeting your progressive rock to people who like the Pink Floyd Facebook page can expose your music to a lot of new fans in the right target audience. It's about how you see the business side of your music. Recognition can certainly be bought. Financial gain is a whole other story.
An important thing with sponsored posts is to reach out and invite the people who have liked them to like your page. Many of them is yet to like your page and they're free for the taking. My experience is that many of them also choose to like your page after being invited. This is also worth checking out for organic posts. They could have been shared and liked by people outside your page.
How often should you post?
This is an area that's been debated since the dawn of Facebook. My two cents for underground bands: as long as you have something interesting to say. The reach of your organic posts is largely decided by how your fans react to it. Make great posts that will get awesome engagement metrics, and your reach will expand. Simple as that.
Some tips on increasing your Facebook engagement are:
Be human and personable
Encourage more interaction by answering your comments
Use call to actions (CTA) on as many posts as possible. It could be as simple as adding a question like "what was your favorite of album x?" instead of just posting the YouTube link
Post something surprising; I've been posting everything from music reviews to YouTube covers, opinion pieces and band recommendations. Things do not have to be 100% related to the page topic to work. Quite the contrary. Experiment!
When should you post on Facebook?
When you should post on Facebook to reach as many fans as possible is another divided discussion. This conclusive compilation of studies is a great way to find out when to post on Facebook and other social media. It's a massive difference between different fan pages.
A good way to find is to check the feature "When your fans are online" under "Posts". In there you will see a graphic for weekdays and times when your fans are most active. Not surprisingly, my gang of death/doom metal fans in the image below are somewhat night owls.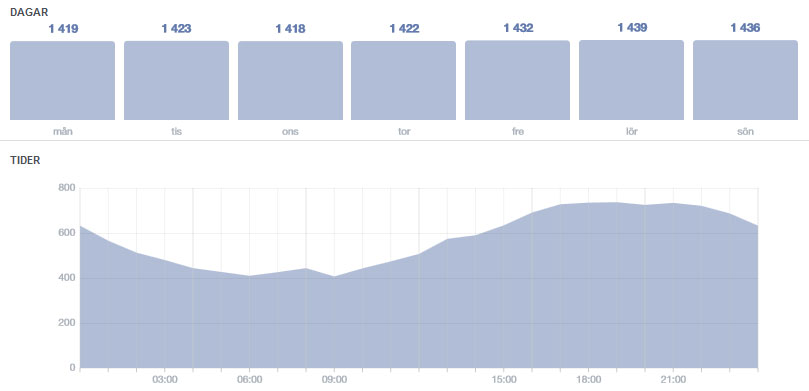 Facebook content plan
Any good content marketer who uses multiple playforms should have a content plan. If you want to succeed, think like one. Gather the topics you can post about and prepare them in an Excel document. If you're not available to manage the page for a while, even program them to post later. I did this for a month-long trip on Soliloquium's Facebook page without anyone noticing. Just make the posts interesting and human. People can smell automated social media activity.
Facebook groups – a goldmine for music promotion
Just like I rave about in my main article about online music promotion, Facebook groups are great. They are especially great if you play an underground or niché genre. The people in the groups tend to be engaged to the core, which makes them very accepting of promotion, as long as the music fits the scope. It's also a chance to interact directly with the fans and other musicians in your style.
There are two ways: one is to share your posts from your page in the group from the share button in the administrator view.
Facebook photo posts and photo albums
A way to create engagement and get something to continually post about are photo albums. Collect your album art and band pictures in albums. Allow your fans to send you pictures with your merchandise and post them in the album.
Post some personal stuff now and then; some of the most successful posts on my death metal band's Facebook page can be something as simply as pictures of the band members going to the local bar for a beer. All of these really tend to work extraordinarily well. Try them out and see for yourself!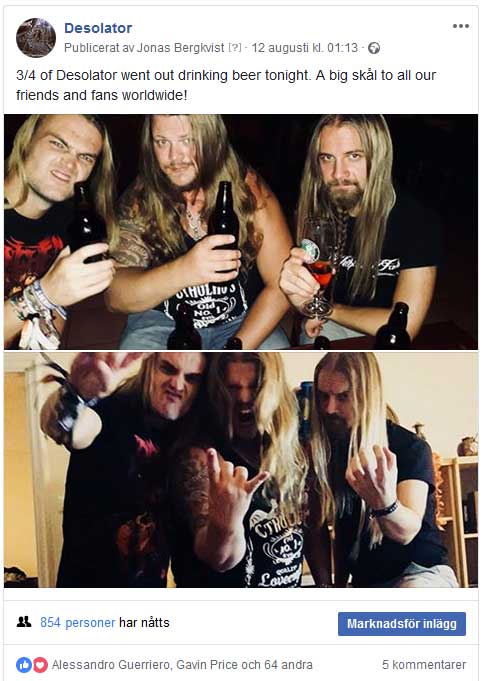 My key learnings from marketing music on Facebook
Today's Facebook with the stripped organic post reach and expensive sponsored posts is not something that's a great marketing tool on its own. Use it as one tool in a larger strategy together with other social media platforms like YouTube, SoundCloud and Bandcamp.
The big advantage is the potential for building contacts and getting in personal touch with fans and other musicians. Drop your guard and make connections. It will be beneficial in so many ways for your music, especially if you're in an underground genre.
Read more:
How to promote music on Bandcamp ->
Music promotion on SoundCloud ->
Music promotion on YouTube ->
SEO for musicians ->
Marketing metal music online ->