How do you promote music on YouTube? It's not an easy task. Most of us get stuck with a few hundred YouTube views per video, despite pouring our hearts and souls into the music and video content. It's not how it should be.
In this article, I will share my learnings about spreading my band's music on YouTube. Don't miss out on my other music promotion tips: Facebook, SoundCloud, content marketing and SEO.
My YouTube music channel
My YouTube music channel is becoming packed with content. I'm getting more and more subscribers over time and I think my relevance in the metal circles slowly grows as well. It's a combination of songs from my bands, cover collaborations, playthroughs and bands I wish to promote.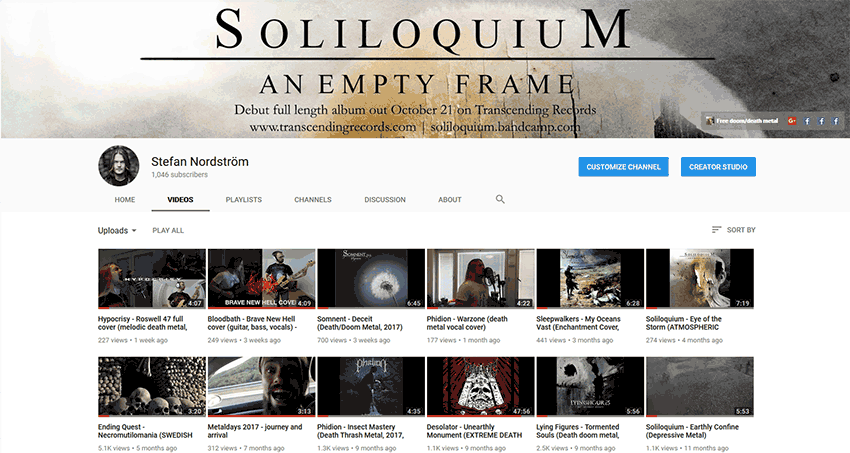 YouTube and underground music promotion
In underground music, like extreme metal, I have seen examples of unknown bands that have rushed to over 100 000 views. They usually get top hits from genre searches like "melodic death metal", "sludge metal" or "shoegaze". Unlike on Facebook, there are certainly still opportunities to rank high without spending any money on promotion.
How can your music get hits on YouTube?
But what can you do with your songs, albums and other videos to give them a chance to achieve this? Most traffic comes from either social media, search engines or YouTube clicks (like recommended and similar videos). The start is following my tips below to optimize your videos for search and clicks.
The YouTube algorithm logic
Some of the most important YouTube ranking factors:
Average viewing time
Video title
Video description
Video tags
Video quality
View count
YouTube's algorithm is different from Google's. It hasn't been without its exploitable flaws. Like Google, the focus has moved from keywords to user engagement metrics. Average viewing time is a strong factor, which can cause new videos to trend very heavily. This doesn't mean that keywords and other metadata lost its importance. Make sure to focus on getting both for your music videos.
Average viewing time (watch time)
The YouTube watch time ranking factor is exactly what it sounds like. How many seconds of the video are the average viewer watching? The best way to increase the watch time is to provide interesting content. A lyric video always trumps a song with an album cover visual. Longer videos is a sure way to increase the YouTube watch time.
This doesn't mean intentionally stuffing the videos with less valueable content. One trick is to post full albums or collect songs in one video in another that way that makes sense to the viewer. In my experience, full albums always get a better YouTube watch time compared to songs.
Average viewing times from my YouTube channel
Since I have a lot of real world music data from my YouTube channel, I'll put up some statistics from my songs and albums in different formats. It's an interesting comparison that sheds some light on the differences.
Despite that we're comparing different songs, the pattern is interesting. The video with live screen lyrics trumps the album cover video. The long video with the full album instead of a song trumps the song videos. This confirms that long videos is the way to go.
"Zombie" album cover video: 1:57 minutes average viewing time
"With or Without" lyric video: 2:52 minutes average viewing time
"An Empty Frame" full album video: 8:10 minutes average viewing time
Something that opposes the "action keeps the viewer active" theory is the viewing time of my collaboration covers. My Bloodbath – Breeding Death cover only has a 1:17 average viewing time and Brave New Hell by the same band has a 1:18. Even my wacky System of a Down – Aerials cover with death metal vocals only has 1:13. In the end, the covers have been more of a fun thing than something that benefitted my channel.
Video title
The video title is imperative for YouTube success for two reasons: it defines your video for search and describes it for the users. Try to get your genre and year in there without bloating it. If it sounds like another band, getting "similar to xxx" in there could be a good idea as well. In the end, it needs to be SEO optimized and readable at the same time.
Video description
Writing video descriptions and other types of metadata is boring as hell. That's why you should go the extra mile. I always try to write a 300+ word video description for every video that I publish. Start out with the important defining facts like artist, song, year and genre.
Don't forget to provide a visible clickthrough link. It won't sell you a million albums, but it's still a mistake not to include it. Go with Bandcamp and/or Facebook.
Some tips for video descriptions to reach 300 valueable (searchable) words:
Include lyrics
Include similar artists or influences
Include links to other videos
Include links to resources
Include links to collaborators
Explain why or how you made this video
Video tags
The tags can bring valueable referral traffic from similar videos. The mastertip for tags is to do a bit of research. If you're covering a band, find the most popular content about them and include it in your tags. A creative, yet relevant, use of tags can bring in some extra views.
Video quality
An often overlooked YouTube ranking factor is video quality. YouTube likes HD video, no matter if it's just a music video with an album cover or basic lyrics. Not many people do this, so make sure you do it. Don't forget to name your video file something that's consistent with your video title and subject. It's also a suspected ranking factor.
View count
A high view count is a sign of authority, as well as a ranking factor. Pushing forth your most popular videos is a smart move. Imagine someone coming to your channel profile for the first time. Isn't is better to greet them with a 50,000 view video compared to a 500 view one?
Video formats for music promotion
Music promotion on YouTube is about far more than just posting your songs. The more you think in terms of content marketing, the better. Here is a guide to the most common videos bands and musicians can do to draw attention to their material.
Playthroughs
Cover songs
Live versions
Rehearsal versions
Live Q&A's
Music reviews
Top lists
YouTube playlists
Playlists are an underrated way of getting traffic to your YouTube channel. It can be a way to get subscribers and channel views. If you're a bit sneaky, you can find a way to integrate your own material into the playlists and get views from just the right people. Below are some tips for playlist themes:
Genre playlists
Mood playlists
Geographic playlists
Yearly playlists
One last important note
Don't forget that building a brand is an important part of all social media marketing. The brand can be your band, your personal brand or even a channel or page concept. Use themes and other recognizable things on the different channels wisely. Every profile image and thumbnail is a chance to convey your brand. This is especially important if you're looking to differentiate something like your YouTube music channel. For me it's all about my bands in the end. There is a reason pretty much all my online profiles have the same Soliloquium – Contemplations promotion in them.
YouTube tips for musicians wrap-up
These are my YouTube learnings, compressed into one hyperactive homepage article. Did you find anything valuable in the article? Have you achieved success with something that's not listed in the article? I'm interested, so please comment!
Read more about music marketing:
SEO for musicians ->
How to promote music on Bandcamp ->
How to promote music on Facebook ->
How to promote music on SoundCloud ->
How to promote metal music online ->
Other content on this site:
Music articles ->
Music reviews ->
My doom metal band Soliloquium ->