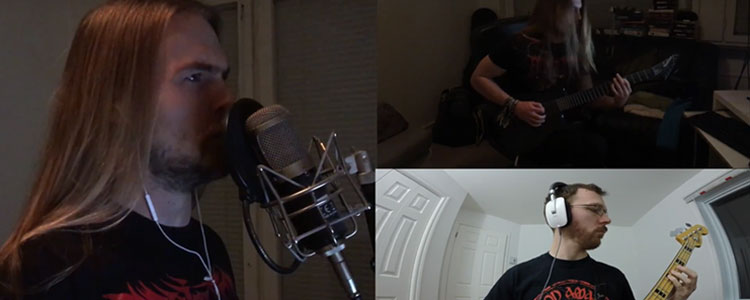 In this blog post you can read about my YouTube metal covers. I have quite a few covers, both from my official bands and from YouTube itself. Most of them are collaborations in one way or another. If you want to collaborate on something, send me a message. If you enjoy the covers, please share the crap out of them on social media! Don't forget to check out my original doom metal music by clicking on the Bandcamp link below.

Metal cover songs from my official bands
Soliloquium – Zombie (The Cranberries cover)
This is probably the death metal cover version I am the most proud of. The transformation from 90's pop song to death/doom metal anthem was surprisingly smooth.
Soliloquium – Forever Failure (Paradise Lost cover)
Accompanies "Zombie" on the "A Night of Burdens" cover EP. I replaced some of Nick Holmes raspy grunts with death metal growls. Turned out to be a pretty cool version, even it fades compared to "Zombie".
---
Ending Quest – Scream Bloody Gore (Death cover)
Boss HM-2 version of an early American death metal classic. The riffs certainly benefit from it, and I do my best to replicate young Chuck Schuldiner's high shrieks. I enjoy the raw violence of this cover version.
---
Ending Quest – Born for Burning (Bathory cover)
Not a cover of my choice, but one that turned out quite cool nonetheless. The groovy riffage in "Born for Burning" works well with the Ending Quest HM-2 sound. It was also fun to play around with some black metal vocals for the first time.
---
Ending Quest – Wolverine Blues (Entombed cover)
Increasing the distortion on this death n' roll classic turned into the first cover song I ever put on an official release. It's not the best cover I ever did, but still a fun one where I got to exercise my Swedish style growls.
YouTube metal covers
I've done plenty of collaborations on YouTube, both with my band members and international friends. Just like the band covers they range from faithful versions to death metal mutations of non-metal songs.
Bloodbath – Breeding Death
Groovy tune from the first Bloodbath EP that I've known on guitar for years. The machine gun vocal lines were not easy to replicate, but it turned out pretty good in the end.
---
Blood Red Throne – Arterial Lust
Blood Red Throne's "Altered Genesis" is shock-filled with good riffs. It was fun to drop tune and hammer down this groovy track from said album.
---
Death – Baptized in Blood
The songs from Death's debut album are raw and filled with hooks. "Baptized in Blood" fits the more raw parts of my voice perfectly. I like what we achieved with this version. Read more about Death in my list of the best Death songs.
---
Death – Without Judgement
"Without Judgement" is a maze of quirky riffs and still manages to be very catchy. I do my best to replicate Chuck's vocals in this modern style, something I never tried out previously. Read more about Death in my list of the best Death songs.
---
Katatonia – Without God
"Without God" is a basic, but atmospheric piece of death/doom metal. Quite a successful cover version where we achived and updated sound that still felt raw and faithful to the original. It's not a part of my top 10 Katatonia songs list, but click here to see the songs that actually are.
---
System of a Down – Aerials (death metal cover)
As close as I ever got to replicate what I achieved with my "Zombie" cover. This is not quite as creative or successful, but I do feel that the growls give it an extra dimension not present in the original.
---
Phidion – Warzone
I provided vocals for an instrumental version of Phidion's "Warzone". Turned out quite fun. Phidion is a local Stockholm death/thrash metal band that people certainly should check out!
---
Bloodbath – Brave New Hell
Bloodbath songs are already fun to cover, and when I saw that my most frequent collaborator made a bass cover of "Brave New Hell" it was on. I think I managed to handle most of Peter Tägtgren's vocal acrobatics in this one.
---
Hypocrisy – Roswell 47
There are even more Tägtgren challenges in this one. A lot of fun to record the vocals, and I think we did the original justice.
---
Bloodbath – Buried by the Dead
Another groovy Bloodbath track covered. Really nostalgic to make a pro sounding version of a song I've learned to growl so many years ago.
---
Benighted – Mourning Affliction
We decided to go brutal death metal with a catchy song from my favorite band from the genre, Benighted from France. Quite interesting and challenging for me to try out this vocal style.
---
Katatonia – Day
First time trying out clean vocal Katatonia in one of my YouTube covers. Worked out quite well, methinks!
More content:
My YouTube channel ->
My band Soliloquium on Bandcamp ->
10 essential death/doom metal albums ->
Guide to doom metal and its subgenres ->