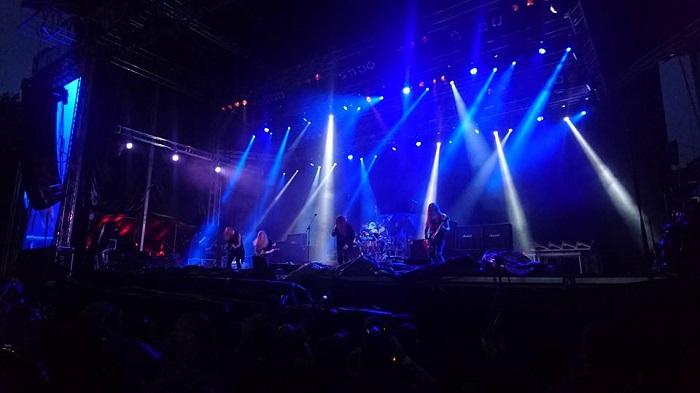 Anyone visiting Metaldays 2020 might find this guide interesting. I've visited the Metaldays festival in Tolmin, Slovenia three times: 2014, 2017 and 2018. It's a great festival that every metal fan should visit, and this is a Metaldays guide based on my experiences.
About the author

I'm Stefan Nordström, an aspiring musician and content creator. I'm a frequent metal festival visitor, and I've been to Metaldays three times (2014, 2017 and 2018). Metaldays 2020 might be the fourth time! This is one of the ways I promote Soliloquium, my progressive death/doom metal band. If you're searching for new music in the style, it would be awesome if you listened to my stuff on:
Metaldays 2020 dates
Metaldays 2020 is held on 26 July to 1 August. It's rumored to be the last time Metaldays is held in Tolmin, which is reason enough to go there in 2020. The first band announcement include Testament, Paradise Lost and Napalm Death, so it seems were looking at a good line-up year as well, something that definitely couldn't be said about 2019.
The ticket price is 175 euro, with an additional 25 euro for early arrival. It's a good price considering the festival's extreme length and beautiful surroundings.
Metaldays 2020 prices
Metaldays prices are not cheap anymore, at least not compared to a similar festival like Brutal Assault. The trick is to know where things are cheap and expensive, this applies both to the festival area and camping. You're bound to run into some rip-offs when timing is off, but some precautions are smart to take.
Beer
In 2017, the camping had 1 euro beer (50 cl cans) until 18:00. In 2018, the price went up to 1:50. The supermarket shop in the camping also had similar prices for better and bigger beer. It's best to stock up in camp from one of these, otherwise you will have to pay at least 5 euros for a beer from the food court, if you don't want to go to the festival area. The beer price in the bars in town is usually around 2 euros for 50 cl.
Beer in the festival area at Metaldays was 4 euros in 2018. This is too much for me, but I was tricky by often resorting to the 2 euro wine.
Cocktail
The cocktails in the festival area are around 6-7 euros. They usually focus on being strong over tasting well, but having a Pina Colada at the beach bar is certainly a mandatory thing to do when you visit Metaldays. Note that there are also jumbo cocktails that are big enough to last for an entire night!
Food
Food is quite at expensive at Metaldays, count on paying at least 8 euros for a decent meal at the food court or festival area. My tip is to head to Tolmin city to find food that is both cheaper and better. For instance, I had great lasagna (big portion) for 7 euros at one place. One thing Metaldays is good at with food is the vegan and vegetarian options.
Wine
If you like wine, Metaldays is for you! Wine in Slovenia tastes good, and is a lot cheaper than beer. In 2018, a glass of wine in the festival area was 2 euros. I had a small glass of wine in Tolmin City for 70 cents (!!). If you want to be tipsy and cut down on the alcohol expenses at Metaldays 2020, wine is a winner!
Stage areas
Metaldays has three stage areas: main stage (Lemmy stage), forest stage (Bosko Bursac stage) and beach stage (Newcomer Stage). The main and forest stages are in the festival area, while the Newcomer stage is situated on the beach, which is in the camping area.
I prefer the forest stage, since it has more charm and tends to get less crowded in the night when the bigger bands start playing. I've also seen some of my favorite Metaldays gigs there, such as Benighted, Immolation, Death Angel and The Foreshadowing.
Tolmin city
Tolmin city is small, but it does offer the Metaldays 2020 visitors some nice bars and restaurants, and it's also worth checking out for the surroundings.
Bars
The bars in Tolmin are booming around Metaldays, and most of them are playing metal music and serving the festival-goers. One bar in particular was extremely kind to us, offering a backyard pool, as well as free Slovenian liquor. Heading up to Tolmin for some pre-partying is always a good idea.
Restaurants
The food at the food court has nothing on the restaurants in Tolmin, so if there's time to do the walk and sit down I'd choose them every time.
Things to see
Don't miss the national park and the surrounding area when you visit Metaldays. You can find signs to follow from the city (Tolminska Korita), and there are also shuttle buses if you don't want to walk there. Just like the area around the festival, it is a gorgeous display of mountains and rivers.
Weather
The Metaldays weather is notoriously unpredictable, and one day can give you a sunburn and still have a storm that blows away your tent. Bring some thick clothes, because the nights can get much colder than the geographical location suggests. Also, make sure your tents and party tents are solidly attached, because chances are a storm will come.
Wi-Fi
In 2018, the Metaldays Wi-Fi was working decently at most times. It's a nice thing to have, even now when the EU makes decent-priced roaming possible.
How to get to Metaldays 2020
And the most boring part: how do you get to Tolmin and Metaldays 2020? The best way to get there is certainly to drive. It eliminates a lot of hassle and a road trip can be fun. If you're looking to get there without a car, it's best to fly into an airport nearby and catch a shuttle bus. Ljubljana is the best option, I've shuttled from there on two of my Metaldays visits and its worked fine. Other airports that are in close proximity are Venice (Italy) and Klagenfurt (Austria).
Highly recommended if you have a lot of time is to catch some of Serbia or Croatia and then take the train up to Ljubljana. Ljubljana flight tickets are often stupidly expensive anyway, at least from Sweden.

Read more:
Katatonia live at Metaldays 2017 ->
The Foreshadowing at Metaldays 2017 ->
Death Angel at Metaldays 2017 ->
Brutal Assault festival guide ->
Soliloquium, Swedish death/doom metal ->