After a crazy Slovenian storm that cut short and almost cancelled the preceding Sanctuary gig, Katatonia finally came on stage. My mood was on top and I secured a great spot in front, right between Jonas Renkse and Roger Öjersson. Darkness set over Tolmin and my 12th Katatonia gig was on.
Katatonia is usually better at tours than festivals, but the Metaldays gig really felt like something else. The new line-up is a tight unit (perhaps their best one ever in a live setting?) and Jonas sounds better vocally than ever.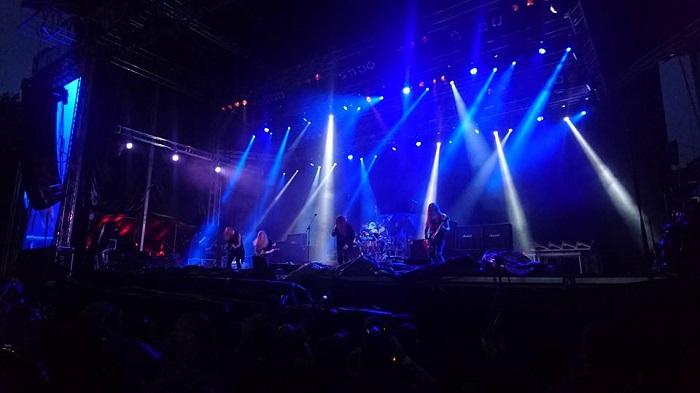 Going heavy for Metaldays
As expected, Katatonia mostly went heavy with the setlist. "Forsaker", "Ghost of the Sun" and "July" all have their headbanging parts to get a metal festival crowd going. "Dead Letters" was probably the best song in their entire set, seemlessly propelling me from headbanging to getting goosebumps in a few minutes time.
The other highlight for me was witnessing the song "Passer" live for the first time. The end part of the song is just pure post metal magic, in a style that Katatonia really hasn't visited before.
Katatonia setlist at Metaldays 2017

Last Song Before the Fade
Serein
Old Heart Falls
Teargas
Evidence
Ghost of the Sun
Soil's Song
Dead Letters
Forsaker
Passer
My Twin
July
"The Fall of Hearts" songs live
Overall, the songs from "The Fall of Hearts" sound great live. This is a bit surprising, considering the progressive and slightly awkward nature of the songwriting. "Old Heart Falls" is always an absolute showstopper, and Jonas singing on the track has a profound nature to it that gets me every time.
This is the best festival gig I've seen with Katatonia, and the only downfall is that they had to stop playing. I really can't wait to see my favorite band play again. Props to Metaldays for the excellent sound as well! Oh, and thanks to my pal Gijs for providing me with a picture from the gig.
Read more from Metaldays:
Death Angel at Metaldays 2017 ->
The Foreshadowing at Metaldays 2017 ->
More Katatonia material on the website:
10 best Katatonia songs ->
Countdown of the best Katatonia albums ->
Most underrated Katatonia songs ->
"The Fall of Hearts" review and track by track analysis ->