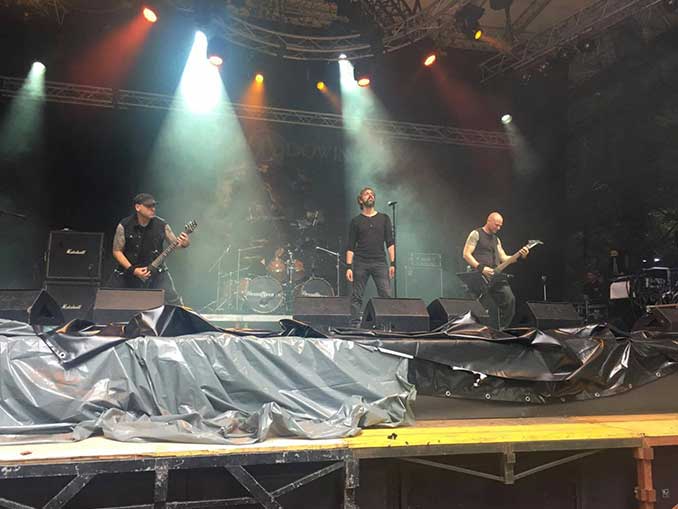 The Foreshadowing is a band that I've been quite obsessed with over the years. They've released four great records, making them a constant in my playlist rotation since around 2007. Metaldays 2017 finally gave me opportunity to see them live.
The preparations for the gig was classic festival confusion, as I had more than a few beers and no cellphone with battery (thanks to my friend Elin for providing me with good pictures). Luckily, it worked in my favor, because I arrived one hour too early. The circumstances led to me seeing the Romanian band Dordeduh on the same stage, and they were great!
Entering Metaldays with "Havoc"
After enjoying some pizza, atmospheric black metal and white wine, it was finally time for The Foreshadowing. The band entered with a metal presence, chugging through the heavy rhythms of opener "Havoc".
I was surprised by how heavy it sounded live, compared to the polished production on their albums. It was impossible not to headbang, and the organic feeling was topped off by an energetic and technical performance by the drummer. The string players had energy and urged the audience to get into the stomping rhythms.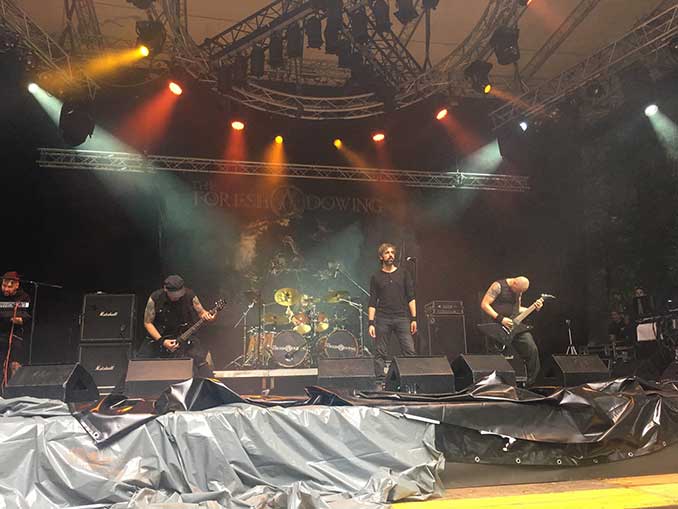 Marco Benevento perfection
Marco Benevento's vocal performance was otherworldly. He entered the stage with a chilling calm and delivered all the songs perfectly. The way he sounded on Metaldays confirms his place among my favorite vocalists. His baritone voice is just something else, and it fits so well with the apocalyptic doom metal instrumentation.
I was surprised at how well such an atmospheric band went down in a festival mostly filled with party people. The only disappointment was that they didn't play longer. The setlist was mostly filled with good songs that became great, so I wonder what would've happened if they played some of my absolute favorites, like "Oionos", "Departure" or "Ground Zero".
Setlist (unsure of the exact order)

Havoc
Two Horizons
The Forsaken Son
Days of Nothing
17
Chant of Widows
Read more from Metaldays:
Death Angel at Metaldays 2017 ->
Katatonia at Metaldays 2017 ->