These are my tips for the people attending the Brutal Assault metal festival in 2019. The Brutal Assault festival is held every year in Fortress Josefov, Jaromer, Czech Republic. I attended in 2015 and 2016, and I thought I'd share my experiences. For more info, check the official Brutal Assault homepage. If you're thinking about other European metal festivals, check out my guide for Metaldays in Slovenia.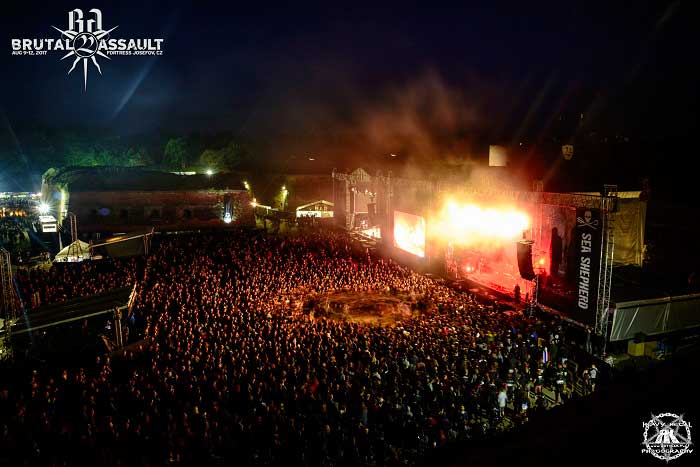 Location
The Josefov fortress is located a kilometer or so from Jaromer city. It has its advantages, because it's very easy to grab a bite to eat or a drink in Jaromer. The bars and restaurants tend to get very busy, but it's with festival people, so the atmosphere can be quite cool. Don't miss out on the cocktail caravan in the middle of Jaromer, or the river next to the VIP camping.
Size
The Brutal Assault festival capacity is around 15 000 people. The size is pretty optimal, because it means it won't get as overcrowded as Wacken or another monster-sized festival.
Camping
The times I have been to Brutal Assault, I have camped in the forest between Jaromer city and the festival. This is not an official camping area. In this area you get shelter from the weather and good party atmosphere, but beware of the thieves that can raid the tents. This especially occurs in the first night of the festival.
VIP camping
The VIP camping is safe from thievery, but it's definitely not a place I would camp. There are no trees, so you're unprotected from whatever the weather may bring in 2019. The fences also divide the VIP camp into different small areas. This means that it feels a lot like a prison. Not exactly what you're looking for in a metal festival, perhaps? But I decided to go for VIP camp 1 this year on Brutal Assault, since there won't be that much time spent there with such a line-up of bands.
Jaromer hotels
If you book it very early, there's always the possibility to stay in a hotel or hostel in Jaromer city. It's not how I personally would ever experience a festival. In this case it's a geographically viable option since the festival is very close to Jaromer.
Transport
The distance from Prague to Jaromer where Brutal Assault is held is around 140 kilometers. Unless you arrive by car, the easiest way to get to Brutal Assault is by train. There are direct trains to Jaromer, as well as other solutions where you can switch to local trains in Pardubice.
Getting to Brutal Assault by train has been easy both times. Getting home can be a whole other experience, because the trains back to Prague will be packed beyond the limit. We have been able to get on the first possible train, but expect a warm and crowded ride that won't be pleasant after a festival.
Distance from Jaromer
Getting to the Brutal Assault festival from Jaromer train station is a matter of a few kilometers. There are designated transfer taxis that will take you there for a fixed price. Despite that the traffic can be a bit crazy around the festival, this is usually a better solution than carrying your festival packing for 30 minutes in the heat.
Payment
Brutal Assault uses a cashless system. In 2016 they experimented with a chip in the festival bracelet, which worked out quite well. Just be careful not to break your payment bracelet in the mosh pit. Just like at other festivals, it's good to be strategic with the refilling. Lines to the booths can get crazy in the nights, or when big acts are playing. Nothing is as frustrating as coming up empty in the beer line. For 2019 Brutal Assault added the option of pre-ordering a filled festival bracelet, a really cool option!
Prices
The pricing is a big advantage with Brutal Assault. Everything is cheap, and there are also vendors outside the official festival parts that offer even cheaper stuff. The town has a few nice bars and restaurants too, though they tend to get very crowded during the festival.
Beer price
The beer (and other types of alcohol) is ridiculously cheap at Brutal Assault. Expect around 1,50 euro for one unit. It's about the same in the festival area as around town and in the camping.
Food price
The food is cheap at Brutal Assault, and a lot of it is also very high quality. It's actually the best metal festival I've been to when it comes to eating. There is not only junk food available; you can find plenty of Czech food that is more household style and solid. This is something I really appreciate at a fest.
Ticket price
The ticket price for Brutal Assault 2018 is 86 euros. It's a very fair price for a 4 day metal festival.
Festival area and stages
The Brutal Assault festival has two big stages placed next to eachother. There is also a small stage located in the end of the area, as well as an even smaller indoor stage where atmospheric acts usually play. Changing the stages over like they do ensures that bands rarely clash. This is extremely appreciated, even though the paralell soundchecks during gigs can be a tad annoying.
Line-up for Brutal Assault 2019
For an updated list, see the bands part on the Brutal Assault website.
Weather
One thing to note is that the Brutal Assault weather is unpredictable. The 2015 edition was one big beach party with constant sun, and 2016 was absolutely freezing. It's not an easy festival to find shelter, especially if you're planning to see many bands. With this in mind, I'd pack the swimming trunks as well as the jacket.

Read more about metal festivals:
Best European metal festivals ->
Metaldays guide (good for 2018) ->
Rockstadt Extreme Fest 2017 review ->