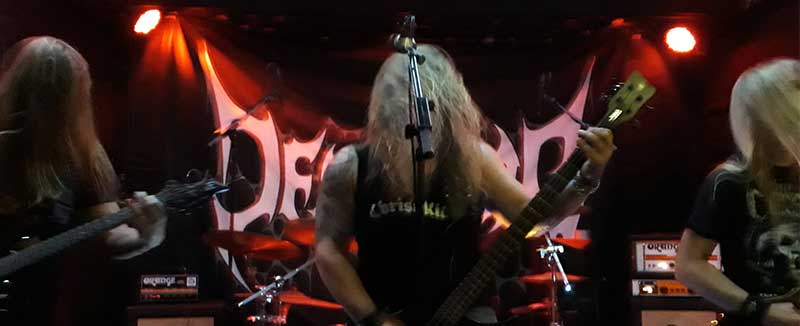 Reviewing a gig that you took part in yourself is kind of weird, but I still wanted to share my reflections from this awesome night. Desolator did our first gig in a long time, sharing the stage with Just Before Dawn and Dead Awaken at Copperfields in Stockholm. It was a memorable one for sure.
Desolator
I thought it would be strange to play a gig after over two years. It really wasn't. The intensity was there right from the start and the audience seemed into it. In terms of tightness it was one of the best gigs we ever did. Good energy too! It was fun to present the new song "Vaticide" to the live crowd and it seemed to go down well. A really nice evening for us in Desolator.
Desolator setlist
Infernal Gathering
Illusions of Grandeur
Vaticide (new song from the upcoming album)
Impaled
Sectarian Breed
The Faceless God
Antimortem Autopsy
Second Killing of Christ
Just Before Dawn
Just Before Dawn went on around 23 and war metal chaos ensued. The guitar wall was massive and frontman David Ingram presented the songs like a true pro. I couldn't help going up there and headbanging despite that I just performed a gig myself. I was really impressed and it was a joy to share the stage with Just Before Dawn. My personal favorites "Day of Days" and "Under Wheels of Death" were the highlights.
Dead Awaken
After the wall of war-themed tremolo riffs, Dead Awaken entered and performed a set of manic, technical death/thrash metal. I was impressed by how well they kept it together. The songs were truly frantic and there were only two string players on stage. It was definitely a cool gig to watch and a proper way to finish a night of quality death metal at Copperfields.
Summation
This was one of the coolest gig nights we've done so far with Desolator. A solid performance of our own topped combined with playing with two great death metal bands. I hope we can do more nights like these soon!

Read more:
Facebook photo album from the gig ->
Just Before Dawn Facebook ->
Dead Awaken Facebook ->
Desolator Facebook ->