My first visit to Rockstadt Extreme Fest was an interesting one, as it always fun to explore a new country and its festival culture. We arrived at Rockstadt in the afternoon, after deciding to wait out the chaotic lines in the morning in nearby Brasov. After having a fantastic time at Metaldays 2017, my expectations were high.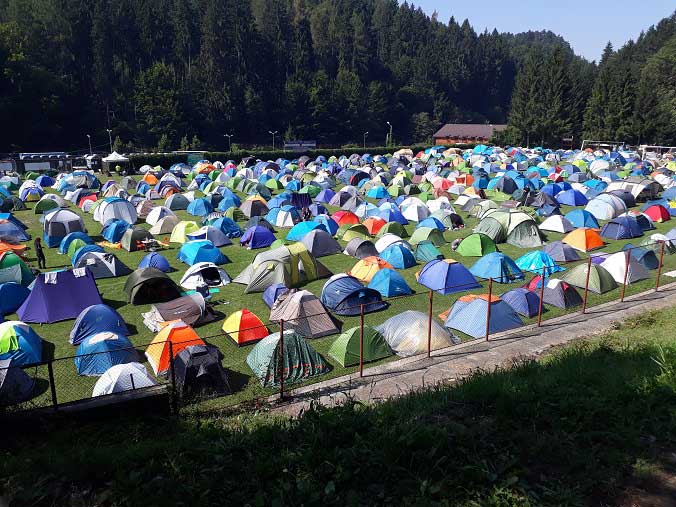 The nearby camping on the football field was sold out on paper, but we luckily managed to get in there anyway, as our friends were camping there and the other camping was 3 km away. The festival partying quickly commenced, as the gigs from Diabolical, Taine and Arcturus were closing in.
Diabolical
First up was Diabolical, a Swedish death metal band I've seen a few times before. I enjoy some of their songs like "Eye", but I've never been a huge fan. Unfortunately, Diabolical didn't really convert me any further with this gig. It was OK, but lacking the passion that I look for in my old school death metal.
Taine
Taine is Romania's answer to mid-era Death. Since I love that style of music, I made sure to check out their gig at Rockstadt. Sadly, it didn't really resonate with me, despite that the band seemed to have a lot of fun playing for a large audience. Much like Diabolical before them, Taine's performance lacked the extra flair to make it something special.
Arcturus
I managed to miss Arcturus at Brutal Assault 2015 (damn you, alcohol!), so I made sure to see them at Rockstadt. Vortex and his pals delivered a wacky, as well as musically tight performance, that was highly enjoyable. As happy as I was to hear "Crashland", as disappointing was the absence of "Nightmare Heaven" and "Shipwrecked Frontier Pioneer".
Korpiklaani
Folk metal is as far from my cup of tea as it gets, but I do appreciate a good party. This was exactly what happened when Korpiklaani took the Rockstadt stage. The band had great energy and really got the crowd going.
Kreator
I had researched Kreator's recent setlists, and since they were shock-filled with new material that I don't like I wasn't expecting to attend my 8th Kreator gig at Rockstadt. However, the good tunes they did play did draw me in.
I found myself in the outskirts of the first row headbanging and singing along to "Violent Revolution" and "Pleasure to Kill" without really knowing what happened. Much like many 80's thrash metal bands that are not Death Angel, Kreator are getting a bit tired on stage. It was still enjoyable to hear some classics.
Leprous
Leprous got moved until 1:45 in the night due to transport problems, and it was a struggle to stay awake. Luckily, we fought the elements and were rewarded with a great performance! Einar's singing was spot on, and possibly even more passioned than on their records. I was also surprised to see a band in this style have so much energy on stage.

Suffocation
Suffocation is a long-time favorite of mine, and I was happy to finally see them at a human hour. I previously witnessed them after midnight at Summer Breeze 2009 and Metaldays 2014, but this time they went on when the sun was still up.
The singer did his best to replace Frank Mullen, and really got the crowd going. The setlist was perfect, starting off with classics like "Thrones of Blood" and "Pierced From Within". The gig was way too short, but the intensity was there all the way.
Napalm Death
Napalm Death is an extreme music institution, and proved it further at Rockstadt Extreme Fest 2017. Barney mixed intelligent social commentary and insane stage energy to perfection, making it one of the best gigs on the festival. It's obvious how much the band members love what they do.
Solstafir
Solstafir is a passionate live band that always delivers, and Rockstadt 2017 was no exception. The classic "Fjara" was once again performed like it was for the first time, and
Carcass
Carcass is a band I've wanted to see for a long time, and it was nice to witness classics like "Buried Dreams" and "Heartwork" in a live environment. It was quite good, but not comparable to the best gigs at Rockstadt, like Suffocation, Leprous and Napalm Death.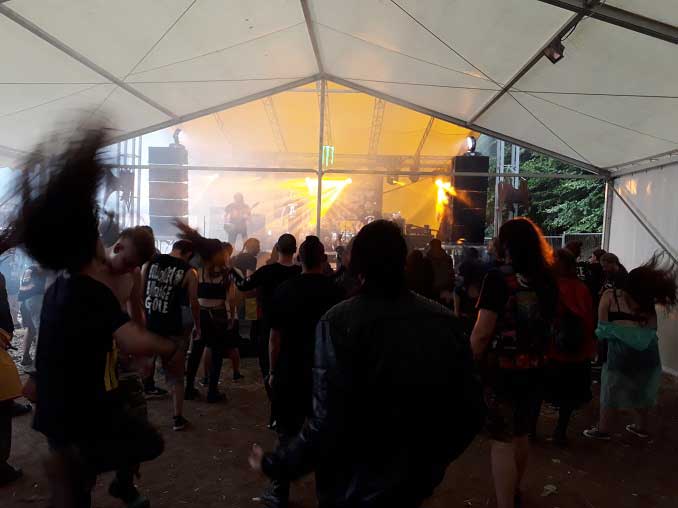 Teethgrinder
Teethgrinder was the only band I saw on the small stage (if you don't count drinking beer in the beergarden during Clitgore and some other unknown bands). The Dutch grindcore band went all in on aggression, and delivered a passionate performance.
Opeth
Much like Kreator, I wasn't expecting to see Opeth at Rockstadt. "Sorceress" was as grating to me as it is on record, but I did enjoy seeing "Ghost of Perdition" and "Demon of the Fall", despite Mikael åkerfeldt's declining vocal prowess.