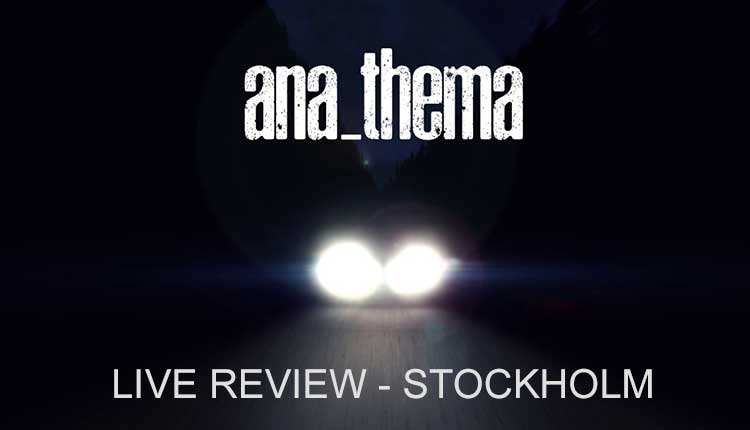 Seeing one of your favorite bands is always a treat, even on a sleepy Monday night in Stockholm. This was my fourth time seeing Anathema. Coincidentally it was also my fourth time seeing support band Alcest. It was simply one hell of a lineup in one night.
Alcest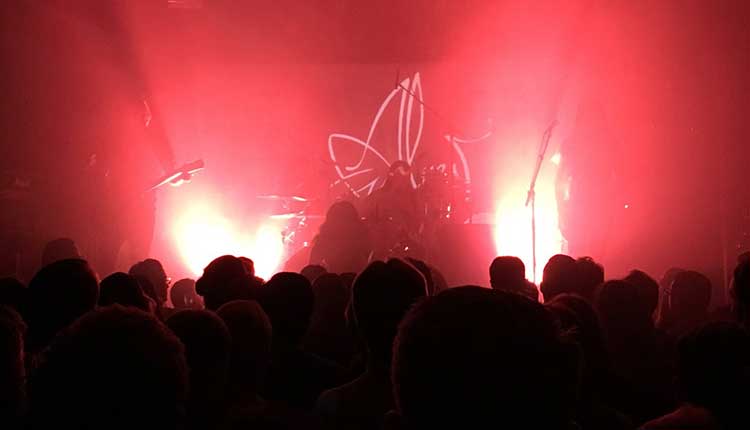 We arrived at Kägelbanan just in time to watch the Alcest gig. The venue was packed and we didn't get very good spots. Alcest played a solid gig that mixed fan favorites like "Autre Temps", "Percees De Lumiere" with new songs from the "Kodama" album. The confined rock stage feel of Kägelbanan didn't quite compliment Alcest's atmosphere.
Alcest didn't care about Kägelbanan's limitations and shoegazed on like their lives depended on it. It was a good performance, but simply not enough to break through my mental wall on a Monday night. My thoughts were mostly elsewhere. It wasn't Neige and his group's fault though. "Là où naissent les couleurs nouvelles" and "Délivrance" were the highlights in the set for me. Some of heavier parts from "Kodama" also went down well live, despite that I'm not crazy about the album.
Anathema
I had no idea what was in store when Anathema came on stage. All the stubborn thoughts that distracted me from the Alcest gig were gone the moment "Untouchable part 1" started. Anathema just has a profound impact on me. This night was no different.
After playing the two "Untouchable" songs in fantastic fashion the band went into a more loose mode which was interesting to watch. Songs and vocal parts were traded between different members of the band in a playful manner. Many of the takes differed a lot from the studio versions. They also spontaneously added "Panic" to the setlist. The level of improvisation and general looseness showed great self-confidence.
The Vincent Cavanagh show
Vincent was particularly passionate this time. Apparently he had very little sleep. Despite that, he was running around stage non-stop and delivered the songs with strong conviction. It's funny how at least one band member seems to go almost overboard with emotion every Anathema gig. Vincent was also an interesting counterpart to Danny, who often stood around with closed eyes, completely immersed in the music. The band seemed in an overall great mood.
The Stockholm setlist
The setlist was mostly a mix of their last four albums and "A Fine Day to Exit". "A Fine Day to Exit" is usually an album they don't play songs from at all. I'm guessing they started playing material from there since it's conceptually connected to "The Optimist". "Pressure" and "Barriers" (Danny vocals!) both sounded fantastic and made me long for more material from that period. They played for well over two hours and I wouldn't have minded more.
"Closer", a strange live staple
As usual, "Closer" turned into a monster live. It's strange how a song that wouldn't make it into most people's top 50 Anathema songs in the studio has such an impact live. The whole audience were jumping, clapping and singing along to its repetitive mantra.
The songs from "The Optimist" were good, but they didn't have the same extra spark as many of the other tunes in the setlist. As you can read in my review, I'm not completely crazy about it. I was hoping for it to grow live. "Springfield" was the exception. It was quite fascinating how the band got the entire audience to put on their mobile flashlights to create extra atmosphere. If I was new to the band I would probably guess "Lost Song part 3" and "Distant Satellites" were the new tunes. "Distant Satellites" sounded great this time, supported by an inferno of red lasers in the album's theme color.
I'm amazed that Anathema can deliver their music with this intensity over and over again. In their strongest moments (which are most of them), they really play like every note is their last. I can only applaud their dedication and start counting down to the next time I get to see them.

Read more:
10 best Alcest songs ->
10 best Anathema songs ->
Alcest – "Kodama" review ->
Anathema – "The Optimist" review ->
Best Anathema albums ->
Soliloquium, Swedish doom metal (Bandcamp) ->