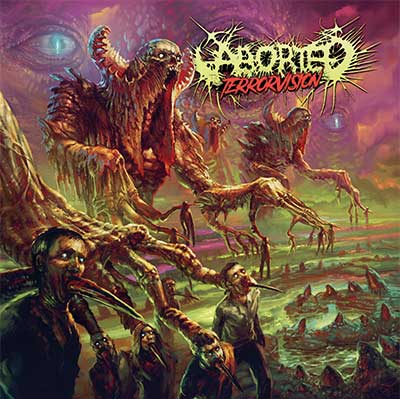 Many established metal bands stay active while having an album that feels unreachable in my eyes. Aborted is one of those cases. 2004's masterful "Goremageddon: The Saw And The Carnage Done" towers well over their other albums. Many of the songs on that album were instant hits that stood out; not an easy feat in brutal death metal. That's not to say that the rest of Aborted's material isn't quality death metal. It sure is. Let's dissect 2018's offering "TerrorVision". This review is also available at rateyourmusic.com.

Top notch musicianship and production
As usual with Aborted, the musicianship and production is noticeably top notch. The playing is superb and Sven's growls, grunts and screams are as brutal as ever. He's one of the best brutal death metal vocalists out there, no doubt. The ultra tight playing and modern production makes "TerrorVision" one hell of a product. But what about the music style and songwriting? Let's dive deeper into that part!
A change towards a slightly more epic music style
The most notable change in the sound is a move towards more epic, morbid song structures. Parts of "TerrorVision" reminds me of Cattle Decapitation in that way. It's not the hit factory gone brutal death Aborted I love the most, but it's quality nonetheless. "Farewell to the Flesh" also has some rampant technicality that reminds me of Nile and Hour of Penance.

Don't be fooled though; it doesn't mean that they're playing progressive metal. The backbone is still Aborted's signature style of brutal death metal, and I think the band would be bored if they'd kept writing the same type of songs.
Saturations and standouts
It does, however, saturate their music style a bit. In a music style that's heavily plagued by similar sounding bands, it turns into a problem. Sven's vocals is the thing that really makes this album stand out. He is one of the best growlers out there in this style. Everything from low grunts to high screams are performed with massive power and precision, as usual.
I can't deny that "TerrorVision" starts testing my patience during its 44 minute running time, no matter the fine musicianship. The tracks in the beginning, especially video songs "Squalor Opera" and "Vespertine Decay", are slighly more striking, but I find it hard to remember which song I'm at.
"TerrorVision" tracklist
1. Lasciate Ogne Speranza
2. TerrorVision
3. Farewell to the Flesh
4. Vespertine Decay
5. Squalor Opera
6. Visceral Despondency
7. Deep Red
8. Exquisite Covinous Drama
9. Altro Inferno
10. A Whore D'oeuvre Macabre
11. The Final Absolution
My "TerrorVision" verdict
In many ways, this is a typical album from a long-running metal act. The musicianship, vocals and production is fantastic, but I don't think I will remember any of the individual songs in a year.
I'm not going to deny that I prefer the fun, catchy Aborted over the epic Aborted. I don't want a second "Goremageddon", but some more hooks would have been a nice addition. This album won't go to history as a classic, but I'm sure most previous Aborted fans will still dig "TerrorVision"

Read more:
List of the best death metal from 2018 ->
Monstrosity – "The Passage of Existence" review ->
50 best Swedish death metal bands ->
Soliloquium, Swedish doom metal ->