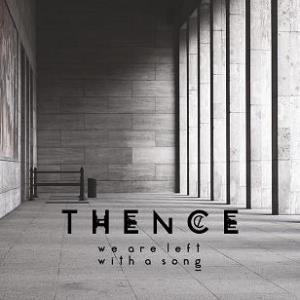 Finland is an export leader in dark metal and rock music. Thence is yet another quality band that proves it. The music style is somewhere in the borderline of metal and rock where other Finnish bands like Hanging Garden and Throes of Dawn also operate. Merging styles in this way can produce fantastic music if you have good songwriting and emotion.
A strong narrative
Thence certainly have it all on "We are Left With a Song". The album flows like a complete narrative. You rarely feel that you've reached next song, and this is in the best possible way. It feels like the band is telling you a story. The quality is very high throughout, which makes it hard to find standout tracks.
Vocally, Thence is similar to Hanging Garden and Throes of Dawn. We're treated to calm, expressive clean vocals with a slight Finnish accent. Most of them are restrained but there are also moments where we're treated to a more powerful approach. No matter the approach, they sound great throughout.
Modern progressive music stylings
The guitar melodies have a progressive rock sound to them. It reminds me of a more melodic, retro version of newer Katatonia. Just like in Throes of Dawn, there is a distant Pink Floyd influence that's not easy to describe. But it's there, no matter that the tone is more modern and distorted.
The keyboards and electronics are also very good. The middle section of "Pursue" almost goes silent before heading into a very affecting piano interlude. "Pursue" even has some tasteful saxophone after it gets going again. This part reminds me of the better parts of Amorphis experimental "Am Universum" album. It's very 70's and yet very modern at the same time.
Atmosphere is key on "We are Left With a Song"
However, the musical aesthetics isn't the most important thing about this album. Thence has so much atmosphere and emotion. The album reeks of bittersweet escapism in the best of ways. It isn't quite as indulgent in it as a band like Klimt 1918, but the feeling is there.
Thence is a criminally underrated band that I must feature in my underrated band series on the blog at some point. They barely have more plays than my bands on last.fm. It's so strange, since the quality of the music really is top-tier. Anyone into doomy, atmospheric metal or rock music should enjoy "We are Left With a Song". Get this album. You won't regret it.
Read more:
Thence on Facebook ->
Bands like Katatonia ->
10 best Amorphis songs ->
10 best Anathema songs ->
10 best Katatonia songs ->
Soliloquium, Swedish doom metal (Bandcamp) ->