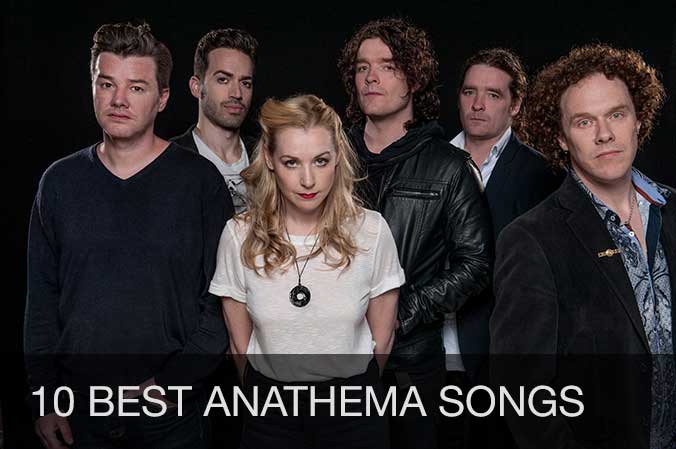 Ranking the 10 best Anathema songs is a hard task for several reasons: they have a ridicilous amount of good songs, they have tried many musical styles and it's also hard to compare fresh tunes to nostalgic memories. One thing I do know is that I prefer their lighter clean vocal era to the death/doom metal beginnings, which might be considered weird on the website for a death/doom metal band. Anyway, here's my stab at it! Don't miss my countdown of the best Anathema albums right here on the site.
About the author

I'm Stefan Nordström, an aspiring musician and content creator. This is one of the ways I promote Soliloquium, my progressive death/doom metal band. If you're searching for new music in the style, it would be awesome if you listened to my stuff on:
Anathema full-length discography
Serenades, 1993
The Silent Enigma, 1995
Eternity, 1996
Alternative 4, 1998
Judgement, 1999
A Fine Day to Exit, 2001
A Natural Disaster, 2003
Hindsight, 2008
We're Here Because We're Here, 2010
Falling Deeper, 2011
Weather Systems, 2012
Distant Satellites, 2014
The Optimist, 2017
10. "Universal" (We're Here Because We're Here, 2010)
An underrated epic from their newer era. The way it builds up feels like a prequel to electronic epics on the "Distant Satellites" album.
9. "Pitiless" (Judgement, 1999)
"Judgement" is shock-filled with brilliant songs, and it's hard to find a runner-up to "Deep". "Pitiless" qualifies though, exploding into a heart-wrenching chorus that is typical Anathema goodness.

8. "Dreaming Light" (We're Here Because We're Here, 2010)
A very popular new song that shows just how far Anathema has come from their early roots. Perhaps the best pop ballad style song the band has made so far.
7. "Temporary Peace" (A Fine Day to Exit, 2001)
Calming, progressive rock tune from "A Fine Day to Exit" that only got better on the re-recorded "Hindsight" version.
6. "Inner Silence" (Alternative 4, 1998)
Short, lyrically crushing song that explodes in a crescendo and fades into a slow, brooding pulse.
5. "Angelica" (Eternity, 1996)
The first track of progressive era Anathema, and a great one. Vincent's voice may be technically imperfect in this early stage, but the emotion is definitely there.
4. "Are You There?" (A Natural Disaster, 2003)
One of the few songs with Danny on lead vocals, and what a song it is. His understated voice makes this calm, atmospheric track one you absolutely cannot miss!
3. "Deep" (Judgement, 1999)
"Deep" was my first contact with the bands and remains one of my favorite Anathema songs. Great contemporary guitar melodies, incredible vocals, striking lyrics.. what else do you need?
2. "Empty" (Alternative 4, 1998)
A hauntingly dark track with an original sound thanks to the electronic style drum loop, and simple but effective leads. One of Vincent's most raw vocal performances.
1. "Summer Night Horizon" (We're Here Because We're Here, 2010)
A more explosive take on the newer, positive Anathema sound. It's a very bombastic tune where the many vocal talents in the band shine their brightest at the same time.
Five great Anathema songs that almost made it into the top 10:
Emotional Winter
Everything
Lightning Song
Release
Untouchable, Part 2
---
Other articles: