The Foreshadowing is an Italian gothic doom metal with three strong albums in their previous discography. The sound revolves around slow, apocalyptic landscapes that provide an ultimate support for Marco Benevento's baritone vocals. This review is also posted at rateyourmusic.com and Metal Archives.
This album pretty much picks up where predecessor "Second World" left off, for good and bad. Debut "Days of Nothing" had the bands most active string instrumentation, but the band seems to move more and more towards only having the guitars as a backing instrument.
Massive wall of sound
Production is similar to "Second World", which means massive. The walls of downtuned rhythm guitars may not have that many moves, but they certainly sound big. Keyboards, choirs and simple lead guitar lines linger on top and provide an extra layer of atmosphere. This sound arrangement really works with the epic doom feeling that the band is aiming for.
As expected, the vocals are excellent. Marco has a soft baritone voice that fits The Foreshadowing perfectly. Many times he feels like a narrator smoothly playing off the gothic background sounds. I find his style quite refreshing, as there are many singers in this part of the genre tree who feel like they try very hard to convey emotion.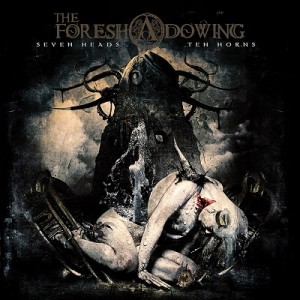 The track order on the album is a bit unconventional; all the best material is placed in the back. The first five tracks are good, but it feels like the pace slightly picks up with "17", where the band becomes more rhythmically active. "Until We Fail" has some standout guitar melodies and mellow singing that sounds straight out of "Days of Nothing". Probably my favorite track on the album.
Epic album conclusion
"Martyrdom" and four part epic "Nimrod" finishes the album on a strong note. The choir transition between the two songs feels especially majestic. "Nimrod" is another track that brings the impact of the singing up a notch, and really showcases Benevento's voice. The resolving calm of the soft vocal melodies complement the desolate music perfectly. The 14 minute epic doesn't feel overlong and closes the album on a fitting note.
"Seven Heads Ten Horns" is a solid album, but it's a slight disappointment that they haven't really expanded their sound at all. However, the level of songwriting quality remains high, establishing The Foreshadowing even further as a premier metal act.
Read more: