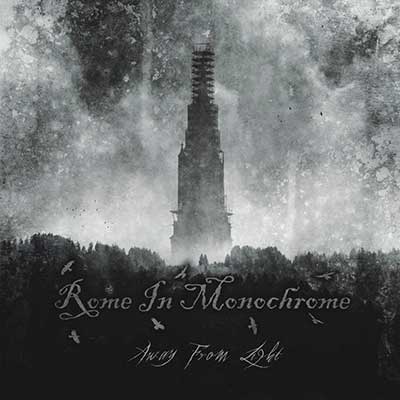 Rome in Monochrome
Origin: Italy
Active since: 2013
Label: BadMoodMan Music
Genre(s): Doom metal, shoegaze, alternative rock
For fans of: Katatonia, Anathema, Antimatter, Alcest, The Cure
This review is also available at rateyourmusic.com
"Away from Light"
Rome in Monochrome is a dark Italian band that mixes doom metal with shoegaze and alternative rock tendencies. It's one of my best musical discoveries in 2018. "Away from Light" combines a lot of the aspects that make good music for me; there's genuine emotion in the music and the focus is on crafting great songs. Being highly influenced by my favorite band Katatonia gets the band a long way, but they can certainly stand on their own two feet.
The album opens up with "Ghosts of Us" and you can tell right away that this will be a mercilessly depressing affair. Valerio Granieri's vocals don't do much in terms of dynamics, but they really take the lead in setting the mood. Songs like my favorites "A Solitary King" and "Between the Dark and Shadows" are sung with a catatonic conviction that reminds me of Jonas Renkse. There are also competent growls in a few places on the album.
The vocal melodies are the dominating factor, but I most also mention the guitarwork. There's nothing flashy going on here, but the simple guitarwork lays a great foundation for the vocals. It's a solid mix between distorted power chords, echoing shoegaze cleans and simple, yet effective melodic lead guitars. Drums and bass are competently performed, keeping it simple to allow the melodies and songwriting to shine.
Songwriting style
What makes the songwriting so good is the cues they've taken from old school Katatonia. These songs are darkly sleepy, yet very catchy, just like Katatonia were around "Tonight's Decision" and "Discouraged Ones". It doesn't get particularly heavy or metal at any point. Just like those records, this is alternative rock and shoegaze in a metal aesthetic.
Pretty much every track has a good vocal hook that sounds catchy and makes it emotional and memorable. If I'd give the album flow some criticism, I'd say that there is a lack of variation. Most of the songs linger in a low or medium tempo. I think they structured "Away from Light" this way on purpose though. This is an album of melancholy, not something you'd ever put on to get in a good mood.
"Away from Light" tracklist
1. Ghosts of Us
2. A Solitary King
3. Paranoia Pitch Black
4. Uterus Atlantis
5. December Remembrances
6. Until My Eyes Go Blind
7. Between the Dark and Shadows
8. Only the Cold
Dark music fans should really dig this
Rome in Monochrome simply is my type of band. The focus is on composing memorable songs that go straight for the emotional impact. Nothing flashy, just genuine expression. Few bands are humble enough to achieve this.
Chances are high that you will dig "Away from Light" if you like dark metal and rock music like Katatonia, Anathema and Antimatter. Rome in Monochrome is one of my best 2018 music discoveries and the band probably has a bright future ahead. Keep in mind that this is only their debut full-length. The band's true masterpiece probably lies ahead.
Rome in Monochrome links:

Read more:
Doom metal reviews ->
Doom metal genre guide ->
Bands like Katatonia ->
10 essential death/doom metal albums ->
Soliloquium, Swedish doom metal ->