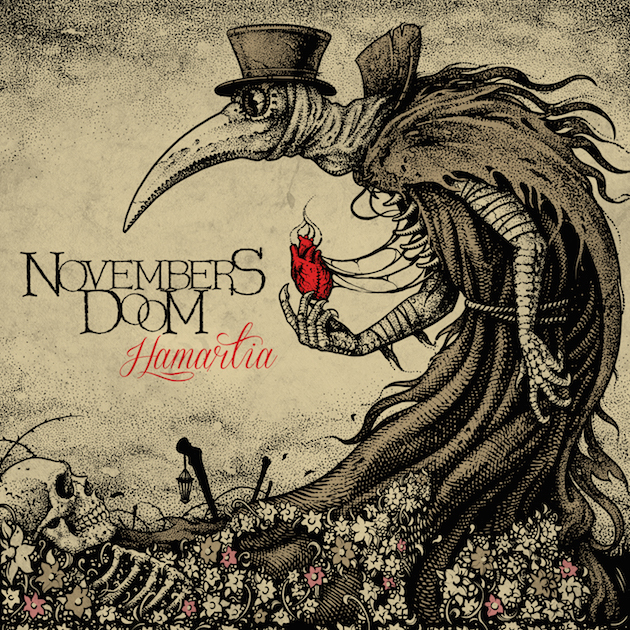 I haven't enjoyed the last few albums from Novembers Doom, making their growing fanbase has been a bit of a mystery for me. There are certainly a lot of better options in the death/doom and melodic death metal genres. Despite high end production, and that Paul Kuhr is one hell of a growler, the last album I really enjoyed was 2005's "The Pale Haunt Departure".  This is "Hamartia", their latest attempt.
A long string of unimpressive albums
After 2007's "The Novella Reservoir", they've managed to release three albums that left no lasting impression at all. I'm actually hard pressed to remember how a single song sounded. Unfortunately, it doesn't seem like their leaving this hole soon.
The problem with the music on here is the same as on the last few  albums. It rarely goes particularly light or extreme, leaving me unengaged. It's a mish-mash of death/doom, melodic death and progressive "dark metal" ideas from a mostly Opeth playbook that don't really go anywhere. It's not great no matter which side you choose to see it from. It goes through many motions, with a constant quality level somewhere around decent.
Professional product that lacks impact
It's certainly not for lack of musical ability or production. This is a very professional product, making the lack of impact almost bizarre. It's also not for lack of trying on the musical side. It feels like they're trying to convey emotion, and the heart on sleeve type lyrics are certainly meant to. For music that's meant to be so profound, it's a strong failure.
The clean vocal approach
It just falls very flat, and the clean vocals are one of the reasons. I've never been very into Paul's clean vocal approach, but on "Hamartia" it becomes painfully obvious that he doesn't really have what it takes. The droning, almost talking, approach fails to get through to the listener, and even worse it sounds very out of sync with the punchy rhythm guitars that often accompany his voice. The lyrics come across as equally awkward thanks to the delivery. It just fails to have any natural flow.
"Hamartia" is not an awful record, but it's another mid-tier release from Novembers Doom. I don't really see much in this band anymore, no matter if we're talking about their extreme metal appeal or their atmospheric appeal. There are so many bands out there who do these music styles better.
Read more about Novembers Doom and doom metal:
Novembers Doom Facebook ->
10 essential death/doom metal albums ->
The complete doom metal guide ->
Soliloquium, Swedish doom metal ->