Doom metal lyrics are often sad, reflective and poetic. Many bands in the doom metal genre offer fantastic, relatable lyrics. I am the writer for the death/doom metal band Soliloquium. Here, I'll take you through my views on doom metal lyrics and show you some personal favorites. If you like this, don't miss out on my article about death metal lyrics.
About the author

I'm Stefan Nordström, an aspiring musician and content creator. This is one of the ways I promote Soliloquium, my progressive death/doom metal band. If you're searching for new music in the style, it would be awesome if you listened to my stuff on:
Themes for doom metal lyrics
Some usual themes doom metal lyrics are:
Sadness
Suffering
Depression
Death
Grief
Dread
Doom (duh!)
The scope of doom metal lyrics doesn't leave the greatest room for originality. That's why I'm very happy to see bands that come with a different take on it. It's also I reason why I really try to stretch it when it comes to my own lyrics.
It's easy to fall into the extreme metal trap of writing phonetically catchy lyrics that doesn't quite stand out. I don't think this cuts it in doom metal. At least not if you really want to make a difference. I'm not pretending to be an absolute expert, but I definitely have some thoughts on the topic.
Traditional and stoner doom metal lyrics
"What about classic doom metal lyrics?", most people would probably be asking after reading this. Before we go deeper into my views on modern doom metal lyrics, I feel we need to mention the really early bands a bit as well. There was definitely a religious and apocalyptic side (even a bit of darker fantasy) to traditional doom metal bands like Black Sabbath, Trouble and Candlemass.
To be super-blunt, those lyrics aren't really what I'll be discussing in this article, since I'll go more into death/doom and modern doom metal territory. Candlemass and U.S. epic doom metal kings Solitude Aeturnus are probably the ones I would praise in terms of doom metal lyrics in the classic style. Stoner doom metal is another side to the coin that I'm simply just not knowledgeable enough to break down in an article like this.
How I write doom metal lyrics
My approach to writing doom metal lyrics has changed and evolved over time. Early on, October Tide's autumnal sadness was a massive inspiration. I was playing it quite safe, sticking to sad topics that still didn't quite hit massively close to home. The themes of the songs also tended to be unspecific, blending them together.
Practically, a song theme tends to start by getting a phrase or two in my head, which later evolves to a concept. Other times, I jam a single melody and get that defining lyric line. Writing full verses completely without music is rare, but it has happened.
My main tips for doom metal lyrics are to avoid cliché topics and to get uniquely personal. Find something meaningful to express that matches the music, whatever it may be. I've tried to delve deeper into mental illness and being an outsider in society, trying to connect on both a personal and larger level.
An example of my (at least I hope it is) evolution as a writer is comparing the song "Autumn State" from the debut EP "When Silence Grows Venomous" with the song "In Affect" from 2018's "Contemplations". To me "Autumn State" feels generalized, while "In Affect" goes for the throat in a more specific manner. I hope it feels the same way for the listeners.
"Autumn State" (2012)
The silence grows venomous as we struggle through each day
Foul season of affliction upon us vehemently
This sullen autumn backdrop providing proper context
A befitting canvas for our ever rotting minds
---
"In Affect" (2018)
Tired conversations with myself, mesh of voices echoing
Recurring patterns of declining thought
An empty stare, a wandering mind
Slave to a rampant pathos, the laments of a weary soul
Unbound in pursuit to structure the intangible
I am the grave-like silence, I am the product of this white noise creation
Favorite doom metal lyric bands
Some of my favorite lyric writers in doom metal are:
Katatonia
Anathema
Daylight Dies
Rapture
Katatonia lyrics – from obscure to obvious, and back
Katatonia is a central influence for me when writing both music and lyrics. The band has written obscure, fleeting lyrics on 1996's "Brave Murder Day", as well as in their modern material. Katatonia has also managed to write straightforward lyrics that hit home and stuck with me, both in their death/doom era and their modern era.
In terms of their straightforward doom metal lyrics, "Nowhere" from the "Sounds of Decay" EP is killer. 2001's "Last Fair Deal Gone Down" is a cathartic album that initially caught my young depressed self. "The Future of Speech" was probably the hardest hitter alongside "Chrome", "Tonight's Music" and "Clean Today". Just magical emotional music.
20 best Katatonia songs ->
Katatonia albums ranked from worst to best ->
---
Anathema
Anathema has had a journey from being one of the darkest bands in the world to finding the light. The band tends to get some slack for their newer, symphonic era, but I like it just as much as the older doom metal misery. No matter the era, they've always been one of the most hard-hitting bands when it comes to lyrics.
Some of the material on "Alternative 4" and "Judgement" are even darker than the early death/doom material, boasting some of the band's best lyrics.
---
Daylight Dies – kings of getting down-to-earth and making it count
Some doom metal bands drift into winding metaphors and pretty expressions. Daylight Dies do the opposite. Many of their best songs are incredibly direct and personal. "All We Had", "Lies that Bind" and "A Subtle Violence" are just a few examples of the Daylight Dies doom metal lyrics mastery.
---
Rapture – traditional Finnish darkness to the max
Rapture has been one of my favorite death/doom metal bands since forever, pretty much. The combination of Katatonia style death/doom and catchy Finnish melodic death metal hits me perfectly. What adds to the impact are the often perfectly crafted gothic lyrics. Rapture may not be the most original lyricists in doom metal, but the sure are one of the most effective.
---
Final thoughts on doom metal lyrics
My thoughts and recommendations surrounding doom metal lyrics are very similar to the ones I have on death metal lyrics:
Go the extra mile and write something personal and original
Try to avoid generic topics like the plague
Worship the bands that are delivering the truly high-class doom metal lyrics!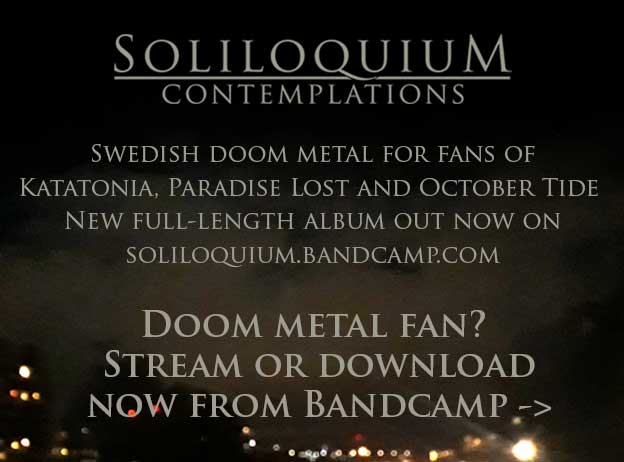 Read more:
10 essential death/doom metal albums ->
Full doom metal genre guide ->
Doom metal albums from 2020 ->
Soliloquium, Swedish progressive death/doom metal ->