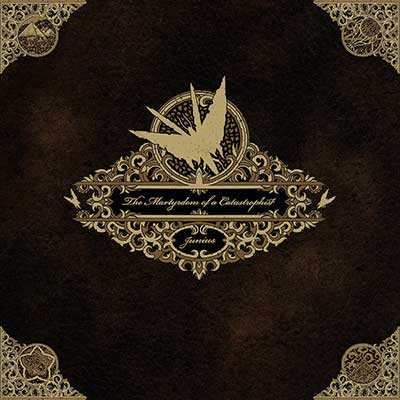 2011's "Reports From the Threshold of Death" is my favorite Junius album by far, as well as on one of my all-time favorites. This earlier state of band still has a lot to offer though. On this album, "The Martyrdom of a Catastrophist", they focus more on post rock atmosphere and less on massive hooks. It does allow the album to breathe more and take on a different mood compared to the other Junius releases. I also have reviews of "Reports From the Threshold of Death" and "Eternal Rituals for the Accretion of Light" right here on the site, check them out!
Using their influence bank perfectly
Many of the songs have the repetitive, obsessive edge that somewhat came back on 2017's "Eternal Rituals for the Accretion of Light". It's quite a journey and I feel it's best enjoyed as a full album rather than as individual songs. Vocally, Joseph channels Depeche Mode and The Cure a lot on this record. Influences from those bands in metal often go down well, and that is the case on this album too.
What Junius does so well is holding their influences close while still creating something very different. They take cues from various post rock, alternative rock, shoegaze and metal sources to create a dreamy, dynamic soundscape. The music is often fairly simply on paper, but the atmosphere is just something beyond the sum of the parts.
The tracklist
Most of the songs take their time ebbing, flowing and transforming. It's not particularly heavy, though distorted guitars drive the songs on occasion. The only song that is more catchy and to the point is "Stargazers & Gravediggers", which is more in the style of successor "Reports From the Threshold of Death". It's actually a quite clear sign of what was to come on that album.
"The Martyrdom of a Catastrophist" has a production and overall sound design that is more bare bones compared to later Junius albums. There isn't much layering going on, leaving Joseph's voice sounding quite naked in comparison. It gives it more direct emotion but it also takes away a bit of the explosive dynamics that could've been in some the shifts. The same goes for the guitars, as the mix highlights the atmospheric clean guitar passages rather than the distorted guitars.
This is not my favorite Junius album, but it's a dreamy, explorative disc that I find highly enjoyable. The mix of styles should also resonate with fans of different genres.
Read more:
"Eternal Rituals for the Accretion of Light" review ->
"Reports From the Threshold of Death" review ->
Soliloquium, Swedish death/doom metal (Bandcamp) ->