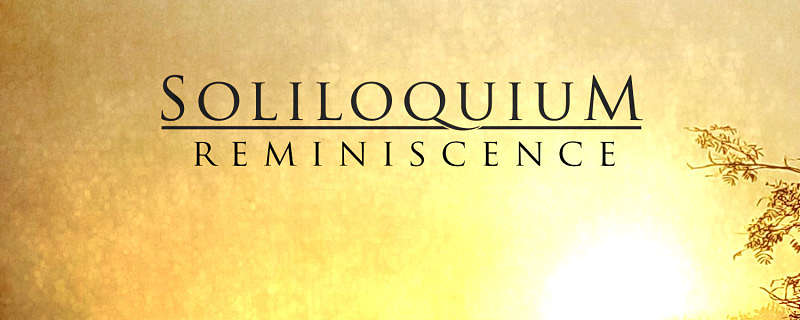 "Reminiscence" is the third track from the 2020 Soliloquium album "Things We Leave Behind". In this article you can check out the lyrics to the song and learn about the story and musical influences. To support Soliloquium, please head over to our Bandcamp page for digital downloads and merch. You can also pre-order the physical CD from our label.
"Reminiscence" song story
I'm a sucker for nostalgia. It's also very confusing to me. Sometimes I get flashes of memory. It could be moments of joy, or the other way around. Many of these flashes are so old and unreal to me that it feels like another person's memories. It's a strange loss of innocence, every time.
I long to be a clean slate like that again. To not have all these preconceptions and negative experiences clouding my view. This makes me put the past on an unreal pedestal. I want those black and white moments to come alive again, and I dwell in them. Diving into nostalgia is equally destructive and satisfying.
Musical influences
"Reminiscence" is one of the musically most simple songs in the Soliloquium discography. The verse and chorus is basically a take on the same simple chord progression with some added notes. It's unusually simple. But it also carries a lot of feeling and emotional weight.
To me as a composer, it shows that the underlying music doesn't need be flashy, as long as you get the vocal melodies right. Joakim Rudemyr's additional vocal performance on the verse added a lot to the whole picture, too.
The clean intro riff that turns into distorted represents the theme of the song perfectly. It sounds like it could be on Katatonia's "Last Fair Deal Gone Down". It's extremely fitting, because many of my nostalgic memories are connected to times I was listening to that album.
Closing lyric line "It's that time again.." is also a nod back to "The Sorrow Path" on 2016's "An Empty Frame". I love when music and lyrics come together as an overall concept in this way. These nods are a very cool thing that often appears in Katatonia's music. As a huge fan of their style, I try to follow suit in my own way.
"Reminiscence" turned out to be a very meaningful song, despite it's musical simplicity. I hope the listeners feel the same.
"Reminiscence" lyrics
No silver lining
In the common misery
Glorified, ashen crowned
Streetlight city swallowing lives
A blank stare beyond the crowd
Pale reflection, a sea of thought
Replay the movies in my mind
Rearranging fallen times
Another shape in monochrome
Another war inside foregone
Enter the silent stage
It's been a scramble, a strange trip
Carry the trace, this reminiscence
The twisted journeys in black and white
There's a sense of yearning
In the weak at heart
To dream with the best of them
Wager war inside
Enter the silent stage
Faded shades of innocence
Fallen times in the darker corners
It's that time again..
Song facts
Stefan Nordström – guitars, vocals
Jonas Bergkvist – bass
Victor Parri – drums
Joakim Rudemyr – additional vocals
Mixed and mastered by Jari Lindholm
All music by Stefan Nordström
Read more:
"Dead Ends" song story ->
"The Discarded" song story ->
2018 album "Contemplations" ->