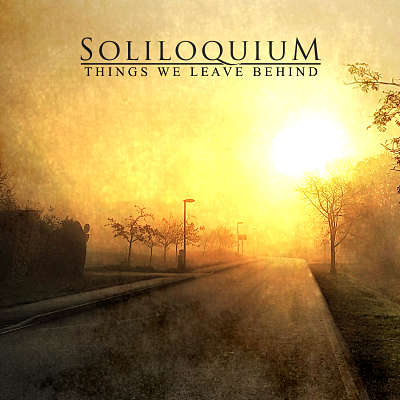 "Dead Ends" is the opening track from Soliloquium's 2020 album "Things We Leave Behind". It's also the first single. In this article you can check out the lyrics and, more importantly, learn more about the background of the song. To support Soliloquium, please head over to our Bandcamp page for digital downloads and merch. You can also pre-order the physical CD from our label.
"Dead Ends" song story
In dark times, there's no will to go on. There's no new goal on the horizon. Nowhere to turn to. Yet, you're forced to pick up and keep fighting, something that's very hard to do even when you're 100 %. When combating mental illness, it feels like there's simply no way out. It's just dry emptiness.
People around you seem to carry on with enthusiasm as you're lessening in motivation day by day. Jealousy, disillusion and disconnection grows in your isolated corner of the world. The cycle repeats and strengthens.
"Dead Ends" is the theme of this feeling. Let the emptiness pound away with one of the most stomping, repetitive riffs on "Things We Leave Behind". I hope to not return to the feelings of this song all to often, but sometimes it's inevitable. Look forward. See nothing. "Deterioration sets in".
Influences and musical ideas
Several things stand out to me about creating "Dead Ends". I tuned to the guitars down to drop B instead of C# on this song. It allowed me to create some pretty off-beat riffs and melodies. The song also has a massive low-end to the chugging which accompanies the mood.
It has a very repetitive structure, relying heavily on the chugging riff. I think it turned out that way because I wanted the song's musical side to follow the monotony of the lyric themes. It's the most raw and in-your-face song on "Things We Leave Behind".
In terms of influences, I think the many talented Finnish death/doom metal bands are my main inspirations on this one. It's also got a touch of more free-form progressive death metal towards the end. Some main influences are In Mourning, Swallow the Sun, Daylight Dies and, of course, Katatonia.
"Dead Ends" lyrics
Flightless, we stand
Firmly on the cursed soil
Was there a war to win?
Racing the clock to no avail
Life has come to a halt
We're still compelled to carry on
Deterioration sets in
Times of forfeiture
A lingering ghost of what once was
Absent-minded, obsolete
Warning signs were ignored
Plunging towards the crossroads
Degraded to nothing
Dead end existence
I turned every wretched stone
Degraded to nothing in toxic thought
I just don't know where to turn
I just do not know
Song facts
Stefan Nordström – guitars, vocals
Jonas Bergkvist – bass
Victor Parri – drums
Joakim Rudemyr – backing vocals
Mixed and mastered by Jari Lindholm
All music by Stefan Nordström
Read more:
"Things We Leave Behind" album info ->
"Contemplations" (full-length, 2018) ->
"An Empty Frame" (full-length, 2016) ->