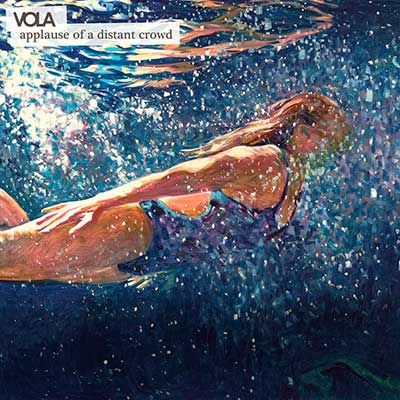 VOLA
Origin: Denmark
Active since: 2006
Label: Mascot Records
Genre(s): Djent, progressive metal, progressive rock
For fans of: Meshuggah, Skyharbor, Leprous, Agent Fresco
This review is also available at rateyourmusic.com
"Applause of a Distant Crowd"
VOLA is a band I shouldn't like on paper. I'm glad music isn't on paper. The Danish band plays an indulgent crossover between djent and progressive rock. It's a nutty mix between downtuned Meshuggah grooves and infectious indie hooks that became irresistable to me. I'm not very into djent, except a few Meshuggah classics, so it really takes something special to make me listen to bands from the genre.
Thing is, VOLA applies serious songwriting precision to a mesh of musical styles that should be almost impossible to mold successfully. I consider 2015's "Inmazes" an outright masterpiece, so my expectations from "Applause of a Distant Crowd" are high.
A lighter side of VOLA
A change in the band's direction is quite clear right from the start. VOLA is going for a notably lighter and more rock sound on this album. It feels like a natural evolution. The band also feels most inspired in the softer moments like "Ghosts", "Ruby Pool" and "Vertigo". "Ghosts" is especially pleasant, being the band's first stab at a straight rock song without heavy guitars, at least if you don't count the previous ballads.
"Smartfriend" and "Alien Shivers" are most djent-influenced songs. They're also the once that sound the most like "Inmazes". "Alien Shivers" is super catchy, packing solid VOLA dynamics and a perfectly timed melodic chorus. "Smartfriend" has some gorgeous downtuned grooves that remind me a bit of Deftones. It has some of the cockiest VOLA riffs to date.
"Whaler" is a new idea from the band; a heavy song completely built on a straight beat. The riffs sound great with the big guitar tone but the vocal structure is a bit too predictable. "Still" is the only song on the album I don't like, feeling a bit stale and standard, while still sounding fully decent.
Something is missing
Sadly, the downtuned intensity in "Smartfriend" is an anomaly on this album. "Applause of a Distant Crowd" is a pretty chilled out album. The thing is that removing a lot of the heaviness hasn't really opened enough new doors for this to rival "Inmazes". Somehow, I feel that something's missing.
Don't get me wrong though, this is still very good. The vocal performance is solid, and so are melodies and arrangements. Many vocal melodies on "Applause from a Distant Crowd" are absolutely infectious. A majority of the choruses has been in my head during my first week with the album. VOLA continues to be shamelessly catchy.
New wave electronics and massive production
The electronics continue to be a big part of the VOLA sound. We're once again treated to big, atmospheric synth layers with a new wave feeling. The band integrates the electronics and guitars extremely well and it's a big part of the band's greatness. This is also carried over to the production side of things. The album sounds massive and gives space for all instruments to shine.
"Applause of a Distant Crowd" tracklist:
1. We are Thin Air
2. Ghosts
3. Smartfriend
4. Ruby Pool
5. Alien Shivers
6. Vertigo
7. Still
8. Applause of a Distant Crowd
9. Whaler
10. Green Screen Mother
Concluding on a strange note
It's a weird feeling when you really like a record, still being slightly underwhelmed. This is addictive as hell, totally VOLA and a top 10 contender for 2018. It's also a logic next step in the band's music style. Somehow, that extra spark from "Inmazes" is still missing. I don't doubt that the band will keep going in this direction with great results in the future though. In the end, "Applause of a Distant Crowd" is a solid album from one of my favorite bands lately.
VOLA links:
VOLA on Bandcamp ->
VOLA on Facebook ->
Official VOLA site ->

Read more:
30 best progressive metal bands ->
Doom metal genre guide ->
Soliloquium, Swedish doom metal ->