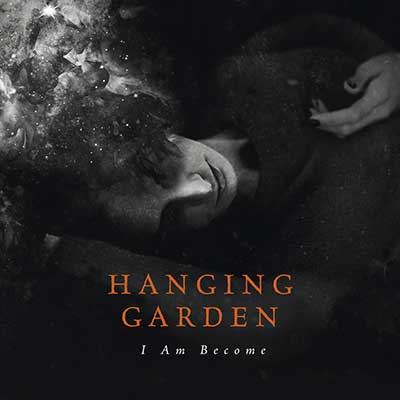 Hanging Garden's 2015 album "Blackout Whiteout" quickly became my favorite from the band. This disc, "I Am Become", continues down the same road as that one and the follow-up EP "Hereafter". Expect a mix between Finnish death/doom darkness and contemporary influences. The closest comparison is probably Ghost Brigade.
"I Am Become" tracklist
As Above, So Below
Hearthfire
Elysium
Our Dark Design
Kouta
From Iron Shores
One Hundred Years
Forty One Breaths
Ennen
"As Above, So Below" kicks off right away with a catchy, melancholic vocal line before leading into a landscape somewhere between post-rock and doom metal. "Hearthfire" combines the gothic metal tendencies with guest growls from Tomi Joutsen (Amorphis), resulting in nice dynamic shifts. It leads into single "Elysium" that packs the most immediately memorable vocal lines on the entire record.
Then we reach the sea beyond / and greet the sunless glowing dawn
Lay all fears to rest
Here the night tide brings us close / to the timeless stream of souls
Lay all fears to rest
There seems to be more lyrics in their native Finnish language present here than on the previous Hanging Garden records. It's a language that works very well in doom metal (Kaunis Kuolematon, anyone?) and this is no exception. The last album had more vocal lines that immediately stood out. However, I am quite inclined to think that "I Am Become" is more of a grower.
Hanging Garden discography
Inherit the Eden, 2007
TEOTWAWKI, 2009
At Every Door, 2013
Blackout Whiteout, 2015
I Am Become, 2017
What's new on "I Am Become"?
The difference between "Blackout Whiteout" and "I Am Become" mostly lies in the tempo. "Blackout Whiteout" had a tendency to slow down into snow-drenched, dwelling sections where the vocals were in full focus. Those usually built up to the heavier sections. "I Am Become" has more of a sludgy, constant drive that comes across as slightly less atmospheric.
The song "Kouta" is an exception, relying on light electronic beats before picking up pace slightly on the chorus. "From Iron Shores" also brings back the more gothic feeling from "Blackout Whiteout". Overall, this is more of an album's album than its predecessor. There are no obvious standouts like "Eclipse" or "Aoede". "Elysium" is as close as it gets.
Vocals and sound production
What hasn't changed at all is the quality of the vocal lines. The clean vocals sound great throughout and deliver the doom metal atmosphere Finnish bands are well-known for. The growls do their job, but I tend to prefer the clean vocals. Hanging Garden's dynamics probably wouldn't be as strong without the growls though.
The sound design and production is similar to "Blackout Whiteout". These "semi-metal" style bands require a fitting mix to capture the dynamics, and this album certainly has it. The heavy guitars pack sufficient punch while still making room for clean guitars, lead guitars and electronics.
Some of the best doom metal in 2017
"I Am Become" is one of the best doom metal releases in 2017. I am an absolute sucker for this style of music and Hanging Garden performs it very well. It makes me glad that other bands keep the flag high after Ghost Brigade went into hiatus. Fans of doom metal will not regret checking this band out.
Hanging Garden links:
Facebook ->
Homepage ->
Bandcamp ->
Read more:
10 essential death/doom metal albums ->
10 best Amorphis songs ->
10 best Katatonia songs ->
Bands like Katatonia ->
Soliloquium, Swedish death/doom metal (Bandcamp) ->