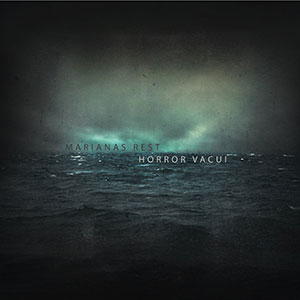 Finding and supporting the unknown bands in the death/doom metal spectrum has become a mission of mine. Marianas Rest is a Finnish band that fittingly couldn't sound more Finnish. "Horror Vacui" is the band's full-length debut. The melancholic melodies draw heavily from fellow Finns Insomnium and Mors Principium Est. This does go in a way more doomy direction.
The sound is centered around developing the melodies. Rhythm guitars are a mere support for the array of lead guitars, clean guitars and synths that drive the music's atmosphere. Many of the technical approaches are familiar. However, the quality of the songwriting and performance is good enough to make it feel distinct.
Focused on creating atmosphere
Vocally, it's all growls. Competent ones. It's similar Insomnium's tone, but a tad lower in pitch. Marianas Rest also goes less for big hooks and more for building atmosphere. The low growls are complemented by the occasional outburst of desperate, higher screams. These provide necessary variation and passion.
For me, Marianas Rest sound the best when they slow it down. Not a big surprise considering my genre preferences. The pulsating death/doom of "Hurts Like Hell" reminds me of Daylight Dies in its best moments. It has an imminent sense of angst that trumps the more melodic death-based sound on the most of the album. "For the Heartless" allows the melodies to breathe, and adds beautiful piano and lead guitar passages at just the right moments.
"A Lonely Place to Die" does the opposite and channels the desperation of Hypocrisy's "The Final Chapter". The tremolo lines feel familiar, but Mariana's take on the theme is molded with signature Finnish darkness. "The Millenialist" and "Nadir" (strong Amorphis influence in this one), packed in front, are the most immediate songs.
Finnish, yet slightly different
I think the more restrained, patient songwriting is the thing that separates Marianas Rest the most from the many similar Finnish bands. Most of them go straight for the throat, no matter if they're melodic death or death/doom. This is a welcome selling point for the band.
"Horror Vacui" is a strong album, especially considering that it's a full-length debut. It's not reinventing any wheels, but I really can't get enough of this style of music. This review is also available at rateyourmusic.com.
Other reviews of up and coming death/doom bands:
Kaunis Kuolematon – "Vapaus" ->
Lying Figures – "The Abstract Escape" ->
Check out my band Soliloquium, Swedish death/doom metal: