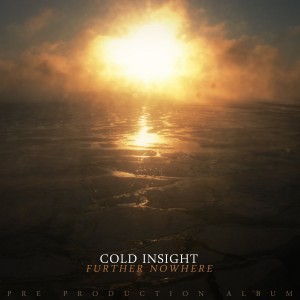 Another solid Slumber-related project
Slumber's 2004 death/doom metal masterpiece "Fallout" created quite a trail of bands, not only through its influence on other musicians. Most of the band members went on to form more or less similar sounding projects. It also seems that some of their collaborators started making music in a similar vein.
Cold Insight is a project by Sebastien Pierre, who did vocals for Enshine, a band featuring Jari Lindholm from Slumber on guitars. This project offers the same mix of death/doom metal and atmospheric shoegaze that defines Enshine's sound.

Death/doom metal and shoegaze combination
It's certainly not the most original stuff around, considering how much it sounds like its Slumber and Enshine, but I just enjoy the hell out of this type of death/doom. What it does have is an all-round appeal, in the sense it's not depressing enough to only be confined to depressive listening.  It's got more of a metalgaze type mood with death/doom aesthetics, which is an enjoyable combination.
This a bit more straightforward and rocking than Slumber and Enshine, but I find myself enjoying the shoegazy moments the most. "Close Your Eyes" is particularly atmospheric, relying on layers of echoing clean guitars (very new era Alcest), and a personal favorite for me.
The production is similar to Enshine's: it's super clear and gives the atmosphere of the music an extra push. The instrumental performances are similarly tight, matching the professional audio job. Sebastien's vocals also sound like they do in Enshine, solid mid-range death metal growls matching the music. Electronics are present but not as prominent as in the projects I'm constantly comparing Cold Insight to.
A quality album for fans of the style
As you can hear, "Further Nowhere" won't redefine genre barriers time soon, but the songcraft and atmosphere still makes it a solid listen for any fan of death/doom metal. This type of atmospheric doom is a music style I'll never get tired of, so just keep starting projects!
Read more:
Cold Insight on Facebook ->
Soliloquium, swedish death/doom metal (Bandcamp) ->
Death/doom metal from 2017 ->
Death/doom metal from 2018 ->
10 essential death/doom metal albums ->