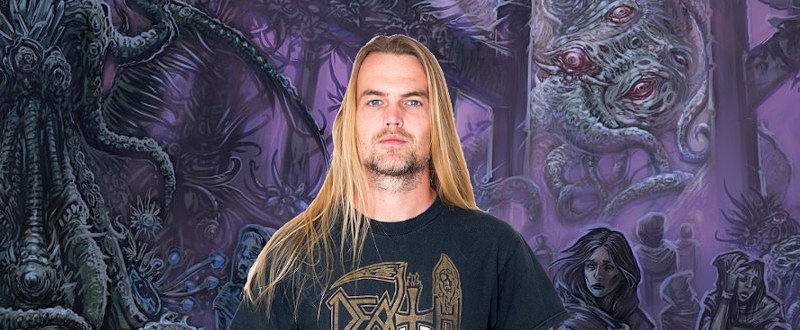 After doing my best to keep track during 2020, it's now time to start following death metal from 2021. Here's my list of the best and most interesting death metal albums from 2021, released and upcoming. Am I missing any cool releases? Please tell me, and I'll make sure to check them out! Here's my summation of death metal from 2021.
By Stefan Nordström: Facebook | Instagram | YouTube
---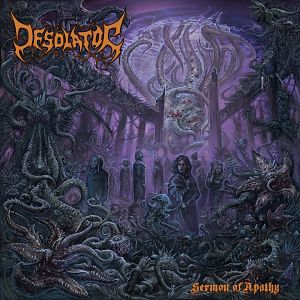 But let's start out with some shameless self-promotion. I'm an extreme metal musician myself, playing in the old school death metal band Desolator and the progressive death/doom band Soliloquium.
Both bands released full-length albums in 2020, and it would be awesome if you gave them a look. I'll drop the links here. I do a lot of musical stuff. The best way to keep up is by following me on Instagram. Anyway, let's check out the best death metal from 2021.
---
Deathgoat – Regurgitated into Existence (8 January)
You can't resist a band with a song called "Chainsaw Abortion", right? These Finns are lighting up early 2021 with some murky old school death metal.
Frozen Soul – Crypt of Ice (8 January)
Although the band name and album name sounds more like something Immortal would put together in 1995, I'm told this is a quality old school death metal release. Shame on me for not checking out yet, but if the hype is to be believed, Frozen Soul's full-length debut is a good one!
Fractal Generator – Macrocosmos (15 January)
Is high intensity technical death metal more your thing? Well, then Fractal Generator is for you! Everlasting Spew Records truly spews out brutal and technical bands, and they're usually good.
Plagueborne – A Blueprint for Annihilation (21 January)
Just like the band name implies, Plagueborne has a strong Cattle Decapitation influence. I found myself enjoying this one and it definitely deserves a place in a list of death metal from 2021.
Asphyx – Necroceros (22 January)
Asphyx is a reliable force in death metal, and in 2021 they have another album out. Expect heavy distortion, chugs and the classic puke-style Martin van Drunen vocal approach.
Altered Dead – Returned to Life (25 January)
Autopsy-style death metal anyone? Oh, yes! Canadian band Altered Dead's sophomore album is bound to deliver that.
Revulsion – Revulsion (5 February)
Releasing your debut 16 years into your career? Why not? Well, as long as it's good. And Revulsion self-titled 2021 debut seems to be a slab of quality Finnish death metal.
Abythic – Dominion of the Wicked (12 February)
German death metal with old school leanings, anyone? "Dominion of the Wicked" is Abythic's third album, out on Iron Bonehead Productions.
Grand Cadaver – Madness Comes (12 February)
This Swedish project featuring several well-known musicians, such as Dark Tranquillity's Mikael Stanne on vocals, sounds exciting AF. Let's see what Grand Cadaver can bring to the table! Worth nothing is that this is an EP.
Swampbeast – Seven Evils Spawned of Seven Heads (12 February)
Do you like it raw, wild and animalistic? Then Swampbeast might be for you. The songs are short and merciless, and the style borders on black metal and grindcore.
Suffering Hour – The Cyclic Reckoning (19 February)
Suffering Hour is another death metal band that's releasing a new album in 2021. It's the second album from this U.S. band signed to Profound Lore Records, and I remember finding the debut quite enjoyable.
Judgement: I don't quite agree with the huge type surrounding this one. It's good, and exciting, but it will be nowhere near my AOTY list for 2021.
Ominous Ruin – Amidst Voices that Echo in Stone (26 February)
Does an ominous ruin sound like something you'd enjoy? Good! Then it might a good time to check out the debut from this U.S. technical/brutal death metal band.
Baest – Necro Sapiens (5 March)
Baest is like the Bloodbath that is no more. So, do you need more "Resurrection through Carnage"? Turn to these Danes. Their third album will be out in March 2021. Expect some catchy, aggressive old school death metal.
Judgement: Another solid Baest album in the old school death metal style we've all come to expect. Worth checking out!
The Crown – Royal Destroyer (12 March)
Anyone that's familiar with my content knows that I'm crazy about The Crown. They're just one of those bands that absolute nail it, completely in a style of their own. And 2021 apparently means a new Crown album! "Royal Destroyer" is out in March. High probability of kickass!
Judgement: Kickass indeed! Just a classic dose of the Crown is what we all needed in 2021.
Seraph in Travail – A Black Death Incense (19 March)
Seraph in Travail play their own style of symphonic death metal. I quite enjoyed 2019's "Lest They Feed Upon Your Soul", so let's see if they can keep it up in 2021.
Creeping Fear – Hategod Triumph (26 March)
Creeping Fear's sophomore album is a solid dose of modern death metal that should please most fans of the style.
Memoriam – To the End (26 March)
Bolt Thrower 2.0 has another war death metal blast coming out in 2021. The last Memoriam album is the one I enjoy the most, so I'm definitely looking forward to this one.
Judgement: This is solid. Lots of heavy riffs combined with Karl's distinctive vocals.
Cannibal Corpse – Violence Unimagined (16 April)
I guess we all know what to expect here, huh? And I bet it'll be good! The question is how good, but I'll definitely spin it.
Crypts of Despair – All Light Swallowed (23 April)
Dissonant death metal from Lithuania? Yes, please! The pre-release single sounds promising, so I'll definitely hit up the full album from Crypts of Despair when it's out!
Hideous Divinity – LV-426 (23 April)
Hideous Divinity's 2019 album "Simulacrum" is my favorite from them, so I'm excited to see what this new EP will bring. The band definitely seems to increase the ambition level with every release.
More death metal content from the blog:
My 100 best death metal bands ->
The 20 best death metal vocalists ->
25 essential death metal albums ->