Hellhammer, Celtic Frost, Triptykon, Coroner and Samael are the Swiss metal bands most of us know (and maybe Eluveitie and Bölzer for more modern stuff?). But that's far from all the good ones. On the contrary, there are many quality Swiss metal bands out there that deserve a spot in our playlists. That's why I decided to get this article together!
Honestly, I didn't know much about the underground Swiss metal scene when I started researching. One of my Instagram followers helped me find most of the music (thank you!). After deep-diving, I have to say that there are certainly plenty of worthwhile Swiss metal bands. So much underrated stuff! Here are my 10 bands to check out!
My Swiss metal recommendations in short:
As the Sun Falls
Borgne
Disparaged
Last Leaf Down
Near Death Condition
Requiem
Schammasch
Silent Memorial
Ticket to the Moon
Ungfell
Swiss metal – about the author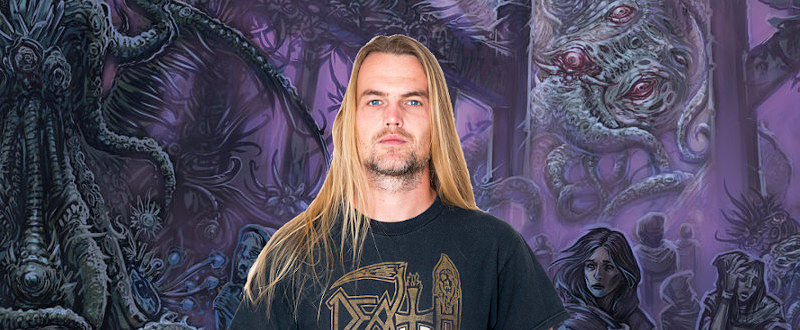 Stefan Nordström
Musician, songwriter, content creator, digital freelancer
Stockholm, Sweden
Bands: Desolator, Soliloquium, Ending Quest, Ashes of Life, Trees of Daymare, The Ashen Tree
10 awesome Swiss metal bands
Okay, let's stop wasting time. Here are my 10 Swiss metal recommendations. Hope you will find some new favorites!
As the Sun Falls (melodic death metal)
Scandinvian-style melodic death metal with a doomy edge, but from Switzerland? Why not? This is quality stuff that will likely appeal to most fans of the style.
Borgne (black metal)
Are you into suffocating, industrial-influenced black metal? Well, then Borgne is for you. The soundscapes are super-punishing, and the band certainly has its own unique sound.
Disparaged (brutal death metal)
Every country needs a good brutal death metal band or two, and of course Switzerland has one as well. Disparaged are veterans with five albums in their discography, and I really enjoy what I'm hearing on 2013's "And Babylon Fell".
"Depopulate": Spotify | YouTube
Last Leaf Down (post rock/shoegaze)
Not the most metal band on this list, and I actually wasn't aware they were Swiss, but it's certainly one of the best. Last Leaf Down plays a style of heavier shoegaze/post rock that should appeal to many fans of the melancholic side of metal. Highly recommended
Near Death Condition (brutal/technical death metal)
Okay, let's go back to extreme side of Swiss metal music! Do you like the sick riffs from bands like Hate Eternal, Morbid Angel and Deeds of Flesh? Then Near Death Condition is for you.
"The Bridal Chamber": Spotify | YouTube
Requiem (death metal)
There can't be too much groovy, catchy death metal, right? At least Requiem thinks so, and I agree.
Schammasch (black metal/avant-garde metal)
Schammasch is one of the most ambitious metal bands out there, crafting long albums and experimenting a lot with its music style.
Silent Memorial (progressive metal)
Swiss Dream Theater meets Evergrey? Kind of? And why not? This is pretty good stuff, especially if you're into technical progressive metal.
Ticket to the Moon (progressive rock/metal)
How about even more progressive stuff, but slightly softer? Ticket to the Moon has a more traditional edge, bordering on rock, but it's none the less highly enjoyable.
Ungfell (atmospheric black metal)
Let's end the list with some atmospheric black metal in the native tounge (at least I assume it is?). Ungfell has some seriously good ratings on Rate Your Music, and I can see why. Lots of emotion and atmosphere to the music, and for sure a Swiss metal bands to keep an eye on.
That's Swiss metal – how about some Scandinavian melancholy too?
So, that's my 10 Swiss metal tips with a slight shoegaze twist. But in addition to having fun and providing you with cool bands, I try to promote my own stuff. And the support I get is highly appreciated.
How about having a listen to "Floodgates", a piece of Scandinavian melancholy somewhere between doom, progressive and atmospheric? It features Communic vocalist Oddleif Stensland on guest vocals, which gives it a Nevermore touch.
Digging it? Support me by heading over to the Soliloquium Bandcamp page where you can buy merch and digital music! Or just stream it and/or share it. Anything goes a long way to help!
More metal blog content:
10 metal bands from Portugal worth checking out ->
50 best Finnish metal bands ->