Which 10 Amorphis songs are the best? Amorphis is a long-running band with many different eras, so there are a lot of songs to choose from; everything from old school death metal to accessible folk and progressive. Here you can find my two cents, hopefully an interesting read whether you're a long time fan or new to the band and looking to find some hits.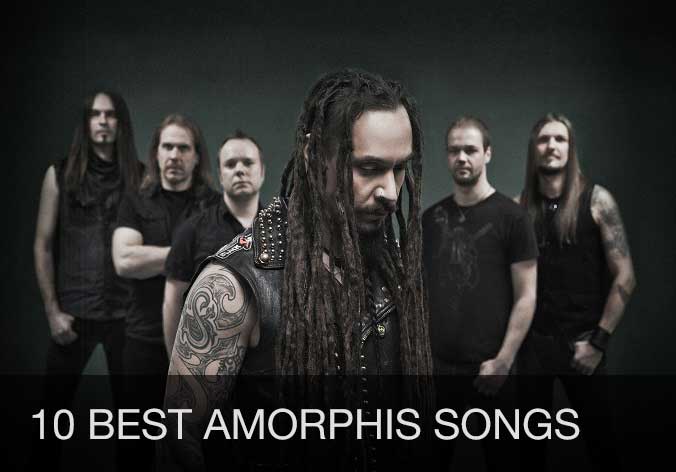 10. "The Smoke" (Eclipse, 2006)
Certainly a very simple and overplayed song, but it still rocks pretty hard. "The Smoke" is the song that introduced their new catchy growl/clean vocal mix, and created a blueprint for the entire era with Tomi Joutsen on vocals.
Amorphis full-length discography

The Karelian Isthmus, 1992
Tales from the Thousand Lakes, 1994
Elegy, 1996
Tuonela, 1999
Am Universum, 2001
Far from the Sun, 2003
Eclipse, 2006
Silent Waters, 2007
Skyforger, 2009
Magic & Mayhem – Tales from the Early Years , 2010
The Beginning of Times, 2011
Circle, 2013
Under the Red Cloud, 2015
9. "Day of Your Beliefs" (Far From the Sun, 2003)
The weakest Amorphis album is almost isn't completely without its bright spots. "Day of Your Beliefs" is a formulaic, but very infectious folk/prog metal rocker that explodes into a big chorus. Another song I wish they would try out in their live setlist at some point.
8. "Sampo" (Skyforger, 2009)
The "Skyforger" album had some really intersting progressive metal leanings at times, and "Sampo" is the best example. The structure of the song is quite complex for Amorphis, while still retaining the signature Joutsen era vocal hooks. An interesting musical direction I wish they would've explored further.

7. "Goddess (of the Sad Man)" (Am Universum, 2001)
Another catchy progressive rocker from the "Am Universum" album that really charms me. Great vocal melodies and guitar layers. Underrated track that I'd love if they tried out live at some point.
6. "Sign From the North Side" (The Karelian Isthmus, 1992)
An interesting half breed, somewhere between Swedish chainsaw death metal and the Finnish darkness of "Tales from the Thousand Lakes". Once again a track that blends hooks and atmosphere perfectly. This one sounds massive on the Tomi Joutsen re-recordings too.
5. "Vulgar Necrolatry" (Privilege of Evil, 1993)
https://www.youtube.com/watch?v=AUems2xpxbc
One of the few Amorphis tunes that truly can be considered pure death metal. Originally a tune from Abhorrence, this is murky, scandinavian death metal at its best. A song that's both atmospheric and extremely catchy in the same time.
4. "The Castaway" (Tales from the Thousand Lakes, 1994)
The first half of this track is solid, old school doom/folk metal Amorphis, but it's towards the ending we're truly reaching epic territory. The ending treats us to something best described as an Amorphis take on 70's progressive rock. It's an incredible twist that fits surpringly well with the highly different first half of the song.
3. "Black Winter Day" (Tales from the Thousand Lakes, 1994)
No best of Amorphis list is complete without "Black Winter Day". Like most great Amorphis track it has a bit of everything: darkness, catchiness, melodies, emotion. Another song that sounds great re-recorded with Tomi Joutsen, even though it lacks the atmosphere from the "Tales from the Thousand Lakes" original.
2. "My Kantele" (Elegy, 1996)
A heavenly folk and progressive metal mish-mash that has some of the strongest vocal melodies in the Amorphis discography. The re-recorded take with Tomi Joutsen (video above is that version) affirms what a massive track it is.
1. "Alone" (Am Universum, 2001)
"Am Universum" is not one of the essential Amorphis albums, actually it's usually considered one of their weakest. I think it's a decent album. Despite that, "Alone" has always been my favorite Amorphis song. It's a prog rocker with massive hooks and creative instrumentation.
Five other good Amorphis songs that almost made it (no individual order):
A Servant
Into Hiding
Majestic Beast
Separated
Under a Soil and Black Stone
Amorphis links:
Read more: