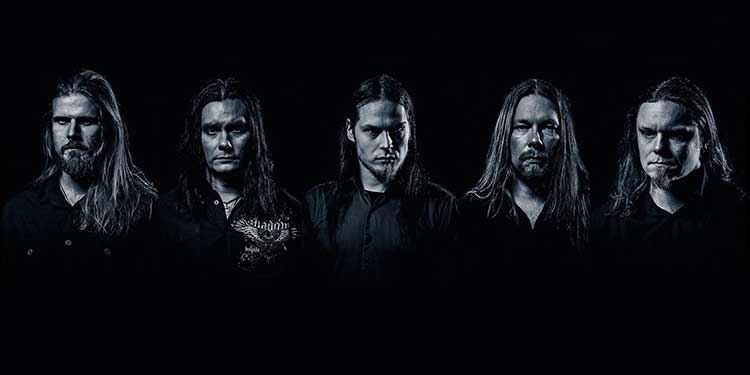 Kaunis Kuolematon is a Finnish death/doom metal band. They will be the first post in my underrated bands series, as well as the first post on this blog. The band plays classic melodic death/doom metal. The main vocals are growled and quite typical for the style. All the songs are in their native Finnish language. Mikko Heikkilä's clean vocals are the icing on the cake that makes them truly special.
Kaunis Kuolematon

Country: Finland
Formed: 2012
Genre(s): Death/doom metal

For fans of

Black Sun Aeon
Daylight Dies
Ghost Brigade
(old) Katatonia
Novembers Doom
October Tide
Rapture
Red Moon Architect
Slumber
Swallow the Sun
My passion for death/doom metal
I got into the style of death/doom metal a long time ago. Bands like Rapture, Daylight Dies, Slumber and of course Katatonia have been big parts of my playlist for years. One band from the spectrum that went into my playlist (while being equal parts melodic death metal) was Tuomas Saukkonen's now defunct Black Sun Aeon project.
I always admired the clean vocal performance in that band, by Mikko Heikkilä. Don't miss out on Black Sun Aeon's music, especially the debut "Darkness Walks Beside Me". The vocals were the reason I initially checked out Kaunis Kuolematon, and I was not disappointed with what I found.
To be honest, native language music has been more of a barrier than a selling point for me. All Kaunis Kuolematon ("Beautiful Immortal", by the way) music is in Finnish. In this case it absolutely works though. The growls would probably have the same impact, but I doubt the clean vocals would be nowhere near as effective in English. Many of the sharper vocal lines from the band gives me chills. There is just so much emotion behind it and the native language probably adds some extra vulnerability.
Kaunis Kuolematon lineup

Jarno Uski – bass
Miika Hostikka – drums
Ville Mussalo – guitars
Olli Saakeli Suvanto – vocals (lead)
Mikko Heikkilä – guitars, vocals (clean)

Discography

Kaunis Kuolematon (EP, 2012)
Kylmä kaunis maailma (full-length, 2014)
Vapaus (full-length, 2017)
Releases
Kaunis Kuolematon have released two full-length albums at the time this blog post was produced, as well as 2012 self-titled EP. I won't dig into the EP deeper since I want to focus on the albums.
Kylmä kaunis maailma
The debut full-length album "Kylmä kaunis maailma" was released in 2014. I immediately fell in love with the song "En ole mitään"; a great combination of plummeling, unforgivably angsty death/doom topped of with a melodic clean vocal performance to die for. Most of the album utilizes this tradeoff to great effect, read more about in my "Kylmä kaunis maailma" review here on the site.
Vapaus
"Vapaus" came out in 2017. My initial impression of the album was good. I didn't feel that it came up to the heights of "Kylmä kaunis maailma", something reflected in my review. "Vapaus" had its own "En ole mitään" type superhit (if you ever can call doom that): "Tuhottu elämä". The song has the same perfect balance between raw death/doom metal power, and clean vocal melodicism. The music video is also equally, if not even more, depressing. I might have to rewrite my review a bit in the future, because "Vapaus" is a great disc.
Don't forget about Sinamore
One important last note is to also check out the previous Mikko project Sinamore. It's Finnish gothic metal that is quite typical for the style, but the vocals are a great icing on the cake. The songwriting is also pretty damn catchy at times. It doesn't measure up to Kaunis Kuolematon or Black Sun Aeon, but it's still solid dark music.
"Palava Maa"
Out of nowhere a beautiful acoustic track showed up in late 2017 as well: "Palava Maa". It's a funny coincidence since always wanted to hear a Kaunis track that focused more on the clean vocal side of things. The acoustic backing tracks is autumnal and folky. Unsurprisingly, the clean vocals shine in this environment. Once again, we're also treated with a music video that's a perfect fit for the mood of the music.
Simple conclusion – listen to Kaunis Kuolematon!
I think I can't make it clearer than in the header above. Kaunis Kuolematon is a great band and any fan of dark metal and rock music should know them. Start out with the songs in this post.. there is no excuse not to!
Comment and share!
Blogging is a new tool in my writing arsenal, but I hope I can help people find some cool bands this way. If this proves successful I will keep digging up underrated bands and do my best to expose them to new listeners. If you enjoy Kaunis Kuolematon and/or my blogpost, please share it where possible. Drop a comment too while you're at it. Cheers!
Kaunis Kuolematon links
Related bands
Black Sun Aeon
Sinamore
Read more:
10 essential death/doom metal albums ->
"Kylmä kaunis maailma" review ->
"Vapaus" review ->
Soliloquium, Swedish death/doom metal (Bandcamp) ->