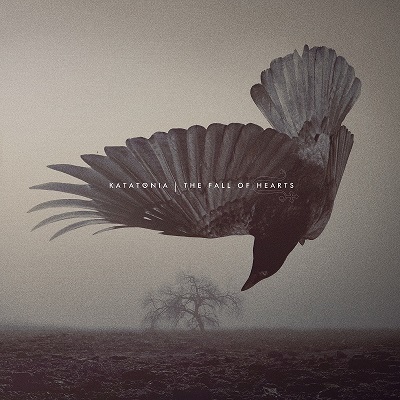 It's been over a year since Katatonia's "The Fall of Hearts" album was released, and since it's been a huge grower, I figured a track by track analysis would be an interesting thing to do. My initial reaction to most of the tracks was, as I wrote about in my original review, confusion.
Many of the song structures and vocal melodies on this album are a curveball. It took me 30+ spins to gain appreciation for some of tracks, but at this point I finally feel like I "got" the album. Now it's just another great Katatonia album for me, and I need them to write a new one for me to digest. "The Fall of Hearts" is number 7 on my best Katatonia albums list.
"The Fall of Hearts" tracklist:

1. Takeover
2. Serein
3. Old Heart Falls
4. Decima
5. Sanction
6. Residual
7. Serac
8. Last Song Before the Fade
9. Shifts
10. The Night Subscriber
11. Pale Flag
12. Passer
Takeover
"Takeover" had a lyrical summer sentimentality that I could relate to in a fairly early stage, but the song is awkwardly structured. Its mix of lighter clean parts and Tool-inspired distorted guitar moves does get there after repeated listens. An unconventional opening track choice, but it's certainly a good song.
Serein
I didn't love this track at first, and I think it was because it's so instrumentally basic. There is not anything special going either in the guitar or drum department. The vocal melodies are brilliant though, and finally got me in due time. The strong focus on the vocals reminds me of "The Great Cold Distance".
Old Heart Falls
By far the song I've listened to the most from "The Fall of Hearts", and with good reason. This is a staple track, with an extremely strong emotional impact and great melody hooks to match. Probably one of Jonas Renkse's strongest vocal performance; he sounds almost transparently sincere in this one.
Decima
As beautiful and finetuned as this ballad is, it's still one of my least favorite songs. The acoustic guitars and the vocals are nice, but it still feels like the album loses some pace here. Lacks something that truly stands out.
Sanction
A dynamic, moody track that caught me pretty fast, thanks to its trippy verses. I don't love the heavy chorus, but the verses have a feeling best described as a combination of the summer melancholy of "Takeover", and the Stockholms darkness of "Hypnone" from the "Dead End Kings" album.
Residual
"Residual" is as Tool as Katatonia ever sounded, and the biggest grower on "The Fall of Hearts". It took me at least 20 spins to realize that this track isn't a roadblock. It has a fantastic tension that explodes in the heavier parts towards the end. Jonas also delivers a varied vocal performance that fits the song's brooding nature.

Serac
One of Katatonia's most musically impressive songs to date, with great dynamics and breathtaking individual parts. Some of the vocal lines have a distinct Opeth influence, and it's nice to hear how much Jonas is still growing as a vocalist. It's not one of the more emotionally affecting songs on the album, but I find myself in awe of it from a musical perspective every time I listen to it.
Last Song Before the Fade
A direct track with nice hooks and drive. One of the most immediate tracks on "The Fall of Hearts", and it's no surprise that it's been used as an opening track on many of their gigs. The calmer part around the 3 minute mark is also a perfect breather before it goes back into high gear.
Shifts
"Shifts" is a straightforward, mellow track that was released a music video. It was one of my initial highlights, but it hasn't grown for me that much, despite remaining a quality Katatonia track.
Katatonia full-length discography

Dance of December Souls (1993)
Brave Murder Day (1996)
Discouraged Ones (1998)
Tonight's Decision (1999)
Last Fair Deal Gone Down (2001)
Viva Emptiness (2003)
The Great Cold Distance (2006)
Dead End Kings (2012)
The Fall of Hearts (2016)
The Night Subscriber
This song felt like "Last Song Before the Fade" light for a while. I didn't quite realize the power of this song until I saw it live. Today I feel it's a bit stronger than its counterpart, thanks to a more intriguing song structure and use of melody.
Pale Flag
An acoustic ballad that I feel the same about as "Decima". It's a slightly better one, but it's jammed in between two great songs on a long album. Given the high standards of Katatonia, it's still a good one, but it makes the album lose its pace a bit.
Passer
My intial favorite on the album, that remains in the top 3 together with "Old Heart Falls" and "Serac". This sees Katatonia taking a dreamy, post-metal direction at times, with gorgeous results. The ending minutes or so of this track is probably my favorite part on the entire album, so I'm glad to see they've added it to their live setlist.
The bonus tracks are great too
"The Fall of Hearts" comes with three bonus tracks: "Wide Awake in Quietus", "Sistere" and "Vakaren". I especially fell for "Vakaren", the first Katatonia song in Swedish. It's a light tune with nice effects and electronics where Jonas really shines. It's quite different to hear him singing in Swedish, in a very good way.
"Wide Awake in Quietus" is also a nice one. It sounds more like the regular album tracks on "The Fall of Hearts", and has a nice melodic drive to it. Katatonia have been famous for their bonuis tracks among their fans, and this time is no different. You can see my 5 favorite Katatonia b-sides and bonus tracks in my article.
"The Fall of Hearts" is a true grower
"The Fall of Hearts" grew on me bigtime, much like "The Great Cold Distance" before it. It's interesting to analyze an album in this stage, and there is certainly so much more to say compared to an initial review. If you enjoyed this article, I'd love if you shared it on Facebook or Twitter or wherever you do your social media activities.
Read more about Katatonia:
10 best Katatonia B-sides and bonus tracks ->
5 most underrated Katatonia songs ->
"The Fall of Hearts" original album review ->