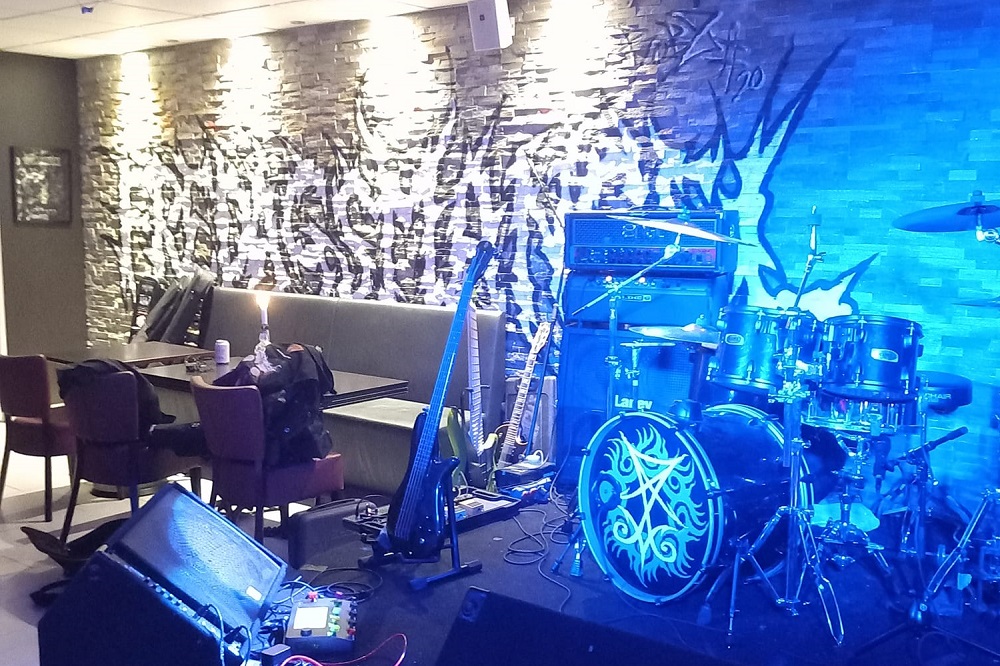 If you're looking to watch live metal music in Stockholm, Klubb Fredagsmangel is the place. It's a fairly new club in the suburb of Jakobsberg, and right now it hosts underground gigs every Friday and Saturday in a chill, local atmosphere. I'd highly recommend a visit, even if the bands you have the chance to see aren't completely your cup of tea. In this article, you can find all the info about Fredagsmangel, and why it's the best place for local Stockholm metal gigs.
About me – deathdoom.com, music and more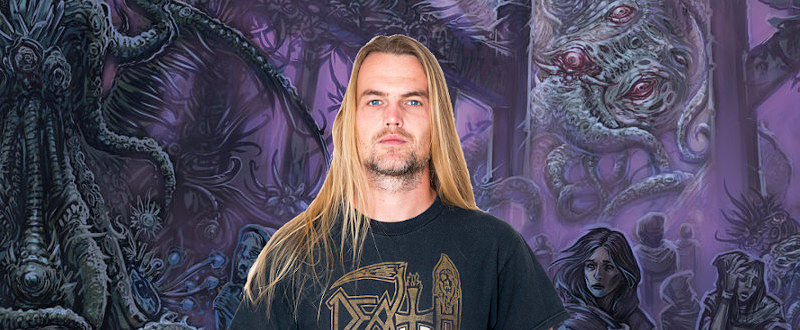 Stefan Nordström
Musician, songwriter, content creator, digital freelancer
Stockholm, Sweden
Bands: Desolator, Soliloquium, Ending Quest, Ashes of Life, Trees of Daymare, The Ashen Tree
Fredagsmangel – Stockholm metal gigs
One of the main reasons to go to Fredagsmangel, at least for me, is that the music is usually the most extreme you'll find in Stockholm. The bands are usually black metal, death metal, doom metal or thrash metal, and there's also some heavy metal and other styles once in a while.
This also includes what's pumping in the sound-system, making it a more extreme metal-oriented place than the metal bars in central Stockholm. So, if you're looking for the more extreme side of metal and not so much the mainstream stuff, it's another reason to head to Fredagsmangel.
Where do you find the gig schedule?
For the upcoming gig schedule and questions directly to the Fredagsmangel crew, try their Facebook or Instagram. They're usually quick and very helpful.
What does Fredagsmangel cost?
As I'm writing this (December 2022), the gigs are usually 100 SEK (around 9€ or $9,50) in the door, and 70 SEK (around 6€ or $6,50) if you buy a ticket before-hand. There's also a yearly membership currently priced at 666 SEK (what else?), if you're looking to attend a bunch of gigs and/or support the club.
Note that gigs with bigger/rarer acts can be more expensive. A popular act might also mean that the place sells out (it's a pretty small place). If it's a band you really want to see, reach out to Fredagsmangel beforehand to make sure there's still space.
How do you get to/from Fredagsmangel?
The easiest way to get to Fredagsmangel is by commuter train (pendeltåg). It takes around 20 mins from Stockholm City station; just take the train towards Kungsängen, Bålsta or Bro. The commuter train has the symbol J (subway is T).
After you get off the train in Jakobsberg, exit the station and turn right in the tunnel. After turning right, it's a 5-minute walk through the center. You'll find the regular entrance of Jakobs Kök & Bar on the left side of the main walk – boom, Fredagsmangel is on the back!
Getting back, however, can be a whole different game. Fredagsmangel closes at 1, and that's also about when the commuter train stops going. If you miss the last one, you're in for a hassle to get to the city center; options are a slow night bus or a car (taxi/Uber in Stockholm is SUPER expensive, not recommended). You can find the times for the commuter train at SL (Stockholm public transport).
My experiences at Fredagsmangel
So, how do I know so much about Stockholm Metal gigs and Fredagsmangel? Am I some kind of regular? No, I wouldn't say so, but it's definitely my preferred place to watch metal concerts in Stockholm.
It's more relaxed than the places in or close to the inner city. That is also obvious on the bands and crowds, as some pretty crazy stuff can go down. The Sarcator/Eternal Evil in March 2022 comes to mind, where the spectacle started with someone crowdsurfing into, and breaking the roof. My kind of place!
I've been there 10 times or so, and always had a nice experience. What I like most is the local, relaxed and familiar atmosphere. People are chill and fairly sociable, and I imagine it's pretty easy for a foreign tourist to find someone to hang out with. Go there if you have time – 100%!
Downsides of Fredagsmangel
Well, I already listed the two real downsides: transport and early closing time.
Number one you can spend your way out of, which might make sense if you have a big budget and limited time in Stockholm. Number two is a Swedish reality, and among the reasons I don't go out as much as my social media makes it look like. Alcohol laws are some of the strictest in the Western world, which might come as a surprise to some Stockholm first-timers. Don't let these things stop you though, if you're looking for Stockholm metal gigs, it's totally worth it!
What else can you see in Stockholm as a metalhead?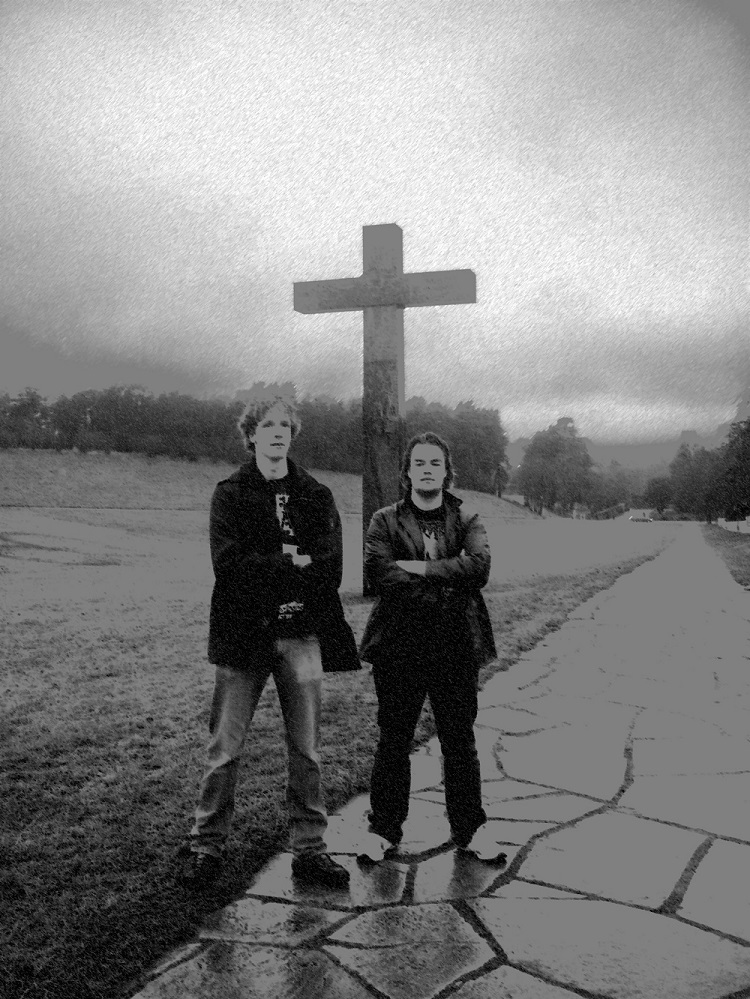 OK, Fredagsmangel has your Stockholm metal gigs covered for sure. And if it doesn't, there's usually more stuff going on as well. But concerts are just the tip of the iceberg – check out my comprehensive Stockholm metal guide for all you need to know before visiting. If you have other questions or just want to link up, reach out to me on Instagram, that's where I'm most active these days.
Support Fredagsmangel – do it, doooo it nau!
Fredagsmangel is an initiative by local metalheads. It has faced many challenges already, not to mention the pandemic bullshit. But it survived, and it needs all the support it can get. Going to the gigs and buying booze is one way to do it, but you can also buy Fredagsmangel merch (also available directly at the venue, of course). It's a great way to make sure the underground initiative can keep going – the merch also looks pretty cool!
Do you like Swedish metal music?
I assume so, since you're reading up on Fredagsmangel. Like most metalheads, I'm both a fan and a musician. I create this content for free, and what I mostly hope for in return is that people discover my music. If you're up for it, give my bands Soliloquium and Desolator a shot. I'm also in several other projects, but those two are my main ones.
Soliloquium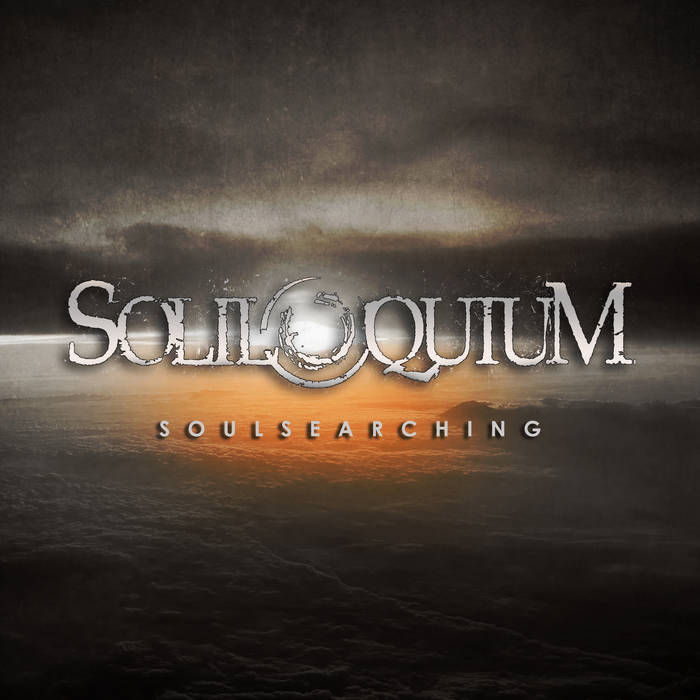 Progressive death/doom metal for fans of Katatonia, Daylight Dies, Swallow the Sun, October Tide, Anathema, Novembers Doom and more. Atmospheric and emotional!
Links: Bandcamp | Spotify | YouTube
Desolator

A crossover between Swedish and American-style old school death metal for fans of Immolation, Morbid Angel, Bloodbath, Vader, Blood Red Throne and more.
Links: Bandcamp | Spotify | YouTube
Fredagsmangel links:
More metal content: