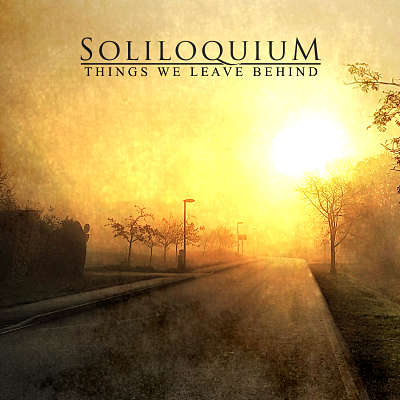 "Things We Leave Behind" is the third full-length album from Swedish progressive death/doom metal band Soliloquium. The album is out through Rain Without End/Naturmacht Productions on 16 March, 2020. Preorder is available from 17 February.
Listen to the music and support the band
Dead Ends
Reminiscence
Existential Misshape
Nocturne
It Was All Taken Away
A Fleeting Moment
The Recluse
"Things We Leave Behind" background story
"Things We Leave Behind" is the third Soliloquium full-length, succeeding 2016's "An Empty Frame" and 2018's "Contemplations". Lyrically, its a direct follow-up to the story that began on "Contemplations". The racing thoughts and inward turns have been replaced by action, resulting in a more direct, confrontational album.

It has some of the most extreme moments in the band's history, as well as some of the most lush and beautiful. The point is to tell a story that's both unique and relatable at the same time. It's both an expression of my personal issues as a commentary on the growing mental health epidemic.

As usual, Jonas Bergkvist (Desolator, Wolfcross) is handling the bass duties. This time, the line-up is completed by Victor Parri (Isole, Valkyrja, Desolator) on session drums. Mikko Heikkilä (Kaunis Kuolematon) returns on guest vocals, and Joakim Rudemyr (Within the Fall, Desolator) also joins in on backing vocals.

"Things We Leave Behind" has been mixed and mastered by doom metal audio pro Jari Lindholm of Slumber and Enshine fame.
"Things Leave Behind" bio:
Stefan Nordström – vocals, guitars
Jonas Bergkvist (Desolator, Wolfcross, Ending Quest, Lockdown) – bass
Victor Parri (Desolator, Isole, Valkyrja, The Curse, Neuronaut) – drums, electronics
Mikko Heikkilä (Kaunis Kuolematon) – guest vocals on "The Discarded"
Joakim Rudemyr (Desolator, Within the Fall) – backing vocals on "Dead Ends" and "Reminiscence"
Gustav Gunnarsson (Ending Quest) – additional keyboards in "A Fleeting Moment" and "The Recluse"
Jari Lindholm (Enshine, Seas of Years, Exgenesis) – additional keyboards in "It Was All Taken Away"

Mixed and mastered by Jari Lindholm
Album cover photo by Mike Schubert
Album cover design by Ollie Assault

All music and lyrics by Stefan Nordström
Other Soliloquium albums: