Death is a legendary band with an impressive discography filled with good songs, so it's a hard task to rank the 10 best Death songs. I like all the eras, but my special weakness is the mid-period from "Human" to "Symbolic". These are my top 10 best Death songs.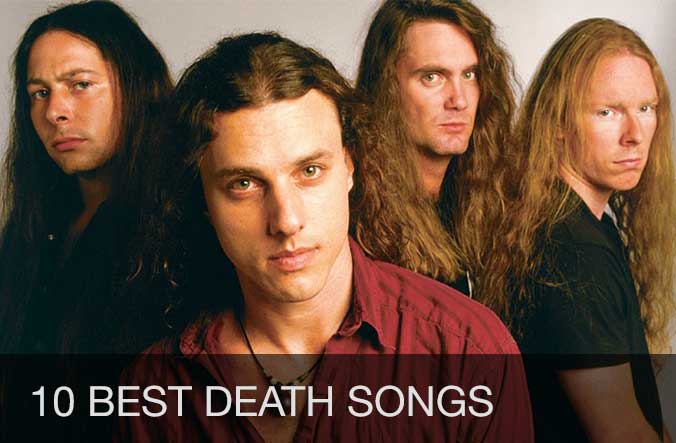 10. Flesh and the Power it Holds ("The Sound of Perseverance", 1998)
"The Sound of Perseverance" is an album bloated with ideas and technicality, but in the end there are some really good tracks on there. I love the intro riff on this one, and it's overall chock-filled with interesting guitar parts.
9. Leprosy ("Leprosy", 1988)
I could have chosen a bunch of tracks from "Scream Bloody Gore" or "Leprosy" here, but the title track from "Leprosy" is one of the ultimate proto-death metal tunes. It's catchy, trashy and set a high standard for death metal to come.
8. Symbolic ("Symbolic", 1995)
The title track from "Symbolic" has a lot of geniously simple signature riffs mixed in with the more complex parts. It's a good introduction to the lighter, more progressive Death sound on the "Symbolic" record.
7. Suicide Machine ("Human", 1991)
Death is not a band that you associate with crippling heaviness, but "Suicide Machine" sure brings it before it explodes in a fast technical death metal assault.
6. Overactive Imagination ("Individual Thought Patterns", 1993)
Flashy technicality combined with catchy songwriting.
5. 1,000 Eyes ("Symbolic", 1995)
A rhythmically complex, melodic song with emotional melodies. Another song that perfectly combines technicality and memorable songwriting.
4. Flattening of Emotions ("Human", 1991)
Similar to "Suicide Machine" in the way that it sounds more heavy and punishing than Death usually does.
3. Without Judgement ("Symbolic", 1995)
Filled with action-packaged riffage and progressive breaks. Above is my YouTube of this awesome song.
2. Crystal Mountain ("Symbolic", 1995)
One of the band's most famous songs, and also one of their best. Catchy, melodic and filled with quality lead guitar sections.
1. Trapped in a Corner ("Individual Thought Patterns", 1993)
This song has about 15 riffs that I would describe as "signature riffs", as well as a chorus that is as technically marvelous as it is catchy. Legendary song!
My Death covers:
"Baptized in Blood" YouTube cover ->
"Without Judgement" YouTube cover ->
Ending Quest – "Scream Bloody Gore" cover ->
Read more:
10 best Amorphis songs ->
10 best Paradise Lost songs ->
30 best progressive metal bands ->
50 best Swedish death metal bands ->