Metaldays 2017 was a fantastic festival filled with great performances and great partying. The crazy Tolmin weather did its best to halt the festival, but there really wasn't anything stopping the bands or attendees this time.
There was an undeniable feelgood atmosphere in the festival area, beach area, camping and Tolmin city. The four bands I absolutely wanted to see (Katatonia, Death Angel, Sanctuary and The Foreshadowing) also delivered killed sets.
I missed Lik and Solstafir (no worries, still catching them in a week at another festival) due to extreme partying, and I was very sad to see Kadavar cancel their Metaldays appearance. Spasm's mankini-fueled grindcore was also placed in the last day, where there simply wasn't any energy left in me, which was sad considering how much fun they are live.
Missing Abbath's now legendary "All Shall Fall"-fall at the main stage was sad, but I was busy hanging over at the Warbringer gig, chatting with a bunch of old pals.
There were a couple of lacks in the organisation:
Chaos in the entrance when people tried to get in and out before Amon Amarth
Stewards (we talked to several) who had no idea which camping areas were pre-booked for groups or not when we arrived
On the plus side, there were no lines for the bracelets or parking when we arrived on Saturday afternoon. The same goes for bars, card refills, toilets, (cold) showers and restaurants during most of the festival. These practical problems are exactly the types of things that makes me dread going to Swedish festivals, so I'm so relieved when everything is just smooth sailing. But let's talk about the music now!
Gig reviews at Metaldays 2017
Turbowarrior of Steel
The first gig I saw at Metaldays was a small thrash metal gig down at the New Forces Stage down by the beach. People were getting into maximum party mode already, and the Belgian underground band had a large, active circlepit. Turbowarrior's music (as the name entails) is extremely tongue-in-cheek, and fitting for a metal beach party of this type. It was the perfect warmup for the more serious music to come.
Hellcrawler
I checked out this band a bit before the festival and managed to run into them while walking around. These crust metal type bands usually bring it live, and although Hellcrawler is no Black Breath, the gig was certainly enjoyable enough to watch while having a few beers.
Sanctuary
I'm a huge Nevermore fan, so seeing Warrel Dane sing was a treat. The gig was right at the end of a storm, so the few brave people who went to the stage and got showered bore witness to a great gig. Sadly, the gig started late and got cut short because of the wacky weather conditions. I heard afterwards that it almost got cancelled. Damn you, Tolmin microclimate!
Musically, it was way above my expectations. Warrel seemed to be in a great mood and delivered vocally. The oldschool thrash metal riffs also translated very well in a live setting, and it was impossible to stop myself from going into a headbanging frenzy.
"Future Tense" got cut from the set, but the soaked audience was treated to some "Into the Mirror Black" classics like "Seasons of Destruction" and "Taste Revenge" as well as some newer cuts from the reunion album. We also got sent into an 80's time machine for a while with "Die for My Sins".
Katatonia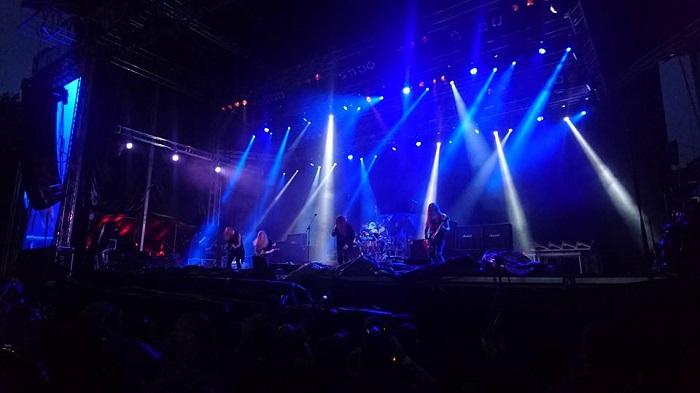 To see my favorite band is always a luxury, and Katatonia really delivered this time. They're usually better on tours than in a festival setting, but this time was something else. Jonas sang great, and the whole band had energy and focus. The new line-up seems to mesh together perfectly, and it might actually be the best one yet in a live setting.
It's also interesting to hear how well the songs from "The Fall of Hearts" translate live, a bit surprising considering the quirky songwriting. This was the first time I heard "Passer" live, and it was absolutely chilling. "Old Heart Falls" is also a show-stopper every time, there's just something very special about that song.
Since it's a festival filled with extreme metal, Katatonia mostly went heavy in their setlist, delivering classic headbangers like "Forsaker", "July" and "Ghost of the Sun". The highlight for me was probably "Dead Letters", but the whole set was a 10/10. My 12th Katatonia gig was certainly a good one, and I can't wait to see them again.
Read my full Katatonia review from Metaldays 2017 here ->
Bloodbath
Bloodbath live is a double-edged sword. They have enough death metal classics in their discography to fill a three hour set, but somehow they don't deliver them with the kind of energy that other bands in the genre do.
With that said, this was probably the best time I've seen them with Nick Holmes on vocals. The late night setting gave the band's blood-drenched performance some additional darkness, and the audience went quite crazy in front. Nick also performed the trickier Åkerfeldt and Tägtgren material better than usually.
I managed to score a frontrow spot, and I was headbanging like a madman to death metal classics like "Breeding Death", "So You Die", "Weak Aside" and "Outnumbering the Day". After seeing Sanctuary, Katatonia and Bloodbath with damn near perfect sound, that is also worth mentioning. Some festivals can have pretty sketchy sound on stage, but Metaldays really nailed it this year.
Rectal Smegma
Grindcore live at a metal festival filled with partying people can be extremely entertaining, and RS at Metaldays 2017 was no exception. People were dressing up in ridicilous suits (or nothing at all), and the toilet paper was flying all over the circlepit. I'm usually not a circlepit person, but I had to take a few spins in this one.
Unfortunately I missed Gutalax a few days later, which looked like it turned into an even more bizarre party, but I had no choice since The Foreshadowing was playing on the other stage at the same time.
Dordeduh
Every festival usually opens you up to a band you've never heard before, and this time it was Dordeduh. Having quite a few beers under my belt and no phone to check the time, I was expecting The Foreshadowing to play. Instead, an atmospheric black metal band from Romania came up and delivered an intense set.
I stayed along for the entirety of the gig, and it was an interesting mesh of progressive and folky black metal tendencies. The performance was passionate and slightly ritualistic. Dordeduh is definitely a band I will check out the studio discography from.
The Foreshadowing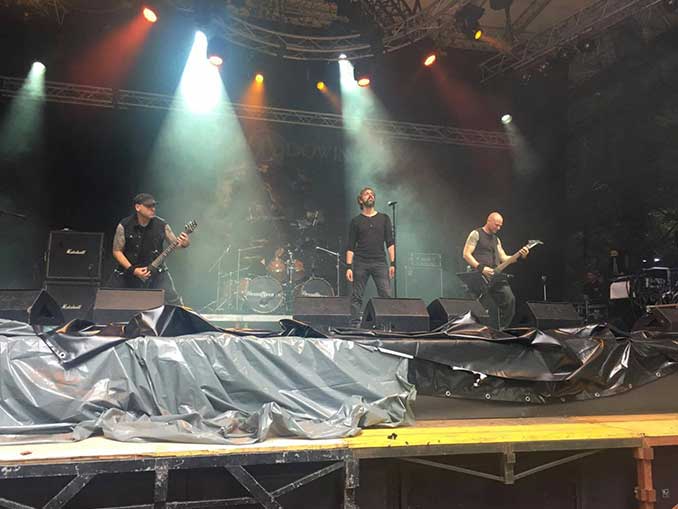 Italy's The Foreshadowing is a band I absolutely adore. The band's majestic doom metal approach is classy, and Marco Benevento's baritone vocals give me chills. However, I was quite unsure how their atmospheric music would fare on a metal festival filled with party people.
Perfectly, it turned out. The instrumental parts of the music were crushing in a live setting, and the ferocity of the drums really came out in a different way compared to the studio material. The guitarists and the bass player had a metal energy on stage, while Marco was like a Jesus figure, delivering the monolithic songs with an understated calm.
Vocally, it was an amazing performance. Marco nailed every vocal line, and the setlist was filled with favorites. "Havoc", "17" and "The Forsaken Son" were all delivered perfectly, and have been stuck in my head on repeat since the gig. What a highlight!
Read my full The Foreshadowing review from Metaldays 2017 here ->
Death Angel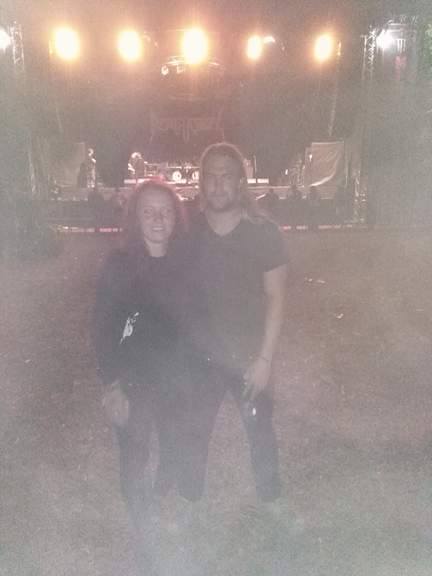 Death Angel was the last band on Metaldays 2017, and at this point my body was rejecting the partying, headbanging and weather shifts. I still couldn't keep myself from going to the front row to check them out. I really wish they played earlier on the festival, because what a gig it was!
Just like the last time I saw them, Death Angel showed what an unbelievably tight and energetic live act they are. Mark Osegueda was in a great mood, running around stage like a 25-year old, and pushing the weathered audience to go crazy. Quite a few people did actually bring some energy, and there was a pit as well as a lot of crowdsurfing going on.
After seeing them twice, I'm now convinced that Death Angel is the best 80's thrash metal band in a 2010's live setting; no Slayer, Kreator, Testament or Overkill can bring this type of energy at this point. Everyone in the band plays every note with a burning ferocity, and it was a fitting end to Metaldays 2017. Unfortunately, they didn't play my favorite "Voracious Souls", but the knockout combo of "Relentless Revolution" and "The Moth" ended the festival on a perfect note.
Read my full Death Angel review from Metaldays 2017 here ->
Bands I saw/listened from a distance:
Dool
Grime
Pain
Stortregn
The Crawling
Warbringer
Bands I wanted to see at Metaldays but missed for one reason or another:
Batushka
Beheaded
Krisiun
Lik
Solstafir
Spasm
Metaldays 2017 summary
As I said earlier, it was a fantastic year. The bands, as well as the social part of Metaldays 2017 was fantastic. It was non-stop euphoria until the last day when my body simply said no, which is not strange after going on for six days. The journey home was a blazing hellstorm of pain, but now I feel like going to a festival again, which I will do next week. Time to visit Romania and Rockstadt Extreme Fest for the first time!
Metaldays 2018 tips
If you have the opportunity to go to Metaldays 2018, do it. I have a guide for Metaldays as well as overall tips on how to survive a European metal festival. There's also a list of the best European metal festivals I've been to. Check them out to learn more!