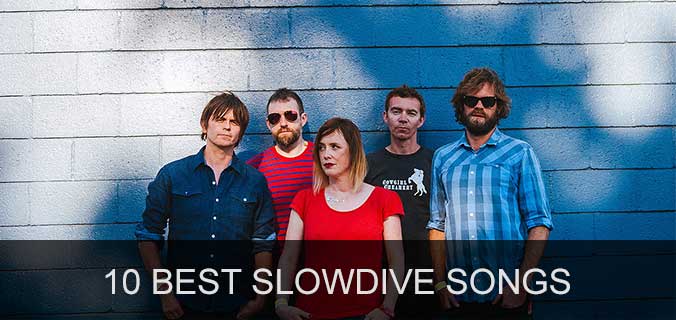 This is my list of the 10 best Slowdive songs. Slowdive is a legendary shoegaze band from Reading, United Kingdom. They released two full-length albums and a few EP's before disbanding. Slowdive returned in 2017 with a self-titled comeback album that I reviewed here on the site. My top 10 Slowdive songs list is a schizophrenic mix between old classics and new hits. Also, don't miss out on Rachel Goswell's other project Minor Victories.
10. Slomo ("Slowdive", 2017)
The opener from the self-titled comeback album (read my "Slowdive" review here) has an opening that's a textbook example of Slowdive's greatness. At first, the vocal melodies can feel a bit awkward. Once I digested the song it went right into my top 10. The song is a good one overall, but the first two minutes are shoegaze magic.
9. Alison ("Souvlaki", 1993)
Opener of the "Souvlaki" album and one of Slowdive's most famous songs. It has more of a straight alternative rock vibe than most of their material. The bittersweet melancholy is strong and I can hear so many newer bands being influenced by the mood.
8. Celia's Dream ("Just for a Day", 1991)
Underrated song from the debut album. The instrumental parts on this have a dreamy vibe that even reminds me a bit of the Twin Peaks soundtrack. Great Neil Halstead vocal performance as well.

7. Sugar for the Pill ("Slowdive", 2017)
New wave-influenced hit from the reunion that displays how much better Neil Halstead's voice got over the years. The simple, bittersweet melodies reel you in more and more until you're completely stuck.
6. Here She Comes ("Souvlaki", 1993)
Calm, minimalistic and soulcrushing. Most of the "Souvlaki" album is drenched in layers and reverb. "Here She Comes" does the opposite and goes in a singer/songwriter direction. It's a gorgeous little song, a sign of what was to come on Neil Halstead's solo records.
5. Spanish Air ("Just for a Day", 1991)
Some of the instrumental parts from this song could be straight out of The Cure's "Disintegration". It's got a droning pulse that slowly sucks me in every time. One of the least impressive songs on this list note by note, but the atmosphere is just something else.
4. Souvlaki Space Station ("Souvlaki", 1993)
The songtitle sure fits the music. It's got an instantly recognizable intro and otherwordly vocals from Rachel Goswell. One of Slowdive's most creative and strange tunes.
3. Catch the Breeze ("Just for a Day", 1991)
A sleepy, yet catchy hit from the debut album. The bass lines and reverb-drenched gitars form an interesting groove. Neil Halstead's bittersweet vocal delivery is the perfect icing.
2. Machine Gun ("Souvlaki", 1993)
Truly as dreamy as Slowdive gets. Rachel' vocals are angelic and drenched in reverb. The echoing chords in the intro are as simple as they are captivating. "Machine Gun" is probably the ultimate Slowdive song if you just want to escape into a hazy trance for a while.
1. When the Sun Hits ("Souvlaki", 1993)
https://www.youtube.com/watch?v=2INLBsRYVBs
Slowdive is one of those cases where one of the most famous songs also is their best one. "When the Sun Hits" is a glorious song. The intro is captivating from the first second, and the verse and chorus perfectly builds on it. Instantly memorable with a bittersweet catchiness that only shoegaze music can deliver.
Slowdive links:
Read more:
"Slowdive" review ->
10 best Alcest songs ->
Minor Victories – "Minor Victories" review ->
Music reviews ->
Other music articles ->
Soliloquium, Swedish doom metal (Bandcamp) ->