Alcest is a French blackgaze band with many good songs and albums. This is the list of my top 10 best Alcest songs.
My connection with Alcest began somewhere around 2012-2013. The song "Autre Temps" caught my ear, and I wound up seeing them live several times. When "Shelter" dropped in 2014 I got even more into the band, and today I consider them one of my favorite bands. They're also an influence for my progressive death/doom metal band Soliloquium, that sometimes goes in a blackgaze and shoegaze musical direction.
About the author (who's this guy to talk about Alcest songs?)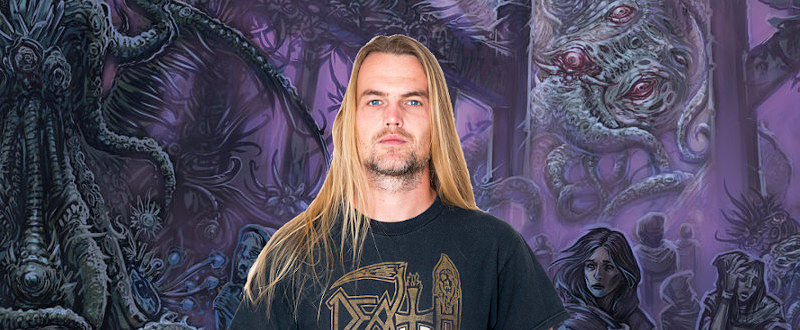 Stefan Nordström
Musician, songwriter, content creator, digital freelancer
Stockholm, Sweden
Bands: Desolator, Soliloquium, Ending Quest, Ashes of Life, Trees of Daymare, The Ashen Tree
Alcest full-length discography
Souvenirs d'un autre monde, 2007
Écailles de Lune, 2010
Les Voyages de l'Âme, 2012
Shelter, 2014
Kodama, 2016
Spiritual Instinct, 2019
The 10 best Alcest songs
Enough background, here's my list of the 10 best Alcest songs!
10. "Souvenirs d'un autre monde" (Souvenirs d'un autre monde, 2007)
Early Alcest goodness with soft vocal and guitar melodies. Introduced a lot of the signature dynamics that would become the Alcest sound.
---
9. "Ècailles de lune – Part 1" (Écailles de Lune, 2010)
Epic from their second full-length album that has everything from black metal blastbeat sections to shoegaze right from the Slowdive playbook.
---
8. "Summer's Glory" (Les Voyages de l'Âme, 2012)
The songtitle couldn't be more fitting. Celebratory metalgaze song that is one of the ultimate tracks for running or walking around in the summer sun.
---
7. "Délivrance" (Shelter, 2014)
It's a pleasant take on shoegaze all through, but the slowburning end of "Délivrance" is one of my top Alcest moments. Just pure, bittersweet atmosphere. Also one of the coolest Alcest moments to witness in a live setting.
---
6. "Voix sereines" (Shelter, 2014)
As light and shoegaze as Alcest gets. A really dreamy song that evokes even more nostalgia than some of their heavier material. It's less emotionally heavy than most of their material, but the lighter atmosphere burns extremely bright in its own way.
5. "Là où naissent les couleurs nouvelles" (Les Voyages de l'Âme, 2012)
Big song that starts out with a doom metal like 4/4 tempo, building into soft verses with clean guitars and Niege vocals. Explodes in blastbeats, followed by a melodic crescendo that is one of the best Alcest moments.
---
4. "Les voyages de l'âme" (Les Voyages de l'Âme, 2012)
Mid-paced melodic masterpiece with almost too many memorable passages to count. Full of dynamic and bittersweet emotion. Absolutely dreamy in both guitars and vocals. The break in the middle gets me every time!
---
3. "Away" (Shelter, 2014)
A ballad reeking with escapism featuring Neil Halstead from Slowdive on vocals. Fabulous vocals and lyrics. Not surprisingly, many of the light, soothing melodies also sound somewhat like Slowdive.
---
2. "Percées De Lumière" (Écailles de Lune, 2010)
Opens with an instantly recognizable signature melody that's quickly accompanied by Neige's black metal screams. Travels through riff after riff that is as driving as they are dreamy. A defining song for Alcest.
---
1. "Autre Temps" (Les Voyages de l'Âme, 2012)
The single from "Les voyages de l'âme" is the perfect introduction to Alcest and remains my favorite song by them even today. Incredibly dreamy song filled with shoegazing guitar and vocal melodies to die for. You can feel it has something special right from the first few notes. It's a well-deserved #1 on my list of the 10 best Alcest songs.
How about some Swedish doom metal?
If you're searching for Alcest songs, I bet you enjoy other forms of melancholic extreme metal as well. How about some progressive death/doom from Stockholm, Sweden? Check out my band Soliloquium by following one of the links below. I would be super-grateful if you had a look, and even more so if you bought some digital music or merch.
Bandcamp | Facebook | Instagram | Spotify | YouTube
More blackgaze and shoegaze content from this blog: