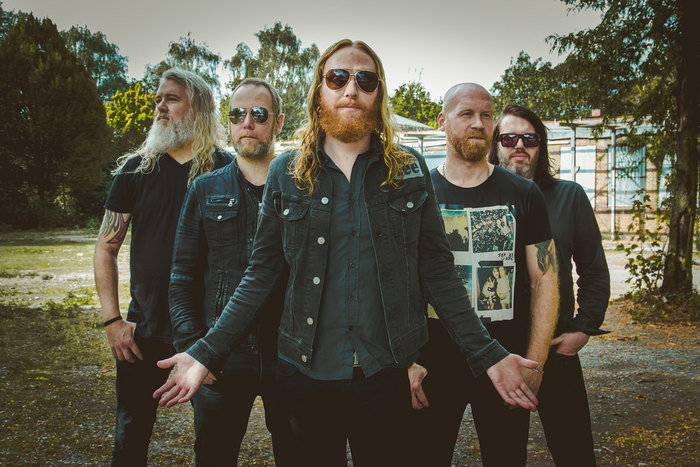 What are the 10 best Dark Tranquillity songs? Dark Tranquillity is a band that has been with me for a long time, and my love for them has faded and returned at a few points over the years. I first saw them live on the "Damage Done" tour in 2002. I tend to like their varied clean vocal material more than their classic melodic death metal songs. I'll start the list out with five Dark Tranquillity songs that almost made it, before progressing further and further into my favorites.
About the author

I'm Stefan Nordström, an aspiring musician and content creator. This is one of the ways I promote Soliloquium, my melodic death/doom metal band. If you're searching for new music in the style, it would be awesome if you listened to my stuff on:
Five Dark Tranquillity songs that almost made it
Forward Momentum ("Atoma", 2016)
State of Trust ("Construct", 2013)
Terminus (Where Death is Most Alive) ("Fiction", 2007)
Undo Control ("Projector", 1999)
What Only You Know ("Construct", 2013)
10. Monochromatic Stains ("Damage Done", 2002)
One of the hit songs from "Damage Done", their strongest album in classic melodic death metal style. It's got a bit of everything: heavy downtuned grooves, memorable melodies and strong vocal hooks.
9. The Sun Fired Blanks ("Projector", 1999)
A classic, punchy melodeath hit sounds so much better when it's surrounded by different songs. However, it's not only the experimental "Projector" environment that makes it great. It's one of the catchiest Dark Tranquillity songs ever written, complete with melodic guitar hooks and Stanne vocal work.
8. FreeCard ("Projector", 1999)
Gothic pianos and melancholy drives this song more than anything else, making it a great introduction to the "Projector" album. It marks how different from predecessor "The Mind's I" this album will be, and the instrumental and vocal melodies all shine.
7. Uniformity ("Construct", 2013)
Some of the tendencies I loved on "Projector" returned on 2013's "Character", and "Uniformity" is a prime example. It sounds like a gothic metal version of Depeche Mode more than anything else. The song is mid-paced and atmospheric, and allows Mikael Stanne's vocals (both harsh and clean) to shine and drive the song. Excellent lyrics as well.
6. Nether Novas ("Projector", 1999)
The first Dark Tranquillity song I ever heard, and a great example of why their gothic metal style is so appealing. The guitars are drenched in strange reverb effects, only sharpening into distorted metal on the harsh vocal parts. I'm a bit perplexed why this song isn't one of their more famous tunes, considering the excellent atmosphere.

5. Lethe ("The Gallery", 1995)
No best Dark Tranquillity songs list is complete without "Lethe". Mikael Stanne growls about lost love to the point where it feels like his voice would break at any moment, and the melodies and hooks are spot on.
4. Fabric ("Haven", 2000)
I'm not a huge fan of their "Haven" album, but "Fabric" is an underrated superhit. It's got some very appealing mid-tempo melodicism going that doesn't sound like Dark Tranquillity usually does. An off-kilter song that is way more passionate and appealing than anything on the rest of "Haven".
3. Hours Passed in Exile ("Damage Done", 2002)
The highlight of the "Damage Done" album is not "The Treason Wall", "Monochromatic Stains" or "Final Resistance" for me. "Hours Passed in Exile" has an atmospheric edge that the intense "Damage Done" album lacks for the most part. It almost sounds like it carries a bit of the "Projector" sound, minus the clean vocals.
2. Auctioned ("Projector", 1999)
One of the few Dark Tranquillity songs with only clean vocals. Mikael Stanne absolutely pours his heart out in this one, and the lyrics are crushing. I'd love to hear a full album in this style at some point.
1. On Your Time ("Projector", 1999)
Number one on my list is another "Projector" song; album closer "On Your Time". "On Your Time" puts the emotional clean vocal style of "Auctioned" together with some classic melodic death metal intensity, creating a song that represents everything that's good about Dark Tranquillity.
Read more:
10 best Amorphis songs ->
10 best Anathema songs ->
10 best Katatonia songs ->
10 best Paradise Lost songs ->
More articles ->
My reviews ->
Soliloquium, swedish doom metal ->