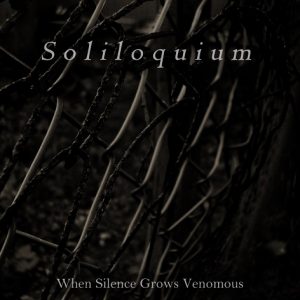 "When Silence Grows Venomous" is the first demo by Swedish death/doom metal band Soliloquium. The songs are included in the "Absence" compilation from Transcending Records. You can download or stream the release for free from the Soliloquium Bandcamp page.
Tracklist:
Garden of Truculence
Autumn State
"When Silence Grows Venomous" background story
"When Silence Grows Venomous" was an experiment to see how it would feel like to play the death/doom metal style, as we've previously only played regular death metal. "When Silence Grows Venomous" is highly influenced by Katatonia's "Brave Murder Day" and the first two October Tide records.
The part I really like is how I managed to get some pretty strong hooks in there, something which is rare in the death/doom spectrum. I regard "Garden of Truculence" as the superior song, despite that "Autumn State" has a solid, melodic intro theme. The lyrics are tales of fading relationships and chosen isolation, sometimes manifested in the harsh Swedish seasons. It's a raw offering that's a testament to my musical skill level at the time.
What about the instruments? Well, drums were programmed in Guitar Pro and went through a drum plugin. This actually isn't that noticeable. What is noticeable, though, is my lack of tightness on the guitars. There are quite a few spots with weird noises, especially the lead and clean guitars. An ESP Ltd F-400FM tuned to C# was used for the guitars on this demo. Vocals were recorded at home and they sound decent. The mixing and mastering was also done at home.
Considering the inexperience and amount of trial and error involed, "When Silence Grows Venomous" turned out well. It got some decent reviews and gained Soliloquium some fans, but it's definitely lacking compared to the other Soliloquium releases.
From Metal Archives:"Overall, it's great to hear musicians stepping across genres, even ones like doom and death metal, who's lines have been crossed so many times now. This demo is an assured start for Soliloquium and I look forward to seeing how it develops in the future, as the duo are currently working on new material."
"When Silence Grows Venomous" bio:
Stefan Nordström – vocals, guitars, drum programming
Jonas Bergkvist – bass
Release date: April 29th, 2012
Independent release
Cover photo by Alexander Hudberg
Mixed and mastered by Gustav Gunnarsson
Other Soliloquium releases:
The Concept of Escape (EP, 2013) ->
A Night of Burdens (EP, 2014) ->
An Empty Frame (full-length, 2016) ->
Contemplations (full-length, 2018) ->