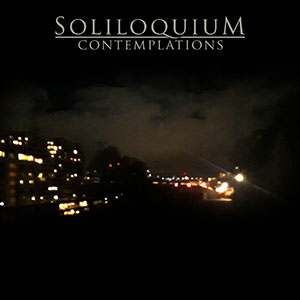 "Contemplations" is the second full-length album from Swedish doom metal band Soliloquium. It will be released on U.S. label Transcending Records on June 1st, 2018. You can download or stream all Soliloquium music from the Soliloquium Bandcamp page.
Tracklist:
Chains
Catharsis
Streetlights
Unfulfilling Prophecy
22
For the Accursed
In Affect
Wanderlust
"Contemplations" background story
"Contemplations" is just what the album cover suggests: a sleepless walk in Stockholm inner city darkness. It's the sum of endless, distracting thoughts and a growing sense of alienation. An agonizing hunger for more, combined with growing knowledge of life's constraints and limitations. I'm a stranger to the concepts of this world and it's never been so clear.
Musically, classic Soliloquium style death/doom metal pieces like "Chains", "Unfulfilling Prophecy" and "Wanderlust" are combined with left turns into shoegaze, post metal and psychadelic. Drift away into unconcealed nostalgia in "22" or join me in a hazy, inebriated night in "Streetlights".
It was my desire to write something more specific and personal, beyond the typical scope of sometimes abstract death/doom sorrow. The result is an inward-gazing album that won't be inviting. "Contemplations" is not an easy album, but I hope it will be a rewarding one.
"Contemplations" bio:
Stefan Nordström – vocals, guitars
Jonas Bergkvist – bass
Mike Watts – drums, electronics
Mikko Heikkilä – guest vocals on "Chains" and "In Affect"
Release date: June 1st, 2018
Transcending Records
Cover art by Luciferium War Graphics
Mixed and mastered by Mike Watts
Other Soliloquium releases:
When Silence Grows Venomous (demo, 2012) ->
The Concept of Escape (EP, 2013) ->
A Night of Burdens (EP, 2014) ->
An Empty Frame (full-length, 2016) ->
Things We Leave Behind (full-length, 2020) ->