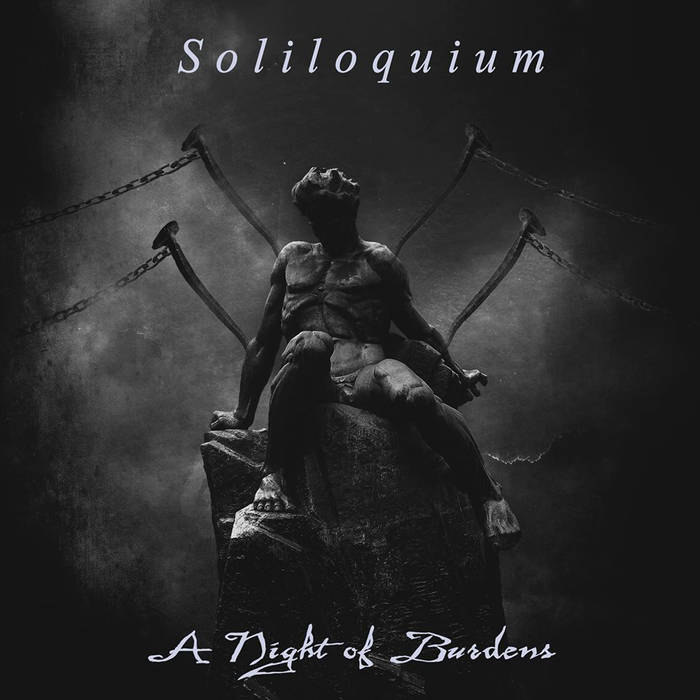 Here you can find the lyrics for the EP "A Night of Burdens" by Soliloquium, which contains three songs: "Perpetual State of Panic", "Forever Failure" (Paradise Lost cover) and "Zombie" (The Cranberries cover.
Perpetual State of Panic
Drifting in and out
In neurotic state
The avid thirst for more
These pale dreams
A faded face in the mirror
Broken promise of tomorrow
A stone lifted from dead heart
or another dreaded hardship
A perpetual state
A never ending race
Never will I succumb
Never will I rest
Forever Failure (Paradise Lost cover)
You must feel frustration
'Cause your mind feels such temptation
And your ways appear
A total lack of faith
You may feel elation
At your body's re-creation
And that joy you need
Restricted by one thought
Are you forever?
Loss of purpose in a passive life
Are you forever?
Pale, regarded as a waste of time
High times are courageous
But it truth they suit no purpose
Induced, reduced, unable and afraid
Can you feel rejection
And a lack of motivation
And the joy you need, restricted and delayed
Zombie (The Cranberries cover)
Another head hangs lowly
Child is slowly taken
And the violence caused such silence
Who are we mistaken?
But you see, it's not me
It's not my family
In your head, in your head
They are fighting
With their tanks and their bombs
And their bombs and their guns
In your head, in your head
They are crying
In your head, in your head?
Zombie, Zombie, Zombie
What's in your head, in your head?
Zombie, Zombie, Zombie
Another mother's breaking
Heart is taken over
When the violence causes silence
We must be mistaken
It's the same old theme since 1916
In your head, in your head
They're still fighting
With their tanks and their bombs
And their bombs and their guns
In your head, in your head
They are dying
Lyrics for other Soliloquium releases:
When Silence Grows Venomous ->
Soliloquium resources:
Download/stream Soliloquium music from Bandcamp ->