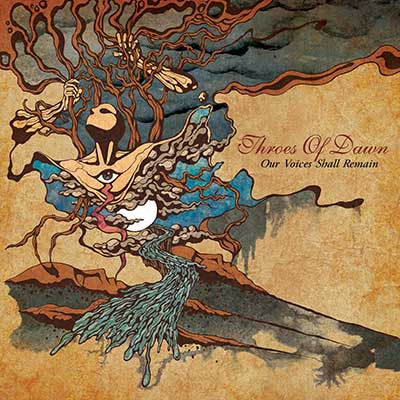 Throes of Dawn
Origin: Finland
Active since: 1994
Label: Argonauta Records
Genre(s): Progressive metal, progressive rock
For fans of: Amorphis, Anathema, Hanging Garden, Thence
"Our Voices Shall Remain"
I've reviewed and written about many underappreciated bands, but Throes of Dawn is extreme. The Finnish band has been active since the 90's. Every album has showed musical growth and an increase in quality. "Our Voices Shall Remain" is their best yet, displaying a tasteful mix between metal aesthetics and progressive rock. It's a true crossover offering; I hear influences as diverse as Pink Floyd and Dead Can Dance. There is also a solid dose of classic Finnish darkness.
The mix of ethereal progressive influences and Finnish metal reminds me a bit of "Am Universum" by Amorphis at times. Throes of Dawn is a way more emotional band, however. The lyrical themes are introspective and crushingly dark. This is an album filled with existential pain. A broad musical pallette and the lyrical topics creates a wonderful tradeoff.
A strongly atmospheric album
The one downside of "Our Voices Shall Remain" is that it lacks intensity. It's an atmospheric, emotional offering that offers nothing in terms of energy. I usually enjoy it as a full album. The full album factor is also reflected in the quality of the tracklist. Most of the songs on here are of similar quality. "We Used to Speak in Colours" and "Our Voices Shall Remain" has the strongest hooks, but the last two tracks deliver the most emotion.
Closing track "The Black Wreath of Mind" is my favorite song if I'm forced to choose one. It's a 14 minute epic, driven by fantastic keyboard lines and plenty of other atmospheric instrumentation. It's quite sleepy, but ends in a fantastic crescendo ("Breathing for the very first time"). I'm usually not crazy about really long songs, but the length of this one is truly warranted.
"Our Voices Shall Remain" tracklist
1. Mesmerized
2. We Used to Speak in Colours
3. Lifelines
4. The Understanding
5. Our Voices Shall Remain
6. One of Us is Missing
7. The Black Wreath of Mind
Instruments, vocals and production
I've talked a lot about the songwriting and atmosphere. Let's talk about the vocals and instrumentation. Henri Koivula's vocals are big factor in why this album is so good. He has a calm, earnest voice with enough variation in pitch and melody to tackle the instrumentation on the album. There are interesting nods to the male vocals in newer Dead Can Dance songs like "Amnesia" and "Opium".
Narrating this album requires some serious skill, because Throes of Dawn utilize many different music styles. The band layers things very well. Most instruments shine at one point or another, but the focus always seems to be the songwriting.. There are David Gilmour inspired guitar solo moments that I love in several places. "Lifelines" enter familiar Finnish dark, doomy rock depths. "Our Voices Shall Remain" has a super groovy bass line that immediately got stuck in my head.
The production is good as well, focusing on the atmosphere rather than sounding heavy. It plays to the band's strengths. Throes of Dawn will never be an extreme metal band that benefits from sounding heavy, despite that they used to have black metal vocals in the past.
This is an album as sadly emotional as it is musically interesting. There are so many different things going on, and the band is in absolute control of the songcraft. "Our Voices Shall Remain" combines many things I like in one album. I can't recommend it enough to fans of dark metal and rock music.
Throes of Dawn links:

Read more:
My underrated metal bands list ->
Doom metal reviews ->
Doom metal genre guide ->
10 essential death/doom metal albums ->
Soliloquium, Swedish doom metal ->