The death/doom metal genre, a subgenre of doom metal, is filled with awesome underground bands. These are 10 of them, including my band Soliloquium. Classic death/doom metal bands include early Katatonia, Paradise Lost, My Dying Bride, October Tide and Swallow the Sun.
Three bands you should know before reading this list are Kaunis Kuolematon, Ocean of Grief and Hanging Garden. I believe these grew a bit too big for an underrated death/doom list, but all three are fantastic bands that all doom metal fans should know.
---
About the author

I'm Stefan Nordström, an aspiring musician and content creator. This is one of the ways I promote Soliloquium, my progressive death/doom metal band. If you're searching for new music in the style, it would be awesome if you listened to my stuff on:
Asphodelus
The debut "Stygian Dreams" really caught me off-guard. A really cool throwback to the old days of Katatonia and Anathema that still feels fresh. Surprised this band didn't take off right away, because the record is truly a good one.
---
Ethereal Darkness
Maybe more of a melodic death metal band than a death/doom metal band, but it feels like the lines are getting blurred these days anyway. 2019 debut "Smoke and Shadows" got its fair share of attention, and it's well-deserved. It's a very well-rounded, professional piece of extreme metal that doesn't sound like a debut album at all.
"Smoke and Shadows" review ->
Ethereal Darkness on Facebook ->
---
Exgenesis
Jari Lindholm (ex-Slumber, Enshine, Seas of Years) collaborates with Colombian vocalist Alejandro Lotero. Drummer Christian Netzell also joined in on the party recently. Expect melodic death/doom metal of the highest quality!
---
Lying Figures
French band that released solid debut album "The Abstract Escape" in 2017. Classy and varied death/doom metal with a gothic edge. "Tormented Souls" and "Monologue of a Sick Brain" are absolute bangers especially, and I can't wait to hear more material from Lying Figures.
"The Abstract Escape" review ->
Lying Figures on Facebook ->
---
Marianas Rest
Finnish doom metal band that released their second album "Ruins" in 2019. Expect classic Finnish death/doom melancholy mixed with melodic death metal.
---
Mistveil
Greek project that recently released the debut album "Amnesia". It's a quality piece of Scandinavian style melodic death/doom that should please most fans of the style. Yours truly is also featured on guest vocals in the song "Defeated, but Victorious".
---
Sleepwalkers
Underrated U.S. doomsters with a classic death/doom metal sound. Mike Watts that played drums, mixed and mastered Soliloquium's "Contemplations" album joins up with vocalist Caleb Bergen and bass player Daniel Luces and drummer Hunter Ecker to complete the band's line-up. Don't miss out on Mike's other project Terminus, which is also quality dark metal music.
---
Soliloquium
My progressive death/doom metal band Soliloquium. Expect a progressive and melodic take on death/doom metal band with flavours of other styles like shoegaze and post-rock. Soliloquium has released two full-length albums so far: 2016's "An Empty Frame" and 2018's "Contemplations". For another death/doom metal project where I was featured on vocals, check out The Ashen Tree.
---
Somnent
Somnent's debut "Sojourn" is a solid and varied slab of melodic death/doom metal goodness. It's also grown on me since I first heard it. Can't wait for more material from this talented band. "Deceit", a song I promote on my YouTube channel, is a good place to start.
---
Within the Fall
Karlstad's Within the Fall is somewhere between death/doom, melodic death metal and progressive metal. The style is varied enough to draw in doom fans, melodeath fans and prog metal fans alike. "Night of Ebon" (below) is from the bands newer, more intense material. If you're looking for classic-styled death/doom, look no further than WtF's older releases.

Within the Fall on Facebook ->
---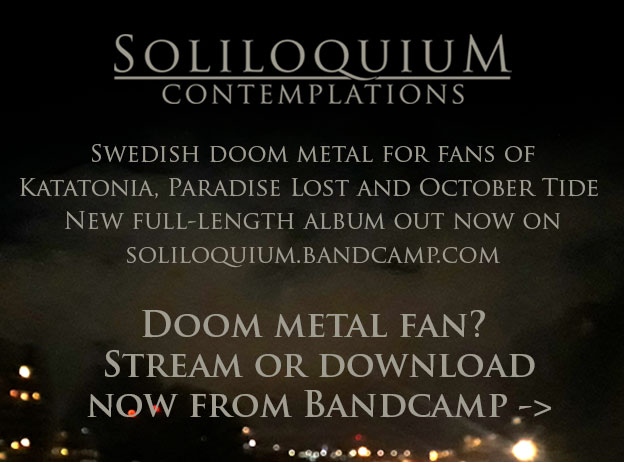 Read more:
10 essential death/doom metal albums ->
Quality death/doom metal bands ->
Full doom metal genre guide ->
50 best melodic death metal bands ->
50 best Finnish metal bands ->