This is my list of the 10 best Opeth songs. I'm not into the last three Opeth albums, but they certainly wrote a lot of strong songs in the past. A lot of it winds up coming from the "Blackwater Park" and "Damnation" albums since they're my favorites.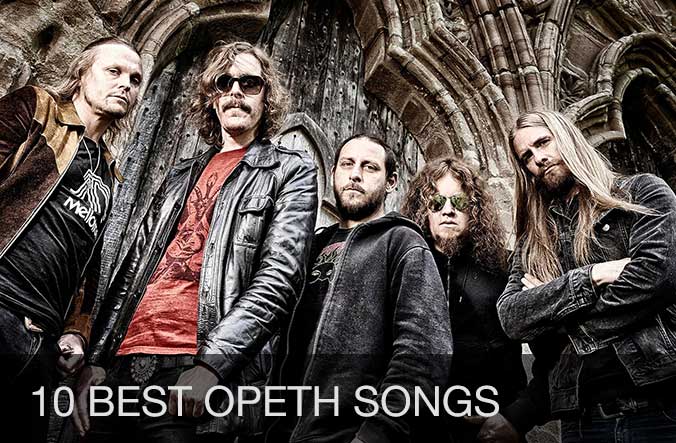 10. In My Time of Need
Probably the most famous song on "Damnation", and deservingly so. It's got a very nice, serene 70's mood, with great vocal melodies to match.
9. When
A perfect mix between brutality and progressive tendencies, as displayed in the abrupt intro. Far from the smoothest songwriting displayed by Opeth, but all the riffs and melodies in the song are awesome.
8. Bleak
A huge song that molds catchy melodies with the foreboding mood that is often present on "Blackwater Park".
7. Wreath
The hits "Deliverance" and "Master's Apprentices" are great tracks from this album, but "Wreath" has an obscure darkness to it that I deeply enjoy.
6. Hope Leaves
Very melancholic tune from their all-acoustic "Damnation" album. One of Mikael's finest vocal performances.
5. The Leper Affinity
A vicious opening track with quirky riffs. For me it outshines many of the classic songs later on the "Blackwater Park" album.
4. Closure
Soft progressive rock that goes from emotional into an enjoyable psychadelic jam session that is further expanded on in the live version.
3. The Moor
One of Opeth's most complex tracks that isn't as challenging to listen to, as it is to perform. Unsually fluent track by Opeth standards, featuring some gorgeous melodies.
2. Reverie/Harlequin Forest
The clean vocal melodies and overall flow of this is amazing, and it's also spiced up with some of Åkerfeldt's most harrowing growl lines.
1. Blackwater Park
The "Blackwater Park" title track is an absolute powerhouse, an exhibition of how good Opeth were at their best. A nihilistic, bleak as hell track that still manages to squeeze in some beautiful progressive rock as well.
Read more:
10 best Amorphis songs ->
10 best Anathema songs ->
10 best Katatonia songs ->
10 best Paradise Lost songs ->
Soliloquium, Swedish death/doom metal ->